Strength and Conditioning
Training Tips
USA Triathlon Has Its Eyes on Rowing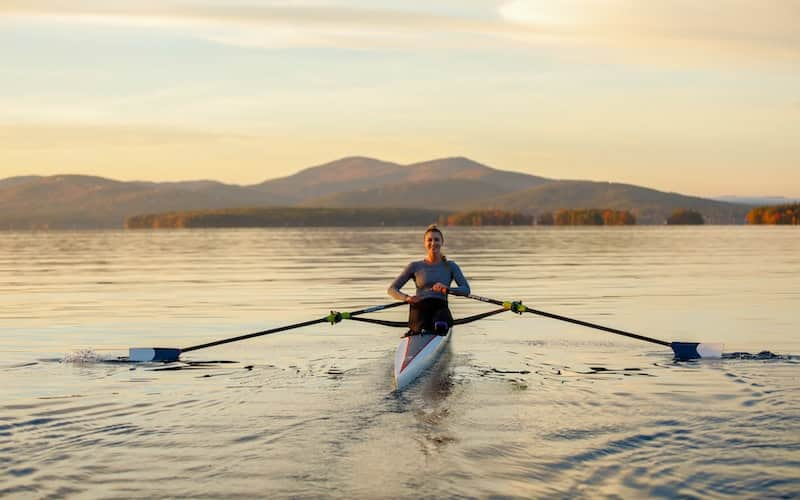 For the next three years, coaches from USA Triathlon and Hydrow will be studying the effects of rowing on a triathlete's training in an immersive, extensive research pilot called the Hydrow Transformation Program. We sat down with Earl Walton, Triathlon Coach and Director of Education at USAT, to learn how he thinks rowing could impact his athletes (and why he's suspicious when they report whether they did their mobility training this week).
Tell us a little bit about yourself, Coach Walton! What is your role at USA Triathlon and how long have you been helping athletes succeed?
Hello! I'm the Director of Education for USA Triathlon. I've been a coach in endurance sports for 20+ years. I was the Global Director of Training and Coaching at IRONMAN. As a coach, my goal is to prepare athletes for success and to help them achieve the goals they're shooting for. As the Director of Education at USAT, my job is to bring the best resources and information to athletes and their coaches.
Are you an athlete?
I'm more of a former athlete than a current one! That said, I've been training and coaching for years. I was a college swimmer. I swam a little bit in the U.S. Masters, which led me to get into triathlons reluctantly (I still hate to run… more on that later). But generally, yes: I raced a ton when I was younger, but then life and kids slow you down a bit. I still train every day and enter events when I can.
How do you think rowing can benefit triathletes?
This is one of the coolest conversations we're having. There's so much to learn about rowing. What we're doing now is looking at the different elements that contribute to success.
There's a subjective side to the process, which are the feedback you hear from your athletes. You might hear, "I feel stronger since I've been rowing…" or, "I'm excited about the workouts that I've been doing since adding rowing to the mix."
The holistic approach for the sport is so critical for 99% of the athletes. It's one thing to say, "I'm going to qualify for Kona." It's a whole other thing to say, "I've created an environment in which I want to train on a daily basis."
As coaches, we're often asking our athletes, "Are you doing the work?" We've found that people are doing their mobility workouts more with the Hydrow. It's just something that motivates them to do it.
"For triathletes, we're constantly learning new skills. Even though I started out as a swimmer, the feedback zone from cycling and running keeps me going. That's one of the things that I love about rowing — I added this new stimulus, a new skill, and I'm getting fitter from it."

Coach Earl Walton
Director of Education, USA Triathlon
Tell us about the Hydrow Transformation Program. What is USA Triathlon hoping to learn?
The Hydrow Transformation Program is such a unique and cool idea. We're working to bring the best tools and information — in this instance, about the power of rowing — to our coaches so they can create great opportunities for their athletes. This is a chance for USAT to bring functional, high-tech equipment to our coaches, teach them all of its ins and outs, and then to pick their brains about training. We'll learn how to best integrate rowing into a training regimen and deliver that information to athletes.
In a nutshell, we're asking the question, "How does rowing impact the training of a triathlete?"
We will receive hard data about functional threshold, swimming and running rates, but we'll also be evaluating this subjective notion about training motivation. Does opening a Hydrow out of the box inspire a triathlete to train with more commitment and consistency?
This is a long-term program. We'll follow this process for three years and continue to ask questions to better inform how people will train moving forward.
How does the program work?
We're working with three primary USA Triathlon coaches as well as the rowing coaches at Hydrow. These coaches will help athletes integrate Hydrow rowing into their training and study the effects. What's exciting is each coach will be working with different types of athletes. Some have never trained for a triathlon before, some are recovering from injury, some are looking for their first podium, some athletes have disabilities. It's a range of experiences.
What is one thing everyone can do differently right now when it comes to their training regimens?
Hire a coach! Or try out a program. You don't have to sign up for IRONMAN in 6 months to be successful. You just have to be consistent and committed with your workouts. If you commit to something and you follow a plan, you're going to be successful. You're going to see an impact on your health. The benefit of doing this all with a coach or a program is you'll better understand the process along the way, so you'll be motivated to continue in it.
When you said you really don't like running… what is it that keeps people signing up for triathlons when they might hate one of the three sports?
It's like golf. Success keeps you in the game. When I hit one good shot, I want to go back and do it again. One of the things you hear about all the time is when you add a skill, it speeds up the process that will have an impact on your overall fitness. For triathletes, we're constantly learning new skills. Even though I started out as a swimmer, the feedback zone from cycling and running keeps me going. That's one of the things that I love about rowing — I added this new stimulus, a new skill, and I'm getting fitter from it.
What are mobility workouts?

As triathletes, we're super geeky about data. Like, we actually track everything. Unfortunately, there are many kinds of beneficial movements and exercises that are not trackable like yoga, Pilates, or a flexibility class, which are critical, but more challenging when it comes to keeping people engaged.
One really compelling factor about the Hydrow is all of the teamwork going on. There are experts within Hydrow with whom we're working, as well as experts on our side who are certified coaches, allowing us to team up and dig in. Whether you're new to triathlons, recently injured, or just trying to get to the podium, we are asking all of our athletes, "What are your goals?"
How would you describe your triathlon coaching philosophy?
I think my personal coaching philosophy is all about listening.
You coach by listening to your athletes and getting their feedback. You can listen through data, through conversation, a facial expression at 5:30am when they show up to ride but you both know they're cooked. You listen by asking questions of other coaches and the community. I make sure to always have a team of experts who I work with physical trainers, nutritionists, etc., who can break down the overall challenge and goals — be it to go to Kona, to become a National Champion, or to complete your first race.
What are your top three tips for someone looking to begin training for a triathlon?
Community is key

. If you can find a like-minded team, coach, or friend, do it. Do it with somebody because it's always harder when you do it alone. I don't care if it's your brother who lives across the country, letting people know you've got a goal holds you accountable.




Eliminate your barriers

. Just get started. Ride a spin bike. Challenge yourself in a way that involves three sports. Whether it's basketball, riding to work, or running, identify your barriers. If you can't swim, for example, hire a coach.




Give yourself a three-week schedule.

Conquer your first couple weeks of training before signing up for a race.
Are you using a Hydrow?
I am! I've been really enjoying it. I've used so many virtual fitness platforms, so I didn't know what exactly to expect. When I opened the box, it was this super cool looking new toy. The graphics are amazing.
There's a great ramp-up program on Hydrow that gets you up to speed on a set of workouts. As a coach, I am used to being the one to have to make the plan. What was cool was I just had to walk out to my Hydrow, hit the number of the workout I was on, and just go. I just had to listen and learn. I was motivated to get back out there and try it again.
How does Hydrow improve the experience of rowing for athletes?
It's a whole lot easier to go into my garage than to go into the river. When I sit down, there's no guesswork. I know how long it's going to be. It helps me manage the day and be efficient with my time.
Everything I said about setting a goal and following a plan, Hydrow does. There's an engaging personality that guides you through and coaches how I would coach, preparing me for what I'm going to do. I do it, see what I did, and voila, we're done!
Whether you're an experienced athlete or a budding at-home rower, Hydrow expands your training repertoire. Hydrow workouts bring the outdoors in with patented Live Outdoor Reality technology, making it feel like you're right on the water. With both on-demand and live workouts, you'll build your rowing skills alongside passionate Hydrow Athletes while inspiring new goals that make exercise interesting all year long.