News
Race Directors
Officials
Coaches
Event
What You Can Expect by Attending 2024 Endurance Exchange
USA Triathlon's fifth annual Endurance Exchange heads to Charlotte, North Carolina Jan. 4-7, 2024 for four days of collaboration, innovation and inspiration.
More than just a conference, Endurance Exchange connects athletes with coaches, race directors, clubs, and industry professionals who share your passion for multisport. Whether you're seeking mentorship, business opportunities, or lifelong connections, Endurance Exchange offers a supportive environment where dreams and visions come to life.
Come to Endurance Exchange to share your experiences, gain fresh perspectives, and ignite the spark of excellence together.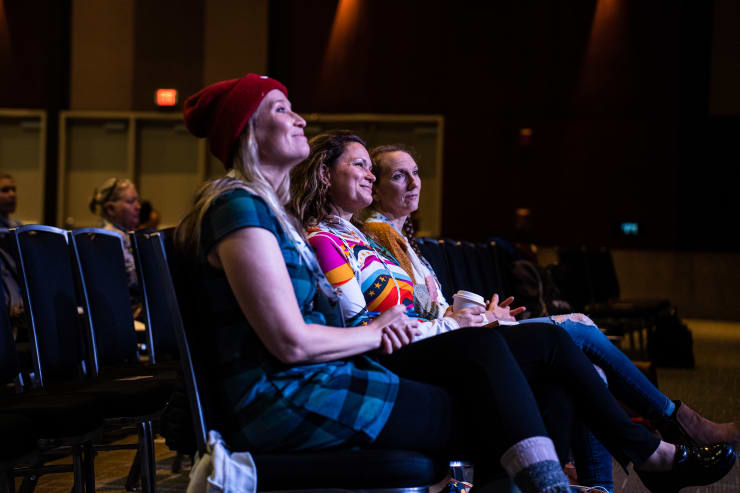 "When we come and hear from all these experts and network with all of our peers, I think it opens our minds and horizons to what we do and how we do things and really allows us to think outside the box."
— Wes Johnson, Head NCAA Women's Collegiate Triathlon Coach at the University of Arizona
"I believe everyone who is involved in the multisport world should come because it's (a chance to learn new) information. You get to engage with people, you get to connect with new people, you get to ask questions that you might not get to ask your coach. It's good to come and hear from other peer advocates and be with those who are like-minded."
— Michanda Myles, Host of Tri Beginner's Luck Podcast
"It's kind of like a reunion. We get together with friends we haven't seen in a while, and in person. That's the community side of it. From a standpoint of education, it's good because there's always things to learn, there's things you get to share, so between things that you receive and what you give, you grow from that."
— Scott Bennefield, USA Triathlon Certified Coach
"As a coach, I'm not a race director and I don't wear that hat at all, but talking to race directors and getting an understanding of what their challenges are is so interesting. The presentations are great, and for me just the networking was great."
— Sara Dasso, USA Triathlon Certified Coach
"There are things that are applicable across everything because in the end you're still talking about high performance, you're still talking about learning and communicating with people. For me it's coming here, it's meeting new people, it's listening to different ideas, it's understanding you know why people are doing things. I still love the sport of triathlon, so I enjoy watching and learning."
— 2008 U.S. Olympian Jarrod Shoemaker
"The amount of learning opportunities, the amount of networking opportunities, honestly it's just a fun place to be with a lot of people who basically think alike and it's a great place to bounce ideas off of everyone."
— Ryan Bolton, 2000 U.S. Olympian and current USA Triathlon Director of High Performance
Selene Yeager is host of the Hit Play Not Pause podcast, content manager at Feisty Menopause, and a best-selling professional health and fitness writer, including the co-author of ROAR and Next Level with Dr. Stacy Sims. She lives what she writes as an NASM certified personal trainer, Pn1 certified nutrition coach, off road racer, and former All-American Ironman triathlete.
At Endurance Exchange, Yeager will speak on optimizing performance during and beyond the menopause transition. In keeping with the theme of this year's conference, the session will also address the pros/cons of femtech and tracking apps during this time of life.
Theresa is the founder of i-tri Transformations Through Triathlon, a non-profit inspired by her experience in triathlon, which helps bring visualization, affirmations, nutrition and active lifestyles to girls in her community. The original program launched in 2010 with eight middle-school girls, and by 2019 had grown to over 700 girls, with a national expansion plan being prepared.
Theresa also co-hosts Mondays at Matriark chat with Matriark founder Patricia Assui Reed, and journalist Bridget LeRoy.
Reggie is a USA Triathlon Level II Certified Coach and RRCA Endurance Level 2 Running Coach. He is the Owner and Head Coach of Waller Endurance Coaching.
Reggie started competing in triathlons in 2011 as part of a conversation with a good friend and enjoys running half marathons, Olympic distance triathlons, and half IRONMAN's! He is passionate about introducing others into multisport and strives to instill a "progress not perfection" attitude within the next generation.
Dr. Scott H. Frey is an internationally renowned cognitive neuroscientist, accomplished endurance athlete, author and performance coach.
For the past 30 years, Scott has led a successful research program focused on using the latest technologies to understand the brain mechanisms of human performance. Scott founded Cerebral Performance with the goal of making cutting edge discoveries in the brain and behavioral sciences, available to individuals and teams seeking to optimize their training and racing.