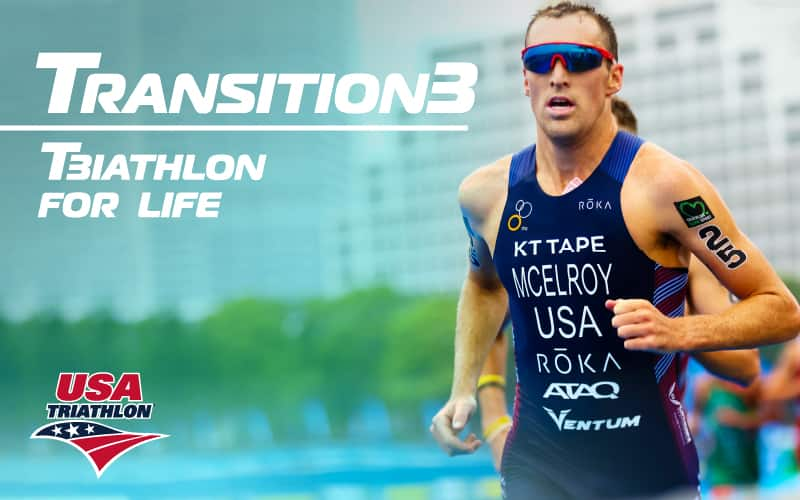 "Transition 3" is an elite triathlete program focused on life skills, mentorship, professional development opportunities, and career and academic preparation, to help triathletes prepare for transitioning into retirement from triathlon. At USA Triathlon, we believe in holistic development through sport throughout each athlete's lifespan, which is supported by Stage 8 of the USA Triathlon Athlete Development Model "Triathlon for Life." We encourage athletes to think of their plans for post-competitive retirement from the start of their elite career. USA Triathlon is excited to provide a variety of resources to assist athletes in this journey, including: online professional development program, mentorship program, Talkspace mental health and wellness program, professional development monthly calls, and internship program. More information about these resources can be found below.
All elite athletes have been automatically enrolled in the free Transition 3 online learning program available on www.triathlonlearning.com. If you have not received access, please email coaching@usatriathlon.org.
This course is comprised of seven modules:
Career preparation

Academic preparation

Financial wellness

Honing your voice and influence (public speaking)

Making connections

Wellness and mental health

Crafting your long-term vision

Stories from retired Team USA paratriathletes and triathletes sharing their transition journey.
Each module contains additional applied learning activities to further skillsets in each area. There is no required timeframe to complete this course; athletes will have access to all materials throughout their career.
All elite athletes have the opportunity to apply to our mentorship program. Athletes will be expected to meet with their mentor at least once per month for one hour in a medium of their choice (phone, Skype, Zoom, in-person as feasible, etc.). This is an opportunity for athletes to receive feedback, accountability, and achieve personal growth through goals that the athlete creates. To apply, please complete this Google Form. USA Triathlon will focus on matching athletes with mentors based on each athlete's career and personal goals. Suggestions for a successful mentor-mentee relationship including thinking through the following questions prior to completing your application:
What am I hoping to get out of mentorship?
What are my goals and how can this person support me?
In what areas am I trying to grow?
What is my career plan?
What are my communication styles and preferences? Am I willing to share this and learn my mentor's communication styles to best work together?
Monthly Professional Development
Calls
All elite athletes can take part in monthly Zoom calls focused on professional development. Each month will have a dedicated topic and will feature guest speakers covering themes such as financial management, athlete transition, business development, and more. Get to know the elite athlete community, leaders in the field, and hear from retired triathletes about their experiences by joining the next call! Check your email for more information. Have a topic you'd like to discuss? Share your feedback here!
Elite athletes will have the opportunity to apply for internship opportunities through USA Triathlon. These include opportunities in our Colorado Springs, CO office, as well as remote opportunities, ranging in hours, time commitment, and opportunities of interest. Areas of opportunity include coaching education, NCAA, marketing, fundraising, legal and governance, Paralympic benchmark testing, and more! Gain experience in the endurance sport industry while building your professional network. More information, including available roles and an application, will be available coming soon on this webpage and via the Elite Beat newsletters.
For more information about T3, please email coaching@usatriathlon.org
All elite athletes are encouraged to explore the USOPC's Athlete Career and Education (ACE) program resources, as well as to sign up for all ACE newsletters. For more information, please visit: https://www.teamusa.org/athlete-career-and-education-program/resource-hub.