The rise of women in triathlon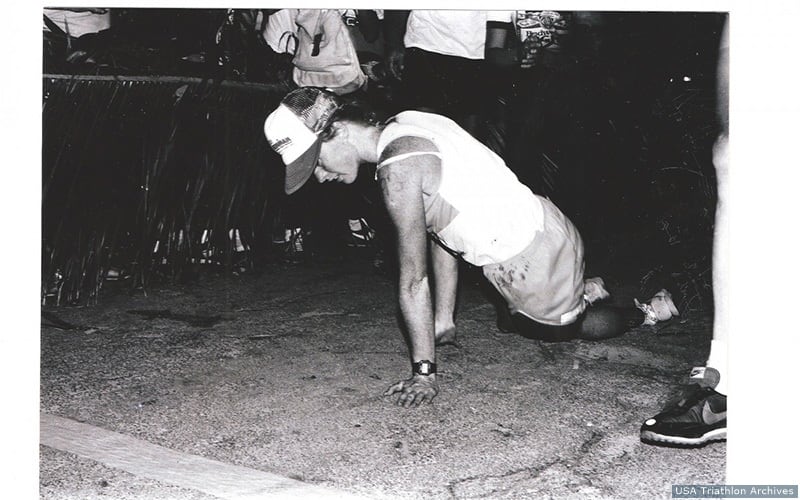 *Updated March 2021. This article originally appeared in the Winter 2020 edition of USA Triathlon Magazine.
In the sports world, triathlon is a relative newcomer. After all, while competitive swimming, biking and running date back a century or more, the three sports weren't all put together into one race until mere decades ago. And, much like other athletic events of the time, women were not woven into the initial fabric of the sport. Case in point? The much heralded Ironman that kickstarted the multisport movement on Oahu in 1978 included just 15 participants — all of whom were men.
That's not to say women didn't play a key role in the early days as Judy Collins, along with her husband John, were the creators of the epic one-day endurance event. The male-dominated race vibe of triathlon didn't last long. Women began to appear on the scene in 1979 — and their role in the sport has only gained traction over the years. There has been a notable shift in gender balance across the board. From an increasing number of women in leadership positions, unprecedented performances, and equal pay, the female presence in triathlon is powerful — and it's only getting stronger, especially in the U.S.
"Female participation continues to grow in our sport, and women have found their voices," says Jacqueline McCook, President of the Board of Directors for USA Triathlon from 2019 through 2020 and the second woman to hold the position (Valerie Gattis served as President of the Board of Directors in the early 2000s). "There have been many amazing pioneers who have paved the way for all of us. As we move forward, women need to be a visible and vocal part of the continuing evolution of our sport."
From the very early days to more recent milestones, here's a timeline of some of the major moments in the history of women's triathlon.
Lyn Lemaire, a 28-year-old from Massachusetts, becomes the first woman to compete in the Hawaii Ironman Triathlon. No stranger to athletics — she was a national-caliber swimmer, played basketball at UCLA, was an accomplished rower, and held the U.S. women's record for the 25-mile bike race — Lemaire beats all but four men in the 15-person field.
American Julie Moss captivates a global audience with her crawl to the finish line at the Hawaii Ironman. Overcome with dehydration and exhaustion, the lithe 23-year-old begins staggering some two miles from the finish line after leading for much of the race. Although Moss loses her lead to eventual winner Kathleen McCartney, her remarkable resolve — broadcast to TVs around the world — inspires millions.
Sally Edwards publishes the very first book on triathlon. "Triathlon: A Triple Fitness Sport," offers a comprehensive guide for training for "a total new fitness" based on her own experience in the sport. Edwards — an accomplished endurance athlete with several triathlon, marathon, and ultra-running titles to her name — becomes a predominant voice in the sport, penning more than 20 more books and 500 articles on triathlon.
Using funds from an anonymous donor, the Hawaii Ironman introduces a prize purse for professional athletes. And in a move unprecedented in many other major sporting events, the payout is equal for both men and women — a standard that remains the status quo.
In her second victory at Kona, South Africa's Paula Newby-Fraser decimates the course record by 35 minutes with her 9:01:01 finish. She places 11th in the entire field, the highest position for a woman since the event grew to more than a few hundred participants. Newby-Fraser went on to win the Ironman World Championship a total of eight times, rightfully earning the"Queen of Kona" moniker.
Known for her brash and rebellious nature, New Zealand's Erin Baker leads a charge demanding equal pay at the inaugural International Triathlon Union (ITU) World Championships in Avignon, France. Buoyed by the support of fellow pros including American Mark Allen, Baker's pleas are heard — and equal pay is granted.
Seeking to bring triathlon into the mainstream market, dancewear brand Danskin launches a women's-only triathlon series in three cities: Long Beach, California, San Jose, California, and New York City. The growth of the Danskin series, as well as similar women-only events like Trek Triathlon and Irongirl races, are credited with boosting numbers among women in the sport.
Triathlon makes its Olympic debut at the Sydney Games. The United States sends a trio of women Down Under, including Joanna Zeiger, who finishes fourth.
Susan Williams, a 35-year-old mom from Long Beach, California, nabs the first Olympic medal for the U.S. in triathlon, earning bronze at the Athens Games.
Barb Lindquist — a swimmer-turned triathlete who competed at the 2004 Olympic Games — retires as a professional athlete and quickly picks up coaching as her new career. She is soon tapped by USA Triathlon to run the Collegiate Recruitment Program, where she identifies talent from the NCAA swimming and running programs as a way to funnel athletes toward the Olympic pipeline. One of Lindquist's most lucrative recruits? Gwen Jorgensen, who, at the time was a recent University of Wisconsin grad who had never raced a single triathlon.
After a heartbreaking initial attempt in 2004, American Sarah Reinertsen rallies to becomes the first female above-the-knee amputee to complete the Ironman World Championship. Reinertsen crosses the finish line in 15:05:12 and becomes a defacto pioneer in the sport of paratriathlon.
Spain's Marisol Casado — a former elite triathlete — is appointed President of the ITU, making her the only woman to preside over an International Summer Sport Federation. Later, in 2017, she becomes the only female Spanish member of the International Olympic Committee (IOC).
Triathlon is designated as an NCAA Emerging Sport for Women, a move aimed at helping schools provide more participation opportunities for female athletes. To date, 33 schools have female varsity triathlon teams.
Former pro triathlete Sara Gross spearheads 50 Women to Kona, a social media and letter-writing campaign calling for equal slots for women and men at the Ironman World Championships. Highlighting an imbalance — 50 men are given slots versus only 35 for women — the campaign goes viral. The inequity remains, however, and Gross' nonprofit, TriEqual, continues to fight for gender balance across the board.
Women For Tri launches with a focus on increasing female participation at all levels of triathlon. It will go on to offer over $300,000 in grants to triathlon clubs supporting female initiatives, cultivate a 50,000-plus strong online community for women in the sport, and offer hundreds of slots for major races, including the Ironman 70.3 World Championships. All in an effort to empower new female triathletes and fuel high-level competition.
Team USA women nab their first podium sweep at an ITU event, with Gwen Jorgensen, Sarah True, and Katie Zaferes claiming the top three spots at the World Triathlon Series Gold Coast event. One month later, the same trio tops the podium yet again at the WTS London race. Zaferes has since been a part of two more sweeps for the U.S., including the most recent one last May in Yokohama, Japan, and went on to win her first ITU World Championship.
After two straight seasons of "Gwensanity" — including back-to-back world championship wins, Gwen Jorgensen caps her pro triathlon career by grabbing gold at the Rio Olympic Games. It's the first-ever gold medal for an American triathlete and only the second of any color including Williams' bronze 12 years prior. U.S. paratriathletes also struck gold in Rio with Grace Norman and Allysa Seely topping the podium at the Paralympic Games. Hailey Danz and Melissa Stockwell also won medals, combining to sweep the podium in the PT2 sport class along with Seely.
ITU President Marisol Casado is appointed as a member of the Coordination Commission for the 2028 Olympic Games in Los Angeles. Today, a historic high 45.4 percent of the IOC positions are occupied by women as the organization continues its advance toward gender equality in all Olympic sports, including triathlon. Also in 2019, Dr. Tekemia Dorsey (Middle River, Md.), CEO of the International Association of Black Triathletes (IABT), was elected to the USA Triathlon Board of Directors as the Mideast Region representative, becoming the first African-American to serve on the Board.
Dr. Dorsey is the recipient of the USOPC's 2020 Rings of Gold Award. The Rings of Gold Awards, presented annually since 1996, recognize both an individual and a program dedicated to helping children develop their Olympic or Paralympic dreams and reach their highest athletic and personal potential.
Dr. Dorsey founded the Middle River, Maryland-based International Association of Black Triathletes in 2012. The nonprofit organization provides advancement for urban youth, and the communities they represent, by positioning triathlon as a gateway to reduce academic and health disparities and to increase opportunities for collegiate studies, internships and economic development.