USA Triathlon to Host Second Annual National Athlete Recovery Day on Monday, Oct. 11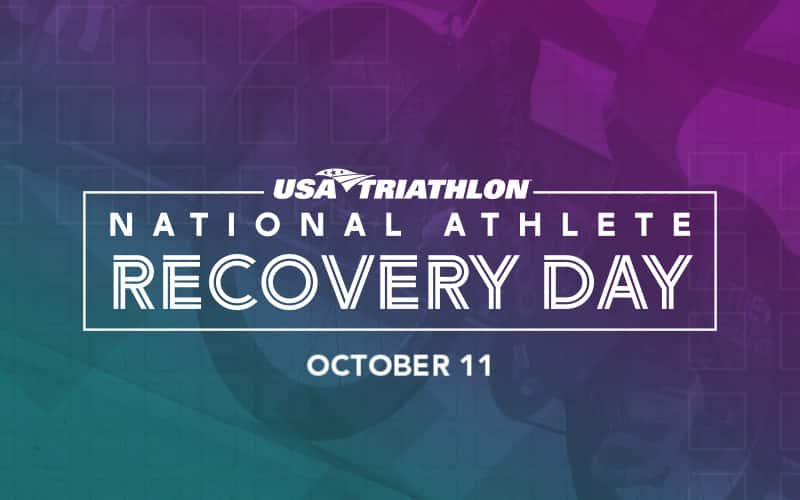 COLORADO SPRINGS, Colo. — USA Triathlon today announced it will host the second annual National Athlete Recovery Day on Oct. 11, the would-be day after the postponed 2021 IRONMAN World Championship in Kailua-Kona, Hawaii. The annual event, launched in 2020, encourages athletes to focus on the importance of rest and recovery and will take place annually in October, the Monday after the IRONMAN World Championship.
"As multisport athletes, we push our bodies to the limit, and as we approach the end of a triathlon season that saw racing return around the country, we could all use a dedicated day to rest and recover — both physically and mentally," said Victoria Brumfield, USA Triathlon Chief of Staff and Chief Sport Development Officer. "The past year and a half has presented unparalleled challenges in and out of sport. National Athlete Recovery Day is meant to serve as a reminder that healthy recovery is instrumental for our physical and mental health. We are grateful for the support of the USA Triathlon partner family and our Certified coaches in this initiative. We look forward to sharing the many ways athletes can better incorporate recovery into their daily lives."
National Athlete Recovery Day encourages triathletes nationwide to take recovery as seriously as their training — not only after a season-culminating race, but as a key element of their overall training cycle. USA Triathlon will share recovery-focused digital, video and editorial content with support from USA Triathlon Certified Coaches and recovery-focused corporate partners throughout the day on usatriathlon.org and the USA Triathlon social media channels.
The one-day digital and social campaign is supported by the following recovery- and training-focused USA Triathlon partners, which will contribute educational content and prize giveaways on National Athlete Recovery Day: Addaday, Compeed, Hand & Stone Massage and Facial Spa, Hyperice, KT Tape, Newton Running, Pilates For Sports, Select Physical Therapy, TrainingPeaks and Zone3. Transportation partners TriBike Transport and Avis and Budget will also contribute prize giveaways.
To be eligible for prizes, athletes are asked to comment on USA Triathlon's Prize Giveaway social media posts and share their favorite way to recover — whether it's yoga and meditation, muscle therapy or massage tools, or simply a day spent relaxing on the couch — using the hashtag #AthleteRecoveryDay. Prize winners will be selected randomly and will be notified the following week.
To learn more about how to get involved in National Athlete Recovery Day, click here.
About USA Triathlon
USA Triathlon is proud to serve as the National Governing Body for triathlon, as well as duathlon, aquathlon, aquabike, winter triathlon, off-road triathlon, paratriathlon, and indoor and virtual multisport events in the United States. Founded in 1982, USA Triathlon sanctions more than 4,000 events and connects with more than 400,000 members each year, making it the largest multisport organization in the world. In addition to its work at the grassroots level with athletes, coaches, and race directors — as well as the USA Triathlon Foundation — USA Triathlon provides leadership and support to elite athletes competing at international events, including World Triathlon Championships, Pan American Games and the Olympic and Paralympic Games. USA Triathlon is a proud member of World Triathlon and the United States Olympic & Paralympic Committee (USOPC).