You Belong at USA Triathlon Foundation Training Camp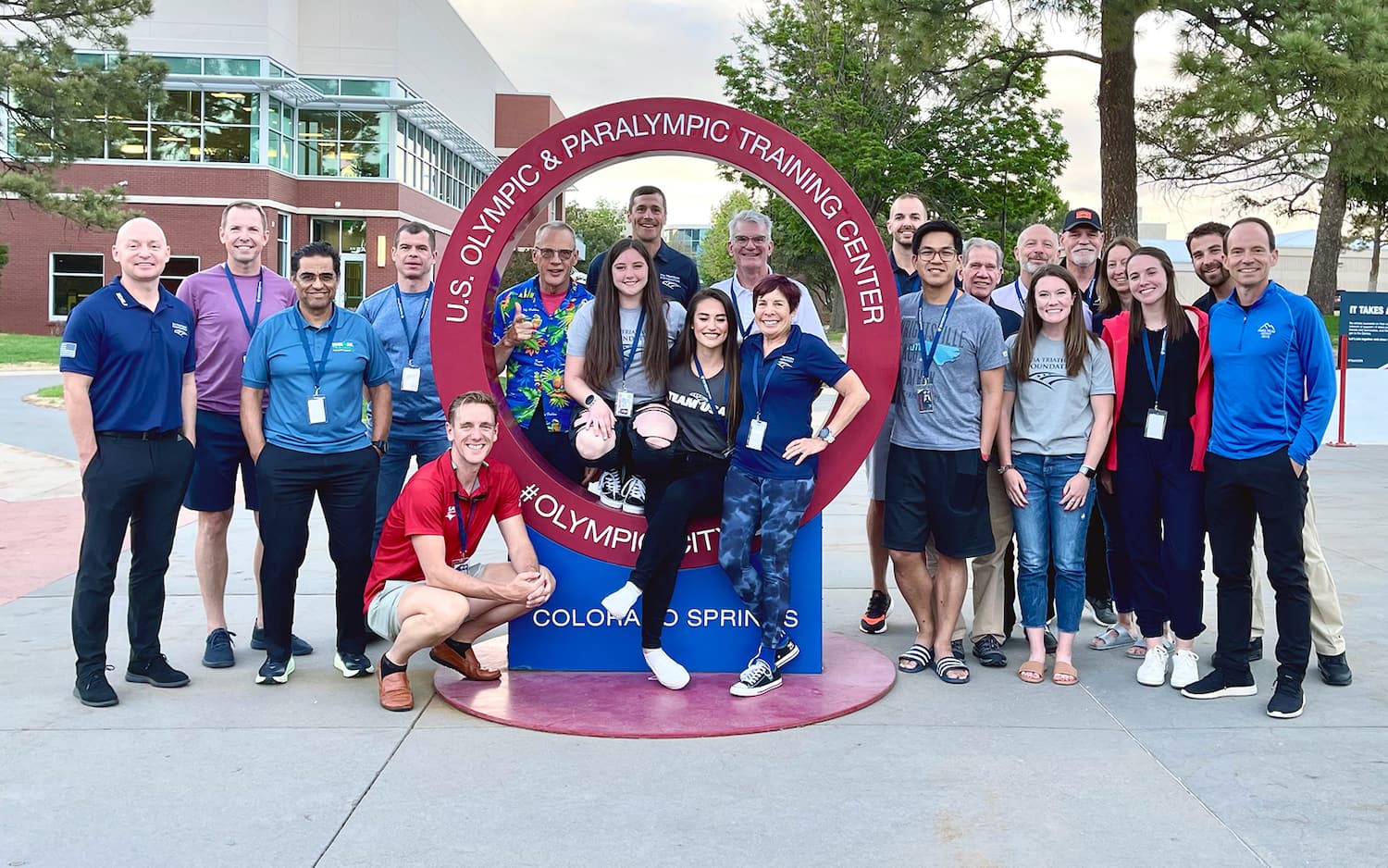 COLORADO SPRINGS, Colo. — Last May, Rosalind Jarrett Sepulveda found herself biking up Colorado Springs, Colorado's Gold Camp Road, a popular – and hilly – trail for running and biking. Conditions at the trailhead were fine.
At the top, where the rest of her group was waiting for her, it had started snowing.
Welcome to training like an Olympian.
Jarrett Sepulveda, the oldest athlete at the USA Triathlon Foundation's 2022 Fantasy Camp — now called USA Triathlon Foundation Training Camp — hopped in a trailing van to descend the hill. Everyone else biked down.
"They got snowed and sleeted on and they were cold and miserable," she remembered. "They got back to camp and said I had made the right decision."
Escaping the unseasonal weather? Probably a good call. Attending Fantasy Camp? Absolutely the right decision.
She and 14 others spent four days at Fantasy Camp in early 2022. Held at the U.S. Olympic and Paralympic Training Center in Colorado Springs, the group truly trained like elite athletes with discipline-specific coaches, personalized assessments and feedback, and unforgettable swim, bike and run sessions. The entire experience wowed Jarrett Sepulveda.
"It was wonderful," she said. "We had a lot of practical training lessons. Every morning we got to go to the pool with Andy [Potts; Olympian, former U.S. Elite Triathlon National Team athlete and the group's swimming instructor], giving us swim drills and training in that Olympic pool with all the flags along the wall. It was so inspiring."
Even meals were a source of awe for the age-grouper from Los Angeles.
"We ate in the dining hall with all the other athletes who train there, which was incredibly exciting," she said. "I ran into [USA Paratriathlon Resident Team Program athlete] Hailey Danz, who's one of my heroes, and talked to her."
That inspiration and feeling of training like an elite athlete is the goal of Fantasy Camp, according to program head coach, Bobby McGee.
"We want campers to come away with a once-in-a-lifetime experience where they're actually coached by Olympic and Paralympic coaches, he said," where they were actually spoken to by Olympic and Paralympic athletes, where they actually trained in the same environment that an Olympic or Paralympic athlete would train in."
So far, McGee and the rest of the Fantasy Camp team have planned several training sessions, including a long ride in the mountains surrounding Chula Vista, track work, biomechanical analysis, swim sessions with high-level coaches, and discussion on sports psychology.
This training-heavy calendar was perfect for Jarrett Sepulveda, who enjoyed the time dedicated to athletics during this year's camp.
"I liked the idea of spending a couple days totally focused on my triathlon training and nothing else," she said. "The opportunity to immerse oneself in one's sport for a period of time with some of the best coaches in the world and share the camaraderie that we did was really fun."
Fantasy Camp also helped Jarrett Sepulveda address both strengths and some of her multisport weaknesses prior to competing at the Duathlon and Aquathlon World Championships. Other athletes have used lessons from camp to better maintain their bodies over a hard season, according to McGee.
When asked about takeaways from her time at Fantasy Camp, Jarrett Sepulveda listed more than a dozen. She enjoyed her time so much she hopes to repeat this once-in-a-lifetime experience this year.
"It's a great experience, it's really worth doing. And it's tremendously fun," she said. "You're meeting like-minded, interesting people with different backgrounds. It creates purpose and focus. There really wasn't a minute that we weren't learning something."
Athletes interested in attending the 2024 Training Camp may register on the USA Triathlon Foundation's website.
Funds raised through Fantasy Camp support a number of initiatives to grow multisport, including getting more kids involved through USA Kids Tri, providing opportunities for athletes from underserved communities/underrepresented populations, and shaping our country's next Olympians and Paralympians with support for junior, U23 and elite athlete development programs.
About the USA Triathlon Foundation
The USA Triathlon Foundation is a 501(c)(3) non-profit organization and the charitable arm of USA Triathlon. With its mission to transform lives through sport by providing opportunities to swim, bike and run, the Foundation serves to generate a greater impact on the multisport community through charitable giveback and grants that advance the Foundation's three pillars: (1) Encourage youth participation; (2) Inspire pathways to access and inclusion; and (3) Ignite Olympic/Paralympic dreams. Since the Foundation was established in 2014, it has impacted the lives of thousands by providing grants to organizations and individuals in pursuit of its mission and pillars to create a healthier United States through triathlon. To learn more about the Foundation and get involved, please visit usatriathlonfoundation.org.