Taylor Knibb Qualifies for 2020 U.S. Olympic Triathlon Team with Golden Race in Yokohama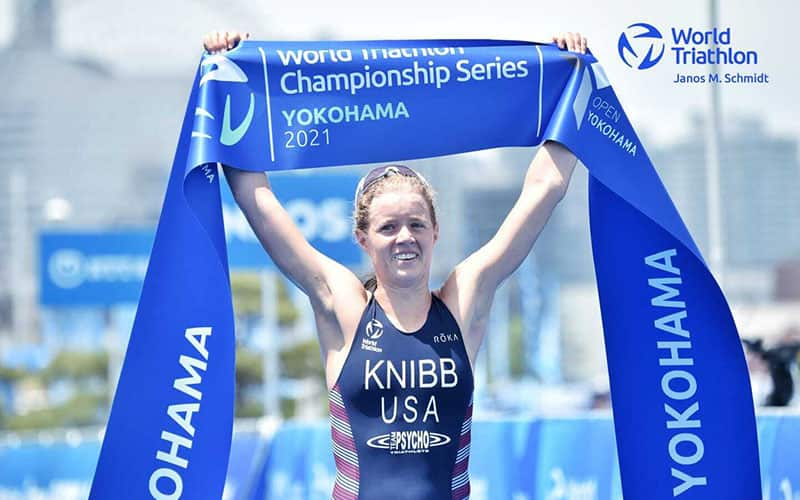 YOKOHAMA, Japan — Taylor Knibb, a 23-year-old Cornell University graduate from Washington, D.C., today qualified for the 2020 U.S. Olympic Triathlon Team with a gold-medal performance at the World Triathlon Championship Series in Yokohama, Japan. Knibb becomes the youngest woman in history to make the U.S. Olympic Triathlon Team.

Summer Rappaport (Thornton, Colo.), the only other U.S. triathlete already qualified for Tokyo based on her finish at the Tokyo ITU World Olympic Qualification Event in 2019, joined Knibb on the podium with silver.

The race in Yokohama marked the second and final auto-qualification opportunity for the U.S. Olympic Triathlon Team. With Knibb and Rappaport having now punched their tickets to Tokyo, the third and final spot on the women's team will be named via discretion by USA Triathlon's Games Athlete Selection Committee. For a complete explanation of U.S. Olympic Triathlon Team qualifying, click here.

Knibb has been the USA Triathlon National Team's youngest member since she first made the team in 2017. A triathlete since childhood, she grew up competing in USA Triathlon's youth and junior elite circuit. She went on to win the 2016 and 2017 Junior World Championships and the 2018 Under-23 World Championships — one of just three women ever to capture world titles at both the Junior and U23 levels. Knibb is a 2020 graduate of Cornell, where she ran NCAA track and cross-country for four years while balancing her elite triathlon career. She also joined the Cornell swim team her senior year. Today, Knibb trains in Boulder, Colorado, with Origin Performance Squad, an elite international triathlon training group.

In 2017, Knibb became the youngest athlete in history to medal in a World Triathlon Championship Series event when she earned silver in Edmonton, Canada. Today's gold in Yokohama marks her first-ever World Triathlon Championship Series victory.

Saturday's race featured a 1,500-meter swim, 40-kilometer bike and 10-kilometer run. Knibb executed her race in signature style — starting with a top-five swim, then breaking away on the bike alongside the Netherlands' Maya Kingma about 25k into the 40k course.

By the time they hit the second transition, Knibb and Kingma had a 90-second gap on the rest of the field. Knibb quickly moved into the lead on the run, leaving Kingma behind and clocking a 35-minute, 9-second 10k. She broke the tape in a total time of 1 hour, 54 minutes, 27 seconds — 30 seconds clear of Rappaport, who ran her way through the field to take the silver medal. Kingma rounded out the podium in 1:55:05.

"It was an awesome race — and thank you to Maya and all the other racers," Knibb said. "I wasn't really thinking about (the Olympics). I was just trying to get to the finish line, so one thing at a time! But I'm extremely grateful. Maya was so good through the technical sections, so I learned a lot and I have a lot of work to do on that part, but I was just trying to stay focused."

For Rappaport, the silver marked her second straight podium in Yokohama. The last year the race was held, in 2019, Rappaport was part of a U.S. podium sweep, taking silver alongside Katie Zaferes (gold) and Taylor Spivey (bronze).

"Japan is one of my favorite places to race, and I love coming back to Yokohama to race year after year," Rappaport said. "I was so happy we were able to hold the races here under safe conditions, and I'm so happy I was able to come back here and be part of a 1-2 American finish. I feel like today I really found my competitive fire again."

Spivey (Redondo Beach, Calif.) finished just off the podium in fourth place, 18 seconds behind Kingma.

Also racing for the U.S. were Kirsten Kasper (North Andover, Mass.), who placed 14th in 1:56:25; 2019 world champion and 2016 U.S. Olympian Katie Zaferes (Cary, N.C.), who was 22nd in 1:57:12; and Renée Tomlin (Ocean City, N.J.), who was 45th in 2:03:20.

The elite season heads next to Lisbon, Portugal, from May 21-23. The Lisbon races include individual World Triathlon Cup events and a Mixed Relay competition. The Mixed Relay will debut as an Olympic medal event at the Tokyo Games.

2021 World Triathlon Championship Series Yokohama
1,500m swim, 40k bike, 10k run

Elite Women — Complete Results
1. Taylor Knibb (Washington, D.C.), 1:54:27
2. Summer Rappaport (Thornton, Colo.), 1:54:57
3. Maya Kingma (NED), 1:55:05

U.S. Finishers
1. Taylor Knibb (Washington, D.C.), 1:54:27
2. Summer Rappaport (Thornton, Colo.), 1:54:57
4. Taylor Spivey (Redondo Beach, Calif., 1:55:23)
14. Kirsten Kasper (North Andover, Mass.), 1:56:25
22. Katie Zaferes (Cary, N.C.), 1:57:12
45. Renée Tomlin (Ocean City, N.J.), 2:03:20

About USA Triathlon
USA Triathlon is proud to serve as the National Governing Body for triathlon, as well as duathlon, aquathlon, aquabike, winter triathlon, off-road triathlon and paratriathlon in the United States. Founded in 1982, USA Triathlon sanctions more than 4,000 events and connects with more than 400,000 members each year, making it the largest multisport organization in the world. In addition to its work at the grassroots level with athletes, coaches, and race directors — as well as the USA Triathlon Foundation — USA Triathlon provides leadership and support to elite athletes competing at international events, including World Triathlon Championships, Pan American Games and the Olympic and Paralympic Games. USA Triathlon is a proud member of World Triathlon and the United States Olympic & Paralympic Committee (USOPC).