USA Triathlon Weekend Notebook: Collegiate Nationals and World Cup Podiums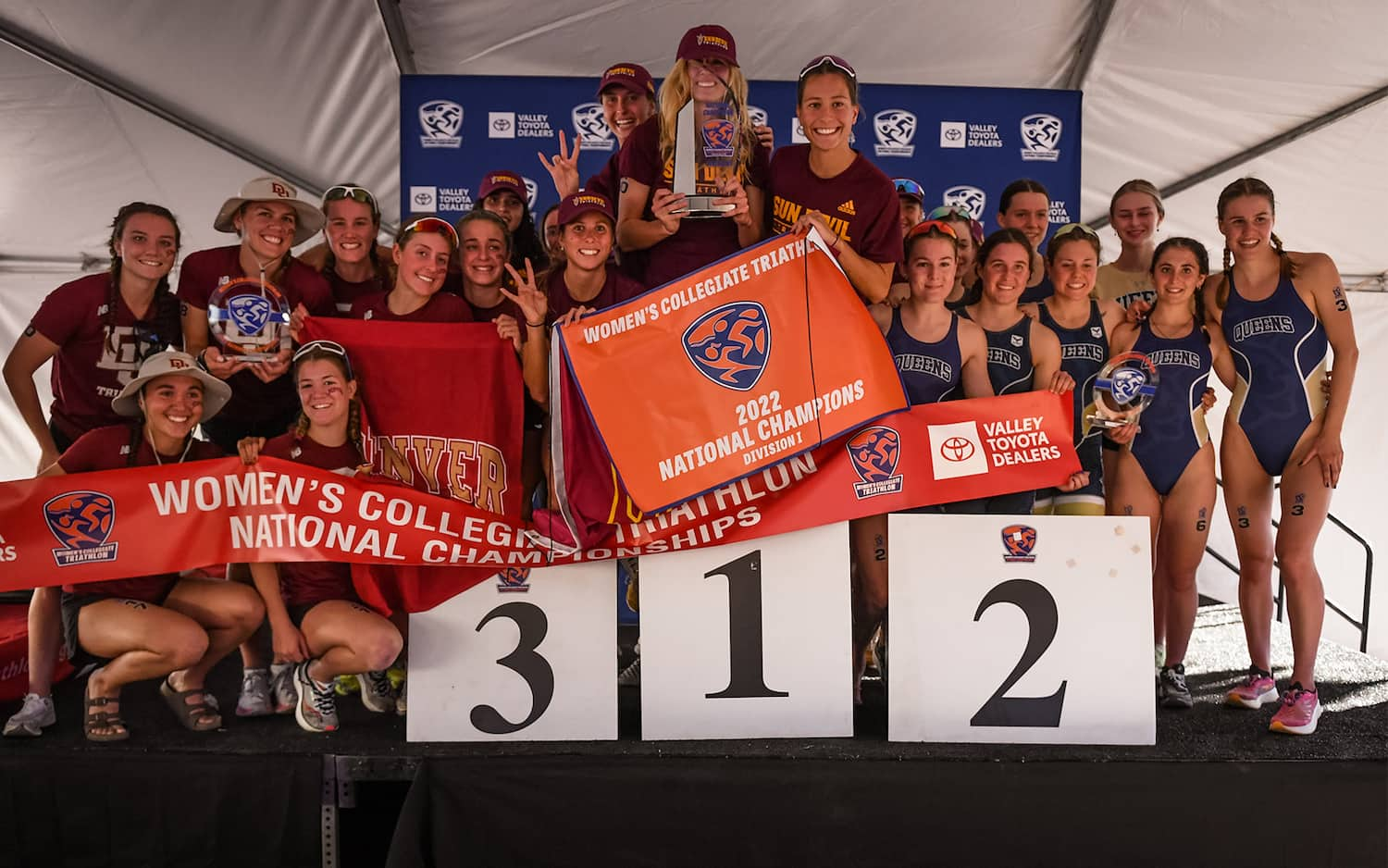 While the offseason is quickly approaching for many multisport athletes, USA Triathlon doesn't slow down until we get there!
This weekend saw another crazy action-packed competition weekend where Team USA boasted a ton of success specifically in women's triathlon, which we always love to see!
From a collegiate nationals right here on home soil, to testing out new courses down in South America, let's check out what Team USA was up to!
2022 Women's Collegiate Triathlon National Championships
Tempe, Ariz.
This has been a big year for NCAA triathlon. We hit the 40th school in the quest of officially becoming a legitimate NCAA varsity sport, which is a huge milestone and brings us one step closer to finally making it a reality.
So the energy was extra special at this year's Women's Collegiate Triathlon National Championships, which crowned three national champion teams and three individual national champions!
Arizona State University earned its sixth consecutive NCAA Division I national title, scoring a total of 239 points. The Sun Devils had four athletes finish in the top 10 to hold off a strong Queens University of Charlotte team that made its DI debut this season after winning six titles competing at the DII level.
Amber Schlebusch of ASU earned the individual DI crown in Tempe, crossing the line in 1 hour, 3 minutes, 41 seconds. Sun Devil teammate Liberty Ricca finished just over a minute behind to earn second place, with a time of 1:04:51.
Finishing the overall DI podium in third position was Letizia Martinelli (1:04:55) of Queens University of Charlotte. Her Queens teammates, Sam McInnes (1:05:27) and Natalia Hidalgo-Martinez (1:05:31) placed fifth and sixth, respectively, giving the Sun Devils stiff competition at the front of the race.

Arizona State, however, placed four in the top 10 as Alexandrine Coursol (1:05:35) and Camille Buchanan (1:05:42) placed seventh and eighth, and the squad's fifth athlete, Heidi Jurankova (1:07:07) placed 18th to give the Sun Devils 239 points to beat Queen's 230.
In the DII event, Lenoir-Rhyne University, which scored 268 points to win its first national title.
In the DII individual race, Wingate University's Julia Kekkonen earned the top honor, running the fastest 5k split of the day to take the win with a 1:06:54 overall time.
Second-place came from Jayme Vermaas (Drury University) crossing the line in 1:07:08 and in third place Shannon Ferran (Colorado Mesa University) finished just 12 seconds behind in a time of 1:07:20.
Lenoir-Rhyne's Eliska Rihova (1:07:26), Sabrina Fleig (1:07:38) and Claudia Teran (1:08:08) placed fourth, fifth and sixth and teammate Nanette Nikolajsen (1:08:33) placed ninth to lead the squad to its first national title.
In the DIII ranks, North Central College took home its fifth national crown, tallying 215 points.
Holding onto her reigning title, Hailey Poe of North Central College earned the individual championship honor in the DIII race. She won the title in 2021 and secured the back-to-back victory by leading out of the water and not relenting until she crossed the finish line in a time of 1:10:47. Her North Central teammates, Scarlett Schuth (1:14:52) and Bethany Smeed (1:14:53) placed fourth and fifth to help North Central secure its fifth national title.
Also for the second year in a row, Amira Faulkner of Trine University repeated her second-place finish with a time of 1:14:27. Taking third place was Delaney McPherson of Transylvania University with a time of 1:14:36.
2022 World Triathlon Cup Vina del Mar
Vina Del Mar, Chile
Then on Sunday, we made our way down to South America for the final World Triathlon Cup of the year.
After a whirlwind season that boasted nine events hosted throughout the globe, Vina de Mar debuted on the World Triathlon Cup circuit to preview the same course that will host the 2023 Pan American Games.
Gina Sereno (Madison, Wis.) stepped onto her first World Cup podium after a second-place finish at the 2022 World Triathlon Cup Vina del Mar.

Racing through the sprint-distance course (750-meter swim, 18.6-kilometer bike, 5K run) within a large lead pack, Sereno found her moment on the run to cruise past multiple competitors into the finish line to claim the silver medal in a time of 57 minutes and 15 seconds, just two seconds behind the winner.
Sereno's inaugural podium came after just her 10th World Cup appearance, first entering the scene in 2020.

Then on the men's side, another career high went to Darr Smith, who placed 8th - earning his highest World Cup finish!
And while it wasn't the result we are typically used to, it was amazing to see Tokyo 2020 Olympian Morgan Pearson back on the World Tri stage! He hasn't had the chance to race this season due to injuries, but it was a delight to see him back to the race course, happy and healthy!
He will be making an appearance in Abu Dhabi next week, so more races to come!