USA Triathlon Weekend Notebook: Kona Special Edition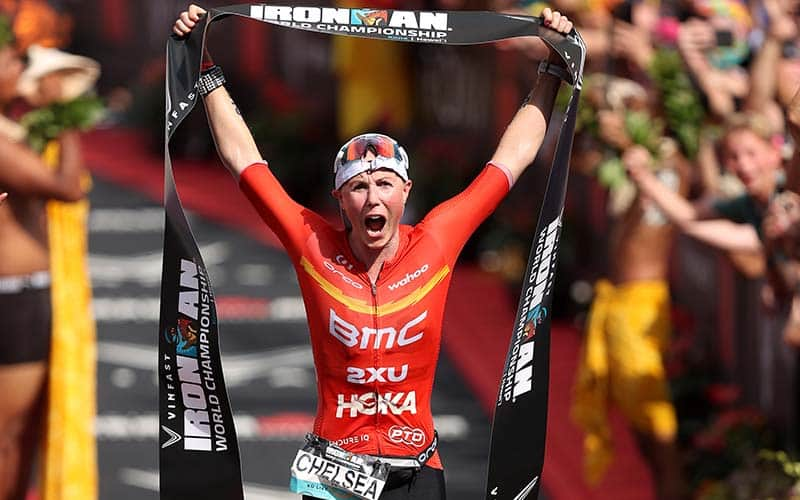 "You are an IRONMAN!".... the famous words that many triathletes who dare venture into the 140.6-mile journey dare to hear!
But for the more than 5,000 participants who traveled to Hawaii last week, they already know and crave those words and instead vie for a chance to be a World Champion!
For the first time since 2019, the VinFast IRONMAN World Championship returned to Hawaii to crown the best of the best in long-distance triathlon. This event has a rich history and is arguably one of if not the biggest triathlon Championship in the world. Hosted in Hawaii since 1978, it has been a permanent location in the island of Kailua-Kona since 1981. Due to COVID-19, the pandemic took out the competition in 2020 and 2021. This past May, St. George, Utah held the honor of hosting the event for a one-time gig to make up for the 2021 cancellation.
The return to Kona also brought a new format. For the first time, the event was split into two days. The professional women, age-group women and age-group men categories of M60-64, M65+, M50-54, M25-29 and PC athletes competed on Thursday, October 6 while the rest of the age-group men and professional men took the stage on Saturday, October 8.
This year's iconic race only became more iconic with the results of who conquered the 2.4-mile swim, 112-mile bike and a marathon — totaling 140.6 miles of racing and were named the IRONMAN World Champion!
So let's recap Kona!
Thursday, October 6:
The pro women started the Kona hype, with a stacked start list that included 9 U.S. women including IRONMAN veterans Skye Moench, Sarah True and Heather Jackson.
Right out of the gate, while the choppy waters brought predictions that the pack would be forced to stay mostly together, Great Britain's Lucy Charles-Barclay decided to break the odds and managed to get a comfy lead in the water. She exited the swim in 50:57, gaining a 40-second lead over a chase pack of four, which included USA's Lauren Brandon.
No swim course record today, but @LucyAnneCharles
exits the swim with less than a minute lead over a chase pack of four #IMWC2022 pic.twitter.com/NWlRuaOTnf


— Triathlete Magazine (@TriathleteMag) October 6, 2022
Charles-Barclay's lead didn't last long though, as her fellow Brit Fenella Langbridge caught her 10 miles into the bike and quickly became the new race leader. However, chasers opted to work together to try and close the gap. U.S. athletes Moench, Chelsea Sodaro and Jocelyn McCauley along with two other riders teamed up to catch the early frontrunners.
The cycle skill of the field became more evident, as less than 4 minutes separated the top 11 women, a dangerous gap to contend with going into the run.
Sodaro maintained her place near the top and boasted a bit of luck when penalties took out some of her international competition. However, more threats from behind continue to arise as former champ Daniela Ryf entered the chat. She pushed ahead and got in the top-three mix along with Charles-Barclay and Langbridge.
She took the lead and earned the first bike split at 4:36:1. Sodaro, who managed to keep her position as the top U.S. women on course only had a three-minute gap to fill out on the 26.2-mile run.
Once we hit the run... game was on!
Sodaro blasted out of T2 guns blazing, quickly putting on a scorching pace to catch up to the leaders.
Speaking of unsustainable...Sodaro has rushed out of T2 and hit the first few miles at 2:39-marathon pace 😳. #IMWC2022


— Triathlete Magazine (@TriathleteMag) October 6, 2022
Chelsea Sodaro has passed Charles-Barclay to take the lead of the 2022 Hawaii Ironman World Championship.

If she were to win, she would be the first IMWC rookie since Chrissie Wellington to break the tape. #IMWC2022


— Triathlete Magazine (@TriathleteMag) October 6, 2022
Sodaro earned the lead at the 8-mile mark and never slowed down. She cruised uncontested from that point on into the finish line to clock in at 8:33:46 and a 2:51:45 run split to win her first IRONMAN World Championship!
Sodaro became the first U.S. pro to win the championship crown since 2002 and the first U.S. woman since 1996. She also became the first IRONMAN rookie to win the title in 15 years, as this year marked Sodaro's first World Championship appearance.
And to top off her greatness, her win came just 18 months after giving birth to her daughter... Mom/Superstar/World Champion THAT IS WHAT THIS SPORT IS ALL ABOUT!
The remaining U.S. athletes finishing times were:
9. Skye Moench, 9:04:41
13. Haley Chura, 9:19:49
16. Heather Jackson, 9:22:17
18. Jodie Robertson, 9:25:57
25. Kelly Fillnow, 9:44:19
Thursday age-group racing also brought out a ton of action and inspiring moments. Chris Nikic crossed the line to become the first participant with Down's syndrome to finish the IRONMAN World Championship!
1325 women raced Thursday!

Saturday, October 8:
Apparently, the suspense of waiting three years to get back to Kona brought all sorts of performance goals out of the woodwork as Saturday's race, which featured the pro men's field, also showcased a historic and record-breaking day.
The men's roster had a ton of international talent, including the reigning World Champion from St. George earlier this year, Kristian Blummenfelt from Norway.
Similar to the women's race from Thursday, once the cannon blew, the men ventured off into choppy waters from the windy conditions.
No real leader could get ahead of the pack as most of the field was showing their strength against the swells. A pack of 19 men all exited within seconds of each others leading into the first transition, which included U.S. athletes Collin Chartier and Tim O'Donnell.
About a minute after that came another large group, which included USA's Rudy Von Berg.
Huge packs with dangerous bike/runners within two minutes of each other out of the water #IMWC2022 pic.twitter.com/bixkxDPesf


— Triathlete Magazine (@TriathleteMag) October 8, 2022t

Onto the 112-mile bike course.
O'Donnell found himself in a tight chase pack, aiming to track down Sam Laidlow of France and Max Neaumann of Australia.
Chartier, who set himself up with a good swim, lost sight in the bike with an early flat tire.
Laidlow ended up holding onto the lead through the bike. Although he had the eyes of the fast Norwegian duo of Blummenfelt and Gustav Iden just behind him, chomping at the bit to catch him once released onto the run.
One amazing part about having the men and women race on separate days, the women were able to cheer on the men. We love seeing athletes supporting athletes!
SHIRTS OFF PRO WOMEN RALLY CROWD on the #IMWC2022 bike course!! pic.twitter.com/wBV11YvwQ3


— Triathlete Magazine (@TriathleteMag) October 8, 2022

While on the run, the field which had stayed pretty compact throughout the first two disciplines, finally started to spread apart. The early pace was set at a 5:54-mile pace from the Norwegians.
O'Donnell positioned himself in a steady chase from the frontrunners.
The second chase group that includes Tim O'Donnell has nine minutes to make up on the race leader heading out into the run #IMWC2022. pic.twitter.com/J45TDfh8yy


— Triathlete Magazine (@TriathleteMag) October 8, 2022

Ultimately, with about 8 miles to go Iden put his turbo mode on, setting a 4:38-mile pace and bypassed the competition. He went on to win the men's race, claim his first World Championship title in what was only his second-ever IRONMAN race and set a new course record with a time of 7:40:24.
Sorry Sam, Gustav is here

Gustav Iden looks to bring home a World Championship!

DONT MISS IT - https://t.co/39ExOXLQqK#IMWC2022 @VinFastofficial pic.twitter.com/aU3m0fJdxE


— IRONMAN Triathlon (@IRONMANtri) October 9, 2022

The top U.S. men's finishers went to Tim O'Donnell, placing 13th with a time of 8:02:58.
The remaining USA finishing times were:
15. Matt Hanson, 8:04:55
20. Rudy Von Berg, 8:12:47
25. Ben Hoffman, 8:21:55
35. Collin Chartier, 8:34:27
44. Chris Leiferman, 9:44:48

From there it was just the over 2,000 age-group men that had to hit the course and snag some World Titles! A packed race day is always our favorite! From PR's to the amazing final finisher, it was an epic day of age-group racing.
Final finisher x final #IMWC for @IronmanVoice ♥️ pic.twitter.com/YZl4PRzG2g


— IRONMAN Triathlon (@IRONMANtri) October 9, 2022
A totally biased, but necessary shout-out goes to USA Triathlon's own Eric Engel, who placed third in his age-group!
Some more of our favorite moments came from the athletes themselves! Cheers to another Kona weekend!