News
Legacy Triathlon
USA Triathlon
Paratriathlon
Elite
USA Triathlon Weekend Notebook: Legacy Takes Over Long Beach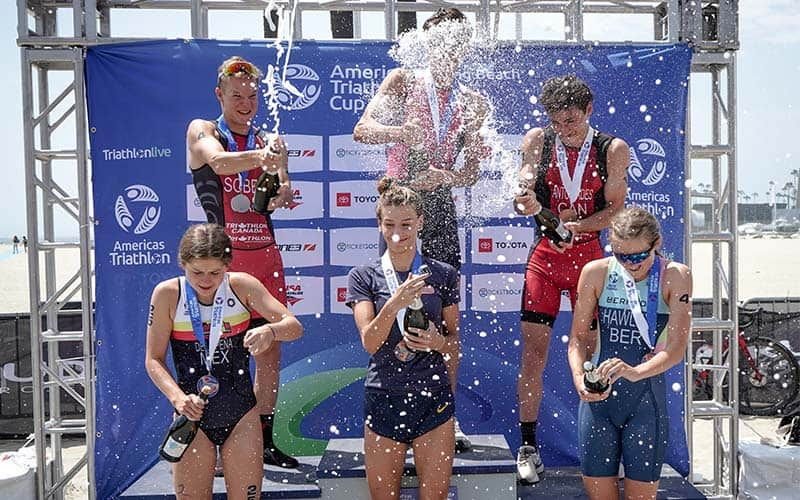 2022 Toyota Legacy Triathlon
Long Beach, Calif.
USA Triathlon took over Long Beach over the weekend for the third annual Toyota Legacy Triathlon!
Over 800 triathletes ranging in all skill levels from newbies to Olympians loaded up the southern California coastline and raced Alamitos Beach, the proposed site of the triathlon competitions for the Olympic and Paralympic Games Los Angeles 2028.
Age-groupers competed on a sprint-distance course. Jenna Haufler (Mill Valley, Calif.) won the women's overall title on Saturday in a time of 1 hour, 5 minutes, 33 seconds, while Rayan Jamshidian (Irvine, Calif.) took the men's overall win in 57:58.
It's great to be back ☀️🌴

Day 1⃣ of the 2022 Toyota Legacy Triathlon is a wrap.

Congratulations to our overall champions of the Open Water Swim Competition, Jenna Haufler (1500m) and Emma Meyers (750m) who dominated today! #LegacyTri pic.twitter.com/BAJUREPHav

— USA Triathlon (@usatriathlon) July 16, 2022
Americas Cup Long Beach
Long Beach, Calif.
Nearly 120 elite triathletes and Paris 2024 and LA 2028 Olympic hopefuls competed in the second annual Americas Triathlon Cup race. For U.S. athletes, the race will serve as the Under-23 National Championships.
Davis Bove won the elite men's race, finishing with a time of 52:01.
The women's champion went to Gina Sereno with a winning time of 1:00:08.
U.S. elite triathletes Davis Bove and Gina Sereno gave it their all with exciting sprint finishes to win gold at the 2022 Americas Triathlon Cup Long Beach 🥇🥇 pic.twitter.com/aK9s94TqDc

— USA Triathlon (@usatriathlon) July 18, 2022
Paratriathlon National Championships
Long Beach, Calif.
The action continued in Long Beach with the elite paratriathletes competing for national titles over 6 sport classifications. For the third time in the history at the Toyota USA Paratriathlon National Championships, the race will feature a professional prize purse of $36,750, provided in equal parts by USA Triathlon, Toyota and the Challenged Athletes Foundation (CAF).
Kyle Coon captured the U.S. national title in the men's PTVI category, with his guide, Zack Goodman (Salisbury, Md.), clocking a time of 1 hour, 1 minute, 46 seconds. The duo has now raced four times together this season, with four wins.

In the men's PTS5 classification, Hammer cruised to victory in a time of 1:01:13, including a 16:11 run split.
Emma Meyers (Pensacola, Fla.) won the women's PTS4 U.S. national title. She is a member of the USA Paratriathlon Junior & U23 Development Team Program.
2022 Birmingham World Games
Birmingham, Ala.
Duathlon got the spotlight on the international front over the weekend as athletes ran-biked-ran in the 2022 World Games, held in Birmingham, Alabama.
The World Games has a rich history of highlighting international sports that typically you would not see in an Olympic or Paralympic Games.
This year marked the World Games' 40th anniversary and was the first edition of the event to be hosted in the United States since the inaugural World Games in Santa Clara, California, in 1981.

Around 3,600 athletes represented over 100 countries during the 10-day international competition.
Four age-group athletes competed for Team USA in both individual standard-distance and Mixed Relay formats: Kari Giles (Austell, Ga.), Deanna Newman (Mountain Brook, Ala.), Albert Harrison (Moscow, Idaho) and Alex Arman (Boulder, Colo.).
XTERRA USA Championship
Beaver Creek, Colo.
Like father, like son.
The best cross triathletes gathered in Beaver Creek, Colorado over the weekend to earn the rights to the National Championship title.
Young 18-year old Sullivan Middaugh raced as a pro for the very first time and apparently once is all it takes as he claimed the win and title.
Making his debut victory even sweeter was who he won over, Middaugh beat out his Dad, 15-time XTERRRA Champ, Josiah Middaugh, who came in second place just under two minutes behind his son.
It seems that the student really has surpassed the teacher!