Norman Nabs PT4 Gold, Seely Leads U.S. PT2 Sweep as Women's Triathlon Debuts in Paralympics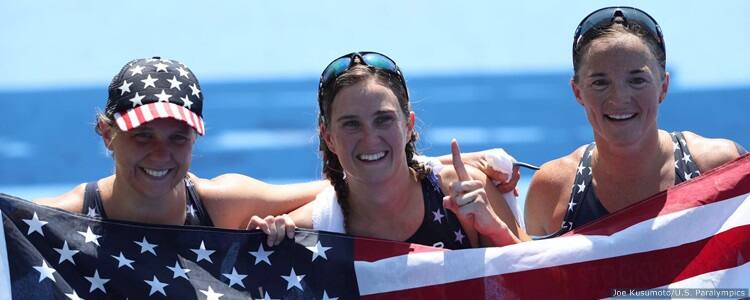 RIO DE JANEIRO — The U.S. Paralympic Women's Triathlon Team kicked off triathlon's Paralympic Games debut with gold, silver and bronze as Grace Norman claimed the first-ever gold medal in the women's PT4 sport class and Allysa Seely led Hailey Danisewicz and Melissa Stockwell in a PT2 sweep on Sunday at Copacabana Beach.
Norman (Jamestown, Ohio) clocked in at 1 hour, 10 minutes, 39 seconds on the 750-meter swim, 20-kilometer bike, 5-kilometer run course to claim the first Paralympic medal ever awarded in women's triathlon. It was a close race from start to finish between Norman and Great Britain's Lauren Steadman, who finished with the silver medal in 1:11:43. France's Gwladys Lemoussu earned the bronze medal in 1:14:31. Patricia Collins (Alexandria, Va.) finished 10th.
Norman led the PT4 women out of the water, but was caught by Steadman at the start of the bike. Though Steadman led through most of the 20k bike leg, Norman kept in close contact with her, never more than 10 seconds behind. While Norman lost a bit of time in the second transition, she had the run speed to chase down Steadman and caught her competitor by the end of the first lap on the run. Then Norman unleashed in the second lap, showing off her signature run speed to win the PT4 gold by more than 1 minute.
"It feels amazing," said Norman, who will also compete on the track in the 400-meter. "It's been a long journey, a lot of training, a lot of everything. So to come across that line in first for the U.S., to make first in the history of paratriathlon, is just an incredible feeling. Last year here at the test event, [Steadman] beat me out of the water by around a minute, and so I've been working extremely hard on my swim. So to move up and see improvements like that here and Rotterdam have just been a reward. I'm seeing my hard work pay off. I've improved in the bike and the run as well, but definitely the swim has been my big improvement."
In the women's PT2 race, Seely (Glendale, Ariz.) captured gold in 1:22:55, with compatriot Danisewicz (Chicago. Ill.) picking up the silver in 1:23:43 and Stockwell (Chicago, Ill.) rounding out the podium with bronze in 1:25:24.
"It's been an amazing season," said Seely, who is running in the 200-meter prelims on the track tomorrow. "I knew I needed to have a really strong swim out there, to get as close to the front as I could, put as much time in between me and some of my competitors. Coming off the bike, I had a lot of work to do. I put my head down and I went for it. I'm a runner at heart and that's my soul, so I really just gave it everything I had and I'm really excited with how everything turned out.
Each of the Americans had their chance to lead the race, with Stockwell coming out of the water first. Danisewicz threw down the hammer on the bike, putting a gap of more than 90 seconds between her and the chasing duo of Stockwell and Seely as she posted the day's fastest bike split among PT2 women (40:13). Once out on the run, Seely's run speed shined through as she posted a 24:13 5k split to top the podium in the American sweep.
"I don't know where to start. It feels amazing," Danisewicz said. "This day we've been waiting for, for so long. It's the culmination of the best four years of my life, and I think I had one of the best races of my life. I'm so stoked to be here.The three of us have been together for the last four years, we've gone through so much together — the highs, the lows, ups and downs, victories, setbacks. We've always been there for each other. For me, it's really that journey that has been most rewarding. This is just the cherry on top."
Stockwell, who competed in the Beijing 2008 Paralympic Games as a swimmer, was awarded a bipartite invitation spot, allowing her to compete with her fellow Americans in Rio and complete the podium sweep.
"I am on top of the world. My bronze medal right there felt like a gold medal. A journey that has gone the last couple years — having my son, battling a few injuries, and to be able to be on the podium with two of my greatest friends, two USA teammates, two training partners… I mean, this is one of the greatest moments of my life. I am just so excited. I am thrilled. I am absolutely thrilled with the outcome."
For Stockwell, a U.S. Army veteran who lost her leg in Iraq in 2004, competing on Sept. 11 carried significance in another way, as well.
"The 15th anniversary of September 11, every year it's a meaningful day for me," she said. "To be here representing the USA, with the USA uniform on, on the world's biggest athletic stage — when it got really tough out there, I thought of those who made the ultimate sacrifice and didn't make it back and they pushed me to the finish, wanting to give my thanks to them."
Collins, also an Army veteran who recently retired after 25 years of service, echoed the sentiment.
"It's an honor, really," Collins said. "To be the first class of paratriathletes in Rio, and they rolled out the red carpet for us. As an Army veteran, to do it on Sept. 11 is huge to me, so I am kind of without words."
In the PT5 race, Elizabeth Baker (Signal Mountain, Tenn.) finished fourth in 1:14:34, while Patricia Walsh (Austin, Texas) finished seventh. Baker made up ground on the bike and the run and was within striking distance of the bronze medal when her legs couldn't take her any further.
"I'm super proud, because no one had any idea who we were to begin with," said Baker, who was guided by Jillian Petersen. "We were sort of the no-name team, so no one expected us to be anywhere. But to get so close and to not be able to close it was just very, very frustrating. A year ago I wasn't even involved. I'm very proud and I'm very thankful for the opportunity. It makes me want to come back. I have one year of training under my belt, so maybe a few more years and I'll have learned a little."
Australian Katie Kelly won the gold medal in 1:12:18, followed by Britons Alison Patrick and Melissa Reid, who finished second and third, respectively.
The decision to add triathlon to the Paralympic Games came in December 2010, and regardless of finish place, competing in Rio was a dream realized for many long-time athletes.
"No matter what, it's always been worth it," Walsh said. "Six years of training and really having an eye on the prize as long as I've ever done, the whole experience was absolutely worth it. This is probably the end of my career, so it's good to end on a high note."
To learn more about the U.S. Paralympic Triathlon team, visit usatriathlon.org/rio2016. Find more quotes from the Women's Triathlon Team here.
Rio de Janeiro 2016 Paralympic Games

750m swim, 20k bike, 5k run
Complete Results

PT2 Women
1. Allysa Seely (Glendale, Ariz.), 1:22:55
2. Hailey Danisewicz (Chicago, Ill.), 1:23:43
3. Melissa Stockwell (Chicago, Ill.), 1:25:24
PT4 Women
1. Grace Norman (Jamestown, Ohio), 1:10:39
2. Lauren Steadman (GBR), 1:11:43
3. Gwladys Lemoussu (FRA), 1:14:31
10. Patricia Collins (Alexandria, Va.), 1:21:08
PT5 Women
1. Katie Kelly (AUS), 1:12:18
2. Alison Patrick (GBR), 1:13:20
3. Melissa Reid (GBR), 1:14:07
4. Elizabeth Baker (Signal Mountain, Tenn.), 1:14:34
7. Patricia Walsh (Austin, Texas), 1:17:55