Zaferes Takes Silver at ITU World Triathlon Grand Final, Earns Overall Series Bronze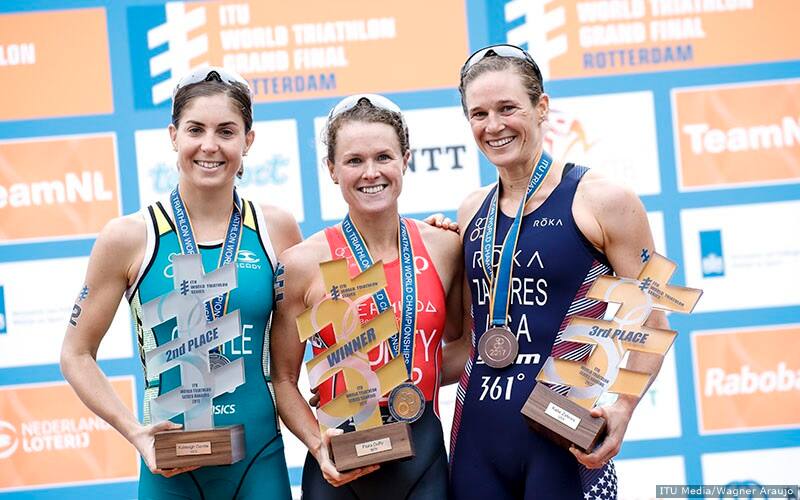 ROTTERDAM, Netherlands — Katie Zaferes (Hampstead, Md.) executed the race she needed on Saturday afternoon at the ITU World Triathlon Grand Final Rotterdam, earning silver on the day and finishing third in the season-long ITU World Triathlon Series rankings.

It was a successful day overall for the American women, as Kirsten Kasper (North Andover, Mass.) placed fourth and Summer Cook (Thornton, Colo.) took ninth. Taylor Spivey (Redondo Beach, Calif.) also raced well with a 16th-place finish.

The course in Rotterdam featured an Olympic-distance 1,500-meter swim, 40-kilometer bike and 10-kilometer run in cold, slick conditions. Bermuda's Flora Duffy ran away with the victory, successfully defending her Grand Final gold and overall WTS title, while Great Britain's Jessica Learmonth collected the bronze.

The U.S. athletes were in the mix from the beginning, as Spivey, Zaferes, Cook and Kasper were fourth through seventh out of the water respectively.

Zaferes executed her race strategy on the bike, joining a breakaway with Learmonth and Bermuda's Flora Duffy. Duffy, who entered the Grand Final with a perfect 4,000 points in the WTS rankings, has used a breakaway on the bike to build her winning margin in virtually every one of her WTS victories this season.

The leading trio rode the whole 40k bike together, followed by a small chase pack that included Kasper, Cook and Spivey. As they headed out onto the run, Duffy, Zaferes and Learmonth had a minute on the seven-woman chase.

The three frontrunners spread out over the 10k run, and neither Zaferes nor Learmouth could match Duffy's pace. The Bermudan ran a race-leading 33:36 10k, finishing with a total time of 1:58:39. Zaferes held firmly to her silver-medal position, crossing the line second in 1:59:34.

"I wanted to execute like I have been," Zaferes said. "I've seen all the pieces this year, the swim, bike and run. I just wanted to put it together and perform on a big day, and today I did that."

The American crashed out of her last race at WTS Stockholm while on a bike breakaway with Duffy, and she said she was happy to perform to her potential on Saturday.

"After Stockholm, I said, 'I'm going to be there for the whole time for the next race, and I'm glad that I stayed true to my word," Zaferes said. "Flora won, but I kind of feel like I did, at least for myself."

Kasper ran hard from the chase pack in an effort to catch Learmonth, but didn't have enough time to gain the ground she needed as Learmouth came through for bronze in 2:00:57. Kasper crossed fourth in 2:01:29; her previous best performance in a Grand Final had been 29th.

Cook was the ninth athlete through the finishing chute in 2:02:30, and Spivey was 16th in 2:04:01. Also competing for the U.S. were Renée Tomlin (Ocean City, N.J.), who took 34th in 2:08:59, and Lindsey Jerdonek (Brecksville, Ohio), who opted to pull out of the race after the run.

Duffy won the overall WTS season title with a commanding 5,200 points, followed by Ashleigh Gentle of Australia with 4,320. Zaferes, who entered the Grand Final ranked No. 4, moved up one spot to take the series bronze with 4,302 points.

Kasper moved up a spot in the rankings as well, finishing the season at No. 4 with 3,819 points.

The men's ITU World Triathlon Grand Final was also held Saturday, and Eric Lagerstrom (Portland, Ore.) was the top American in a career-best 17th place.

Lagerstrom and Ben Kanute (Geneva, Ill.) both positioned themselves well after the swim, exiting the water just 11 seconds back from lead swimmer Richard Varga of Slovakia.

The two Americans caught onto a 15-man lead pack to start the bike. A hard-charging group of chasers led by Norway's Kristian Blummenfelt soon caught up, and the two groups merged to form a large pack of 33. The peloton stayed together for the remainder of the 40k course, leaving the medals to be decided on the run.

As they headed out to the 10k course, four of the season's big names — Blummenfelt, Spain's Javier Gomez Noya, Great Britain's Jonathan Brownlee and France's Vincent Luis — started to pull away. Series frontrunner Mario Mola of Spain soon ran his way up front as well, knowing he had to place top-five on the day to secure his WTS overall title.

Luis would be the one to pull away, outsprinting Blummenfelt by two seconds to take gold in 1:51:26. The Norwegian earned silver in 1:51:28, and Mola took bronze in 1:51:36. Gomez and Brownlee were both through the finish less than 20 seconds after Mola, placing fourth and fifth.

While neither American was able to keep pace with the lead runners, Lagerstrom held strong to a top-20 finish. His 1:54:12 finishing time was good for 17th, matching his career-best WTS performance from ITU World Triathlon Edmonton in 2015.

"It was a fight the whole way, I just really had to go all in," Lagerstrom said. "I'm pretty happy with top-20. I just wanted to make it into the lead group and come off the bike near the front, and see what I could do on the run. The course was crazy — there was never a dull moment."

Kanute came through in 1:57:10, taking 42nd overall.

Mola's third-place performance was enough to secure him the overall series title with 4,728 points. Gomez finishes the season ranked second with 4,311 points, and Blummenfelt is the season's bronze medalist with 4,281.

Visit wts.triathlon.org/rankings to view the final WTS season rankings for elite men and women.

The racing in Rotterdam concludes Sunday with the ITU Age Group Triathlon Sprint and Standard-Distance World Championships. Visit usatriathlon.org for coverage of all U.S. races at the ITU World Triathlon Grand Final, and visit rotterdam.triathlon.org for complete event details.

ITU World Triathlon Grand Final Rotterdam

1,500m swim, 40k bike, 10k run


Elite Women – Complete Results
1. Flora Duffy (BER), 1:58:39
2. Katie Zaferes (Hampstead, Md.), 1:59:34
3. Jessica Learmonth (GBR), 2:00:57

U.S. Finishers
2. Katie Zaferes (Hampstead, Md.), 1:59:34
4. Kirsten Kasper (North Andover, Mass.), 2:01:29
9. Summer Cook (Thornton, Colo.), 2:02:30
16. Taylor Spivey (Redondo Beach, Calif.), 2:04:01
34. Renée Tomlin (Ocean City, N.J), 2:08:59
Lindsey Jerdonek (Brecksville, Ohio), DNF
Elite Men – Complete Results
1. Vincent Luis (FRA), 1:51:26
2. Kristian Blummenfelt (NOR), 1:51:28
3. Mario Mola (ESP), 1:51:36


U.S. Finishers
17. Eric Lagerstrom (Portland, Ore.), 1:54:12
42. Ben Kanute (Geneva, Ill.), 1:57:10


About USA Triathlon
USA Triathlon is proud to serve as the National Governing Body for triathlon, as well as duathlon, aquathlon, aquabike, winter triathlon, off-road triathlon and paratriathlon in the United States. Founded in 1982, USA Triathlon sanctions more than 4,300 races and connects with nearly 500,000 members each year, making it the largest multisport organization in the world. In addition to its work with athletes, coaches, and race directors on the grassroots level, USA Triathlon provides leadership and support to elite athletes competing at international events, including International Triathlon Union (ITU) World Championships, Pan American Games and the Olympic and Paralympic Games. USA Triathlon is a proud member of the ITU and the United States Olympic Committee (USOC).