Hampton University Becomes First HBCU to Add Women's Triathlon as a Varsity
Sport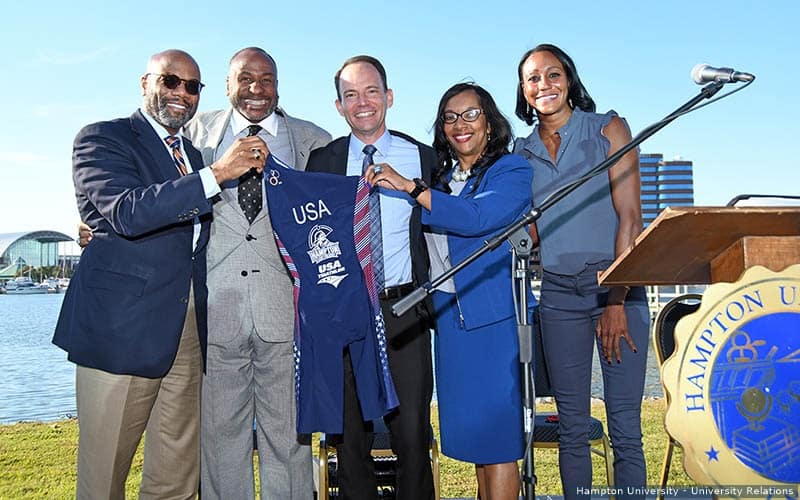 From left: Hampton University Vice President Paul C. Harris; Hampton University Director of Athletics Eugene Marshall, Jr.; USA Triathlon CEO Rocky Harris; Hampton University Assistant Director of Athletics and Senior Woman Administrator Dr. Paula Jackson; and Sika Henry, Aspiring Professional Triathlete and Member of the Black Triathletes Association.

COLORADO SPRINGS, Colo. — USA Triathlon, along with Hampton University President Dr. William R. Harvey and Director of Athletics Eugene Marshall, Jr., today announced that Hampton University will introduce women's triathlon as a varsity sport starting in the fall of 2019. The school, located in Hampton, Virginia, is the first-ever HBCU (Historically Black Colleges and Universities) to participate in the sport at the varsity level.

The addition of the Hampton women's triathlon program is made possible through a $225,000 grant from the USA Triathlon Foundation, which was reserved for the first HBCU that added the sport at the varsity level in a proactive effort to increase diversity in collegiate triathlon. The grant will be distributed over a five-year period and may support travel, equipment, coaching, scholarships and other expenses related to building a sustainable varsity program.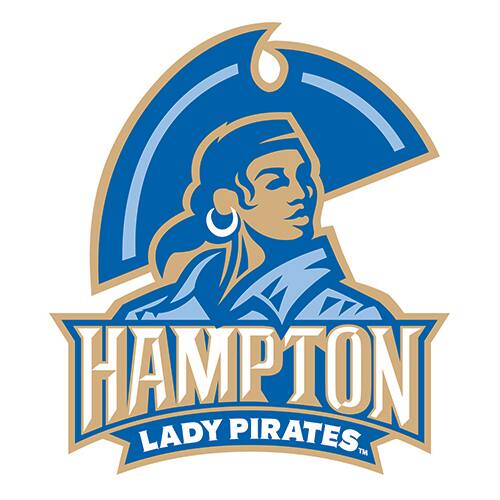 All other varsity women's triathlon programs, including future HBCUs, have the opportunity to apply for the standard USA Triathlon Foundation Women's Emerging Sport Grant.

USA Triathlon is planning a number of other initiatives focused on HBCU community engagement, including an indoor triathlon series at HBCU campuses, an HBCU triathlon combine to identify multisport talent, a campus rep program and a professional development program for HBCU students interested in working in the Olympic movement.

These initiatives are part of USA Triathlon's larger mission to increase diversity in triathlon. The organization has been recognized by the U.S. Olympic Committee for two consecutive years for its diversity and inclusion efforts, receiving the USOC's Advancing Diversity & Inclusion Award in 2017 and the Diversity & Inclusion Choice Award in 2018.

"Hampton University's addition of a varsity women's triathlon program is cause for celebration for many reasons," said Rocky Harris, USA Triathlon CEO. "USA Triathlon is in the process of collaborating with HBCUs on a variety of initiatives to increase diversity in triathlon at the youth and collegiate level, and this is an important step in that direction. The academic and athletic administration at Hampton have proven to be leaders by committing to this unique opportunity for female student-athletes, who will shape the future of our sport for years to come."

"This is another example of Hampton University leading the way," said Hampton University President Dr. William R. Harvey. "I am proud of the Department of Athletics team that made the Hampton University women's triathlon program a reality."

A national search for a head coach will commence immediately, and the athlete recruitment process will begin as soon as a coach is hired.

Hampton becomes the sixth NCAA Division I program and the 26th school overall to sponsor women's triathlon as a varsity sport. Other programs in USA Triathlon's Mideast Region include Belmont Abbey College (Belmont, N.C., DIII), Davis & Elkins College (Elkins, W.V., DII), East Tennessee State University (Johnson City, Tenn., DI), Queens University of Charlotte (Charlotte, N.C., DII) and Transylvania University (Lexington, Ky., DIII).

The NCAA named triathlon an Emerging Sport for Women in 2014, a designation that gives the sport a 10-year window to demonstrate sustainability at the NCAA level.

Women's collegiate triathlon is a fall sport. The varsity season, which is comprised of three regional qualifiers and the Women's Collegiate Triathlon National Championship, features sprint-distance races covering a 750-meter open water swim, draft-legal 20-kilometer bike and 5-kilometer run.

For more information about triathlon as an NCAA Emerging Sport for Women, visit usatriathlon.org/ncaa. For questions regarding varsity collegiate women's triathlon events and programming, contact Jessica Welk at Jessica.welk@usatriathlon.org.

What others are saying about the addition of women's triathlon at Hampton University:

Amy Wilson, Managing Director, NCAA Office of Inclusion
"Congratulations to Hampton University on adding women's triathlon — an NCAA emerging sport — and further enhancing its remarkable tradition of providing meaningful opportunities for student-athletes. I commend USA Triathlon for partnering with Hampton University through its impactful grant program, as well as for its extensive plans to engage with HBCUs across the country to increase the number of diverse student-athletes participating in intercollegiate triathlon."

John Cassimatis, President, USA Triathlon Foundation
"The USA Triathlon Foundation is proud to present Hampton University with grant funding to build a sustainable women's varsity triathlon program. The Foundation's mission is to open pathways to triathlon for all, and a key component of that is increasing racial and ethnic diversity in our sport. Hampton's presence in the NCAA triathlon family means that young women with dreams of attending an HBCU can now consider triathlon as a collegiate sport option for the first time, which opens new opportunities both academically and athletically."

Shelley C. Davis, Senior Associate Commissioner and SWA, Big South Conference
"There is tremendous significance in Hampton University adding triathlon. Not only does this provide additional opportunities for women to compete in the sport, but Hampton is also the first Historically Black College/University and Big South Conference member institution to sponsor triathlon. It is exciting to see the growth of triathlon as an NCAA Emerging Sport, and the Big South looks forward to celebrating Hampton's success and exposing the sport to the rest of our member institutions."

Charles Harris, Executive Vice President of Averett University, Former Commissioner of the Mid-Eastern Athletic Conference and Hampton University Alumnus
"I am delighted to offer congratulations to Hampton for taking an innovative step into offering women's triathlon as a varsity intercollegiate sport. Hampton has a 151-year history of being a pathfinder for opportunities. It comes as no surprise that under the leadership of President Dr. William R. Harvey and Athletic Director Eugene Marshall, Jr., they would seize the opportunity to take a leadership role in opening a new pathway for women in sport. This announcement is the first in what I anticipate will be a wellspring of unique opportunities for HBCU student-athletes to participate in sport at the highest level possible."

Dr. Tekemia Dorsey, CEO, International Association of Black Triathletes
"Hampton University's partnership with USA Triathlon provides a pathway into the collegiate arena for the sport at an HBCU for young black women from urban communities around the world. As IABT's Youth & Junior Club Programs continue to expand here in Maryland through partnerships with urban local school systems, we are now able to advocate, support and encourage enrollment in Hampton University's triathlon program. I have great hope that other HBCUs will come on board to introduce the program, especially in the Baltimore-Washington metropolitan area. This has been an initiative of mine for several years, and I am ecstatic to see it come to fruition. Historic, groundbreaking, monumental. Great job, Hampton University and USA Triathlon!"

Tony Brown, Founder and President, Black Triathletes Association
"On behalf of the Black Triathletes Association (BTA), I would like to congratulate USA Triathlon and Hampton University on this landmark achievement. It has always been the mission of BTA to promote the sport of triathlon to the black community, and this partnership exemplifies the importance of diversity and inclusion in collegiate-level athletics. Several of the member athletes and volunteers of BTA are HBCU alum and have expressed overwhelming praise and gratitude in this endeavor. We are committed to a multisport lifestyle and look forward to supporting the success of the NCAA women's triathlon team at Hampton University."

Current Varsity Women's Collegiate Triathlon Programs (as of Oct. 30, 2018)

NCAA Division I
Arizona State University (Tempe, Ariz.)
East Tennessee State University (Johnson City, Tenn.)
Hampton University (Hampton, Va.)
University of San Francisco (San Francisco. Calif.)
University of South Dakota (Vermillion, S.D.)
Wagner College (Staten Island, N.Y.)

NCAA Division II
American International College (Springfield, MA)
Belmont Abbey College (Belmont, N.C.)
Black Hills State University (Spearfish, S.D.)
Colorado Mesa University (Grand Junction, Colo.)
Daemen College (Amherst, N.Y.)
Davis & Elkins College (Elkins, W.V.)
Drury University (Springfield, Mo.)
Montana State University Billings (Billings, Mont.)
Queens University of Charlotte (Charlotte, N.C.)
St. Thomas Aquinas College (Sparkill, N.Y.)
Southern Wesleyan University (Central, S.C.)

NCAA Division III
Calvin College (Grand Rapids, Mich.)
Concordia University Wisconsin (Mequon, Wis.)
Millikin University (Decatur, Ill.)
Milwaukee School of Engineering (Milwaukee, Wis.)
North Central College (Naperville, Ill.)
Northern Vermont University (Johnson, Vt.)
Transylvania University (Lexington, Ky.)
Trine University (Angola, Ind.)
Willamette University (Salem, Ore.)

About the USA Triathlon Foundation
The USA Triathlon Foundation was created in 2014 by the USA Triathlon Board of Directors as an independent tax-exempt 501(c)(3) entity. Under the leadership of its Trustees and Committee members, the Foundation serves as a means to create a healthier America through triathlon, and seeks to transform lives by opening up new pathways to the sport for all, especially those who are otherwise underserved. The USA Triathlon Foundation operates with the belief that every child should have the chance to participate, every paratriathlete should have the opportunity to compete, and every aspiring elite athlete should be able to chase his or her Olympic dream. Since the Foundation's inception, more than $1.9 million has been provided to worthy causes and organizations that support its mission. Donations to the USA Triathlon Foundation ensure America's youth are introduced to the benefits and fun of a multisport lifestyle, athletes with disabilities receive the training, support and gear to be able to participate and excel, and the best aspiring young athletes have a chance to pursue their Olympic Dreams. Visit usatriathlonfoundation.org to learn more and donate today.

About USA Triathlon
USA Triathlon is proud to serve as the National Governing Body for triathlon, as well as duathlon, aquathlon, aquabike, winter triathlon, off-road triathlon and paratriathlon in the United States. Founded in 1982, USA Triathlon sanctions more than 4,300 events and connects with more than 400,000 members each year, making it the largest multisport organization in the world. In addition to its work at the grassroots level with athletes, coaches, and race directors — as well as the USA Triathlon Foundation — USA Triathlon provides leadership and support to elite athletes competing at international events, including International Triathlon Union (ITU) World Championships, Pan American Games and the Olympic and Paralympic Games. USA Triathlon is a proud member of the ITU and the United States Olympic Committee (USOC).