USA Triathlon Announces Fall 2021 Women's Collegiate Triathlon Schedule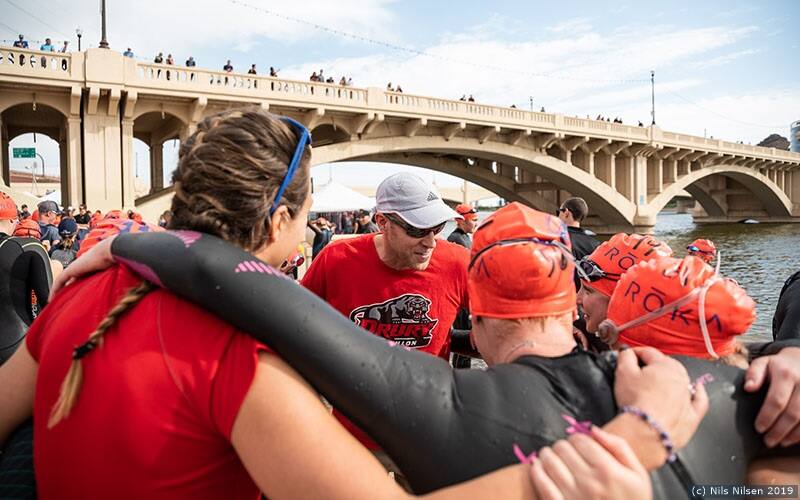 COLORADO SPRINGS, Colo. — USA Triathlon today announced the dates and locations for the three events that will serve as National Qualifiers for the 2021 Women's Collegiate Triathlon season. The 2021 Women's Collegiate Triathlon National Championships will return to Tempe, Arizona, for the fourth year on Nov. 13. The National Championships have been hosted by Arizona State University in Tempe every year since 2017, with the exception of the 2020 season that was canceled due to COVID-19.

"The 2021 season has been long-awaited for our entire women's collegiate triathlon family. When collegiate racing was put on pause in 2020, adaptability became the name of the game — and many teams took those challenges as an opportunity to become stronger and more cohesive," said Tim Yount, Chief Sport Development Officer at USA Triathlon. "Several new NCAA programs will make their debut this season, and we can't wait to welcome them as we approach the finish line for full NCAA Championship inclusion."

The 2021 season begins Sept. 4 with the first national qualifier in Pleasant Prairie, Wisconsin, hosted by race management company Experience Triathlon. The second qualifier is set for Oct. 16 in Smith Mountain Lake, Virginia, as part of the Kinetic Cup Triathlon Festival, hosted by Kinetic Multisports, and the third and final qualifier will take place Oct. 30 in St. George, Utah, hosted by Intermountain Tri.

"ASU is honored to return to its hosting duties for the 2021 Women's Collegiate National Championship. To once again have the opportunity to host hundreds of competitors, staff and volunteers here in Tempe and to continue to advocate for the emerging sport is a privilege," said Ray Anderson, Vice President for University Athletics at ASU. "We plan to build on the success and lessons learned from our previous hosting duties to deliver a first-class experience for our all participants on and off the course."

"This is an exciting time in women's collegiate triathlon. We are approaching the precipice of becoming an NCAA Championship sport, and our athletes are more eager than ever to race after persevering through the challenges of 2020," said Jenny Garrison, President of the College Triathlon Coaches Association. "We look forward to experiencing a new host city in St. George, Utah, while returning to the beautiful venues of Pleasant Prairie and Smith Mountain Lake."

As a replacement for the canceled 2020 Women's Collegiate Triathlon season, USA Triathlon held an abbreviated spring 2021 season that included the Clermont Draft-Legal Challenge (Clermont, Fla.) on March 6-7; the Sarasota-Bradenton Triathlon (Sarasota, Fla.) on March 13-14; and the Hyco Lake Triathlon (Semora, N.C.) on April 17. The events served as an opportunity for regional and national competition between varsity teams, but did not serve as qualifiers for the fall 2021 National Championships.

Deemed an NCAA Emerging Sport for Women in 2014, triathlon has a 10-year window to demonstrate sustainability as an NCAA Championship sport by recruiting at least 40 varsity programs by 2024. To date, 37 schools offer triathlon at the varsity level for women, including nine at the NCAA Division I level, 15 in Division II and 13 in Division III. Alvernia University in Reading, Pennsylvania (DII), was the latest school to earn its varsity status in June.

Each race on the 2021 schedule will follow the competition structure implemented in 2014 for the inaugural season, with a maximum field of 75 women racing on a draft-legal, sprint-distance course (750-meter swim, 20-kilometer bike, 5-kilometer run).

The top eight NCAA varsity teams in DI, DII and DIII, based on team rankings at the end of the regular season, will earn an automatic National Championships qualification for a maximum of seven athletes. The top 20-ranked individual varsity athletes per division, who are not already qualified as part of a team, will also earn a spot at Nationals. More information on invitation criteria is available at usatriathlon.org/ncaa.

At the most recent National Championships in Tempe, Arizona, in 2019, North Central College secured a four-peat victory in the Division III competition. Queens University of Charlotte earned the DII title for the fifth consecutive year and second year as a varsity program, while host ASU took its fourth consecutive title in the DI competition.

For more information about triathlon as an NCAA Emerging Sport for Women, visit usatriathlon.org/ncaa. For questions regarding women's collegiate triathlon events, programming and recruiting, contact Tim Yount, USA Triathlon Chief Sport Development Officer, at tim.yount@usatriathlon.org.

2021 Women's Collegiate Triathlon Season Schedule

Pleasant Prairie National Qualifier
Sept. 4
Location: Pleasant Prairie, Wis.
Host: Experience Triathlon
Race Director: Kurt Woodward
etpleasantprairie.com

Smith Mountain Lake National Qualifier
Oct. 16
Location: Smith Mountain Lake, Va.
Host: Kinetic Multisports
Race Director: Greg Hawkins
kineticmultisports.com/races/kineticcup

St. George National Qualifier
Oct. 30
Location: St. George, Utah
Host: Intermountain Tri
Race Director: Nat Harward
supersprintweekend.com

Women's Collegiate Triathlon National Championships (qualification required)
Nov. 13
Location: Tempe, Ariz.
Host: Arizona State University
Race Director: Craig Hanken

About USA Triathlon
USA Triathlon is proud to serve as the National Governing Body for triathlon, as well as duathlon, aquathlon, aquabike, winter triathlon, off-road triathlon and paratriathlon in the United States. Founded in 1982, USA Triathlon sanctions more than 4,000 events and connects with more than 400,000 members each year, making it the largest multisport organization in the world. In addition to its work at the grassroots level with athletes, coaches, and race directors — as well as the USA Triathlon Foundation — USA Triathlon provides leadership and support to elite athletes competing at international events, including World Triathlon Championships, Pan American Games and the Olympic and Paralympic Games. USA Triathlon is a proud member of World Triathlon and the United States Olympic & Paralympic Committee (USOPC).