USA Triathlon Announces 2021 Paratriathlon Development Race Series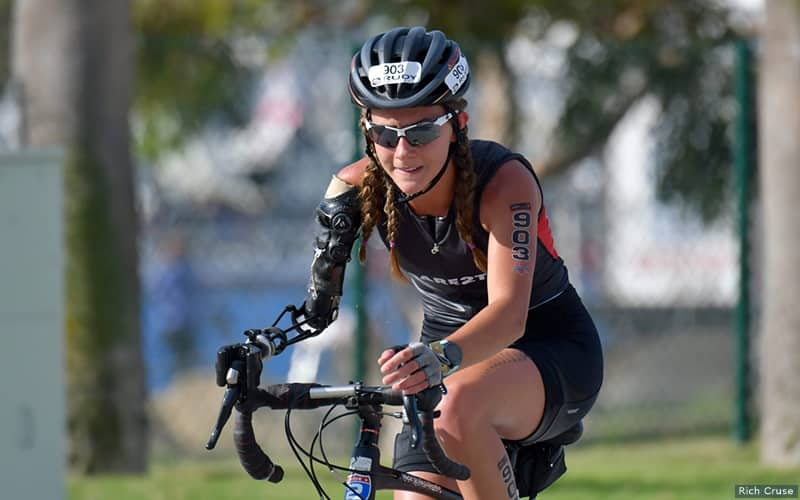 COLORADO SPRINGS, Colo. — USA Triathlon today announced the four events that will make up the 2021 Paratriathlon Development Race Series, a set of races for emerging paratriathletes who aspire to compete at a future Paralympic Games. Participants will be able to gain experience racing at the national level, and strong performances will earn consideration for the Toyota U.S. Paratriathlon Development Team and allow athletes to earn elite paratriathlon licenses.

The series begins with the Ron Jon Cocoa Beach Triathlon on Sunday, April 18, in Cocoa Beach, Florida, followed by the Sylvan Beach Triathlon on Sunday, May 16, in La Porte, Texas. The third stop of the series is Leon's Triathlon on Sunday, June 6, in Hammond, Indiana. Leon's Triathlon also serves as the inaugural USA Triathlon Military and First Responders National Championships, which features specific award categories for Paratriathlon Military and Paratriathlon First Responders.

The series then culminates with the Toyota USA Paratriathlon National Championships, set for Sunday, July 18, as part of the Legacy Triathlon in Long Beach, California.

All races will be sprint-distance, covering a 750-meter swim, 20-kilometer bike and 5-kilometer run. No qualification is required for the first three races of the series, but athletes must have a USA Triathlon membership and be classified in a paratriathlon sport class. Athletes who are not currently nationally or internationally classified but are interested in competing may email paratriathlon@usatriathlon.org for more information about getting a provisional classification.

To compete at Nationals in Long Beach, athletes must be officially classified in a paratriathlon sport class and must meet the qualification standards, which can be found at usatriathlon.org. Athletes who are not classified or who do not meet the qualification standards may choose to compete in the PC Open Division.

At the first three series events, USA Triathlon will host Time to Tri beginner paratriathlon clinics on the Saturday before race day. Open to all paratriathletes who are registered to race, the clinics will cover introductory training, racing and transition tips, as well as an overview of USA Triathlon's paratriathlon pipeline. The clinics are hosted by USA Triathlon Paratriathlon Certified Coaches: Kristen Hench at the Cocoa Beach Triathlon, Wes Johnson in partnership with Team Catapult at the Sylvan Beach Triathlon, and Dan Tun in partnership with Dare2Tri Paratriathlon Club at Leon's Triathlon. At the Toyota USA Paratriathlon National Championships, USA Triathlon will host an invitation-only emerging athlete clinic on the Saturday before race day, in collaboration with the Challenged Athletes Foundation and coached by Deb Carabet.

"USA Triathlon is proud to work with some of the United States' leading paratriathlon race directors, coaches and clubs to host these races and clinics as part of the 2021 Paratriathlon Development Race Series," said Amanda Duke Boulet, Paralympic Program Director at USA Triathlon. "We look forward to connecting with new paratriathletes, offering coaching and skill development, and identifying up-and-coming talent as we look ahead to the Paris 2024 and Los Angeles 2028 Paralympic Games."

All races will be held with COVID-19 safety precautions in place according to USA Triathlon's Safe Return to Multisport initiative, including self-screening and temperature checks; face coverings at all times except when actively racing; contact reduction for athletes, staff and volunteers; and increased cleaning and disinfecting practices onsite.

Paratriathlon Nationals in Long Beach will also mark the last competition on U.S. soil for most members of the U.S. Paralympic Team before they depart for the Tokyo Paralympic Games, scheduled for Aug. 24-Sept. 5. The full U.S. Paralympic Team roster for Tokyo will be named in early July.

To learn more about USA Triathlon's grassroots and elite paratriathlon programming, visit usaparatriathon.org or email paratriathlon@usatriathlon.org. For inquiries specific to the 2021 Paratriathlon Development Race Series and clinics, email mariah.rodriguez@usatriathlon.org.

About USA Triathlon
USA Triathlon is proud to serve as the National Governing Body for triathlon, as well as duathlon, aquathlon, aquabike, winter triathlon, off-road triathlon and paratriathlon in the United States. Founded in 1982, USA Triathlon sanctions more than 4,300 events and connects with more than 400,000 members each year, making it the largest multisport organization in the world. In addition to its work at the grassroots level with athletes, coaches, and race directors — as well as the USA Triathlon Foundation — USA Triathlon provides leadership and support to elite athletes competing at international events, including World Triathlon Championships, Pan American Games and the Olympic and Paralympic Games. USA Triathlon is a proud member of World Triathlon and the United States Olympic & Paralympic Committee (USOPC).