Matt McElroy Leads U.S. Men with Fifth-Place Finish in Arzachena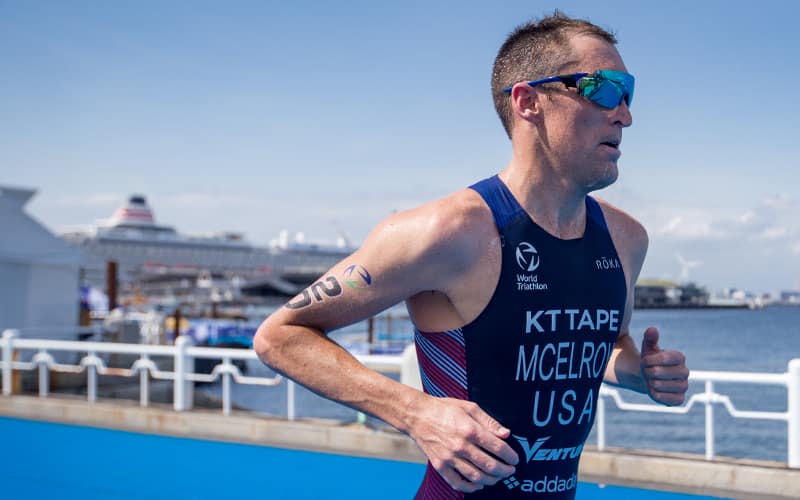 ARZACHENA, Italy — Matt McElroy (Huntington Beach, Calif.) led a group of five Americans Saturday at a World Triathlon Cup race in a 61-man field highlighted by three world champions in Arzachena, Italy. McElroy's fifth-place finish was his best international result since a string of three consecutive World Triathlon Cup wins in the fall of 2019.
With a time of 55 minutes, 11 seconds on the sprint-distance course, McElroy was 12 seconds off a podium that was led by Great Britain's Jonathan Brownlee, a two-time Olympic medalist and 2012 World Triathlon champion, in 54:48. Adrien Briffod of Switzerland claimed silver in 54:52 for his first World Triathlon Cup medal since a June 2017 win, while three-time World Triathlon champion Mario Mola of Spain was third in 54:59.
On a warm, dry day in Italy, it was Seth Rider (Germantown, Tenn.) who appeared to be the U.S. favorite through the start of the race. Hungary's Márk Dévay led after the 750-meter swim, followed by a group of 10 that included Rider. In third after the first transition, the 2014 U.S. Youth Olympian took the lead at one point during the first lap of the bike among a trio that included Dévay and Brownlee.
Rider, McElroy and 2010 Youth Olympian Kevin McDowell (Geneva, Ill.) all remained in the large lead group of up to 24 athletes throughout the three-lap, 19.3-kilometer ride with McDowell and McElroy sixth and seventh at the end of the bike, which was led by Frenchmen Paul Georgenthum and Arthur Berland. Rider was once again the leading American after the second transition, in fourth, until McElroy made his move during the 5-kilometer run.
McElroy vaulted from 11th to fifth in the first lap of the run, and fought to maintain that pace through the finish while Brownlee and Briffod broke away on the second and final lap to lead the race.
McDowell placed 21st in 56:05 and Rider 24th in 56:36. With a time of 57:43, 2016 Olympian Ben Kanute (Geneva, Ill.) was 35th, while Darr Smith (Atlanta, Ga.), who had raced the Olympic-distance World Triathlon Cup Lisbon one week prior, was 47th in 1:00:23.
McElroy's finish improved his rank in the World Triathlon Olympic Qualification Rankings by one spot. The U.S. will send three men to Tokyo if it maintains three men in the top-30 of the Olympic Qualification Rankings by June 14. Morgan Pearson, who did not compete in Arzachena, is the only U.S. male currently qualified for the 2020 U.S. Olympic Team by way of his bronze medal at the World Triathlon Championship Series Yokohama on May 15. All remaining spots on the U.S. Olympic Team will be named via discretion by USA Triathlon's Games Athletes Selection Committee after June 14.
On the women's side, Germany's Marlene Gomez-Islinger scored her first World Triathlon Cup win in a time of 1 hour, 51 seconds in Arzachena. She was followed by Switzerland's Julie Derron in 1:00:55 and Italy's Verena Steinhauser, a five-time World Triathlon Cup medalist, who rounded out the podium in 1:01:09. The sole U.S. woman racing, Gina Sereno (Madison, Wis.), did not finish.
2021 World Triathlon Cup Arzachena
750m swim, 19.3k bike, 5k run
Elite Women — Complete Results
1. Marlene Gomez-Islinger (GER), 1:00:51
2. Julie Derron (SUI), 1:00:55
3. Verena Steinhauser (ITA), 1:01:09
U.S. Finishers
Gina Sereno (Madison, Wis.), DNF
Elite Men — Complete Results
1. Jonathan Brownlee (GBR), 54:48
2. Adrien Briffod (SUI), 54:52
3. Mario Mola (ESP), 54:59
U.S. Finishers
5. Matt McElroy (Huntington Beach, Calif.), 55:11
21. Kevin McDowell (Geneva, Ill.), 56:05
25. Seth Rider (Germantown, Tenn.), 56:36
35. Ben Kanute (Geneva, Ill.), 57:43
47. Darr Smith (Atlanta, Ga.), 1:00:23
About USA Triathlon
USA Triathlon is proud to serve as the National Governing Body for triathlon, as well as duathlon, aquathlon, aquabike, winter triathlon, off-road triathlon, paratriathlon, and indoor and virtual multisport events in the United States. Founded in 1982, USA Triathlon sanctions more than 4,000 events and connects with more than 400,000 members each year, making it the largest multisport organization in the world. In addition to its work at the grassroots level with athletes, coaches, and race directors — as well as the USA Triathlon Foundation — USA Triathlon provides leadership and support to elite athletes competing at international events, including World Triathlon Championships, Pan American Games and the Olympic and Paralympic Games. USA Triathlon is a proud member of World Triathlon and the United States Olympic & Paralympic Committee (USOPC).