Arizona State, Lenoir-Rhyne, North Central Win National Titles at Women's Collegiate Triathlon Nationals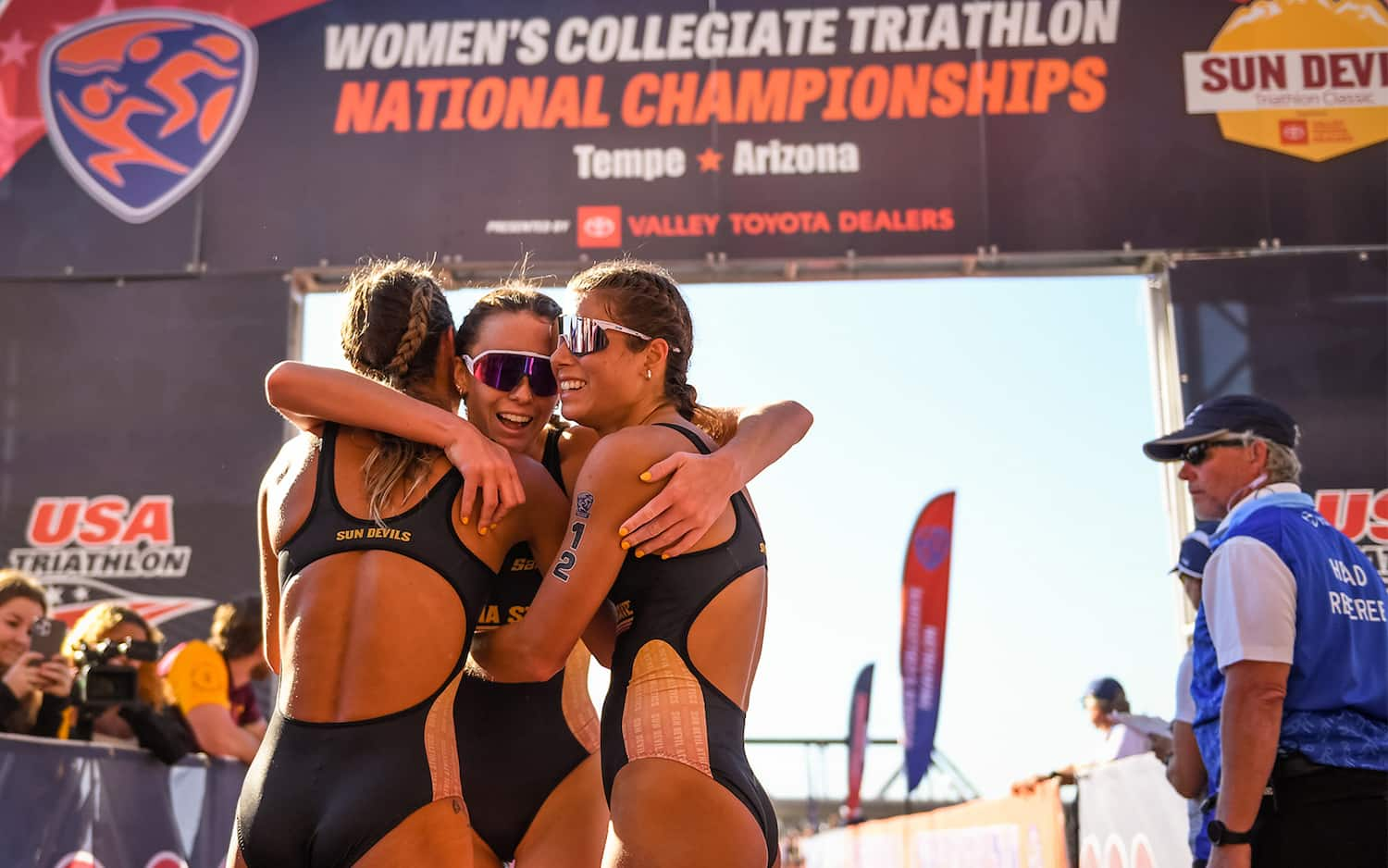 TEMPE, Ariz. — The Arizona State University women's collegiate triathlon team earned its sixth consecutive NCAA Division I national title Saturday, Nov. 12 at home in Tempe, Arizona, at the Women's Collegiate Triathlon National Championships. Scoring a total of 239 points, the Sun Devils had four athletes finish in the top 10 to hold off a strong Queens University of Charlotte team that made its DI debut this season after winning six titles competing at the DII level.
With Queens moving up to DI, that meant a new champion would be crowned in the DII race, and that honor went to fellow North Carolina school, Lenoir-Rhyne University, which scored 268 points to win its first national title.
In the DIII ranks, North Central College took home its fifth national crown, tallying 215 points.

Arizona State University for the fifth consecutive year hosted the Women's Collegiate Triathlon National Championships, this year the event held in conjunction with the Sun Devil Triathlon Classic, organized by Kinetic Multisports.

Entering Saturday's competition day, teams were in a tight race to the overall national title after going head-to-head in two qualifying races in the 2022 season at Smith Mountain Lake, Virginia and Stockton, Missouri.

Amber Schlebusch of ASU earned the individual DI crown in Tempe, crossing the line in 1 hour, 3 minutes, 41 seconds. Sun Devil teammate Liberty Ricca finished just over a minute behind to earn second place, with a time of 1:04:51.

Finishing the overall DI podium in third position was Letizia Martinelli (1:04:55) of Queens University of Charlotte. Her Queens teammates, Sam McInnes (1:05:27) and Natalia Hidalgo-Martinez (1:05:31) placed fifth and sixth, respectively, giving the Sun Devils stiff competition at the front of the race.
Arizona State, however, placed four in the top 10 as Alexandrine Coursol (1:05:35) and Camille Buchanan (1:05:42) placed seventh and eighth, and the squad's fifth athlete, Heidi Jurankova (1:07:07) placed 18th to give the Sun Devils 239 points to beat Queen's 230.
In the DII race, Wingate University's Julia Kekkonen earned the top honor, running the fastest 5k split of the day to take the win with a 1:06:54 overall time.

Second-place came from Jayme Vermaas (Drury University) crossing the line in 1:07:08 and in third place Shannon Ferran (Colorado Mesa University) finished just 12 seconds behind in a time of 1:07:20.
Lenoir-Rhyne's Eliska Rihova (1:07:26), Sabrina Fleig (1:07:38) and Claudia Teran (1:08:08) placed fourth, fifth and sixth and teammate Nanette Nikolajsen (1:08:33) placed ninth to lead the squad to its first national title.

Holding onto her reigning title, Hailey Poe of North Central College earned the individual championship honor in the DIII race. She won the title in 2021 and secured the back-to-back victory by leading out of the water and not relenting until she crossed the finish line in a time of 1:10:47. Her North Central teammates, Scarlett Schuth (1:14:52) and Bethany Smeed (1:14:53) placed fourth and fifth to help North Central secure its fifth national title.

Also for the second year in a row, Amira Faulkner of Trine University repeated her second-place finish with a time of 1:14:27. Taking third place was Delaney McPherson of Transylvania University with a time of 1:14:36.

A total of 32 collegiate programs were represented on the start line between all three divisions.

National team titles were awarded from the individual race scores. Scores were determined by the total points of up to the first five scoring athletes (DI and DII) and the first four scoring athletes (DIII) of each NCAA varsity team.

For more information about triathlon as an NCAA Emerging Sport for Women, visit usatriathlon.org/ncaa.
2022 Women's Collegiate Triathlon National Championship
Tempe, Ariz. | 750m swim, 20k bike, 5k run | Complete Results

Individual Champions by Division
Division I: Amber Schlebusch (Arizona State University), 1:03:41
Division II: Julia Kekkonen (Wingate University), 1:06:54
Division III: Hailey Poe (North Central College), 1:10:47

Team Champions by Division
Division I | Complete Results
1. Arizona State University, 239
2. Queens University of Charlotte, 230
3. University of Denver, 194

Division II | Complete Results
1. Lenoir-Rhyne University, 268
2. Colorado Mesa University, 252
3. Wingate University, 246

Division III | Complete Results
1. North Central College, 215
2. Trine University, 201
3. Millikin University, 150