Varsity women's collegiate triathlon season gets underway at Pleasant Prairie National Qualifier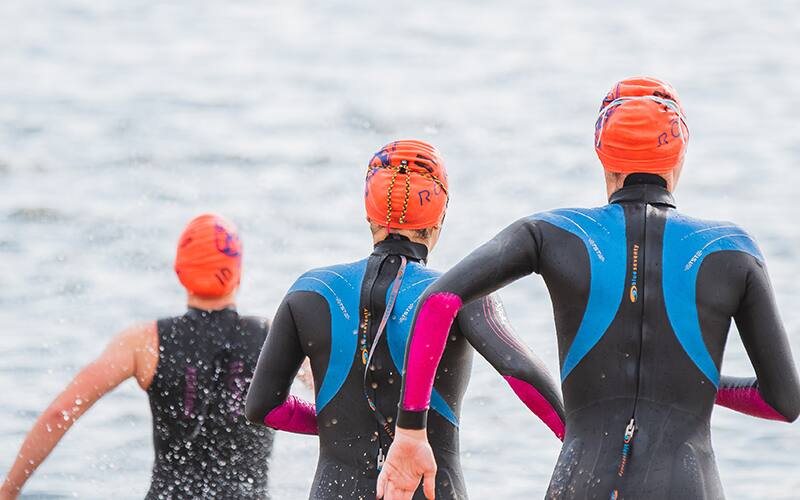 PLEASANT PRAIRIE, Wis. — The varsity women's collegiate triathlon season got underway Saturday with the Pleasant Prairie National Qualifier in Wisconsin, held in conjunction with the ET Pleasant Prairie Triathlon hosted by Experience Triathlon.

The race marked the first opportunity for teams and individuals to qualify for the Women's Collegiate Triathlon National Championships, set for Nov. 13 in Tempe, Ariz.

Athletes completed a sprint-distance 750-meter swim, 20-kilometer draft-legal bike and 5-kilometer run. Awards were presented to the top-two teams and the top-two individuals in each NCAA Division (DI, DII and DIII).
Arizona State University's Hannah Henry, Kyla Roy and Liberty Ricca were the first three athletes across the line overall, as Henry took the DI individual victory with a time of 1 hour, 15 seconds. Drury University's Jayme-Sue Vermaas was the top DII finisher in 1:03:19, placing 10th in the overall field. Earning the DIII individual win was North Central College's Hailey Poe, who was 22nd overall in 1:06:16.

The women's collegiate triathlon season continues with the Smith Mountain Lake National Qualifier on Oct. 16 at Smith Mountain Lake, Va., as part of the Kinetic Cup Triathlon Festival, hosted by Kinetic Multisports, followed by the St. George National Qualifier on Oct. 30 at St George, Utah hosted by Intermountain Tri. Qualified teams will then compete at Nationals, which are held in Tempe for the fourth consecutive year.

ASU was the top NCAA DI team on the day with 18 points, followed in the DI standings by University of San Francisco with 41. USF's Molly Elliott led the Dons with a fourth-place finish both overall and in her division.

Lenoir-Rhyne University claimed top honors for DII teams with 14 points, led by Kayla Ribbink with a third-place finish in her division and 18th overall. Drury University was second with 28 points.

Topping the DIII podium was Trine University with 31 points, led by Amira Faulkner who took second in her division and 36th overall. Transylvania University earned second place for DIII teams with 38 points.

The NCAA named triathlon an Emerging Sport for Women in 2014, a designation that gives the sport a 10-year window to demonstrate sustainability at the NCAA level. USA Triathlon outpacing its goal of recruiting 40 schools by 2024 as there are currently 37 NCAA programs. For more information about triathlon as an NCAA Emerging Sport for Women, visit usatriathlon.org/ncaa.

Women's Collegiate Triathlon Pleasant Prairie National Qualifier
Pleasant Prairie, Wis. | 750m swim, 20k bike, 5k run | Complete Results

Individual Champions by Division
Division I: Hannah Henry (Arizona State University), 1:00:15
Division II: Jayme-Sue Vermaas (Drury University), 1:03:19
Division III: Hailey Poe (North Central College), 1:06:16

Team Champions by Division
Division I: Arizona State University, 18 points
Division II: Lenoir-Rhyne University, 14 points
Division III: Trine University, 31 points