Four U.S. Elite Paratriathletes Earn Podium Spots at the 2022 World Triathlon Para Cup Alhandra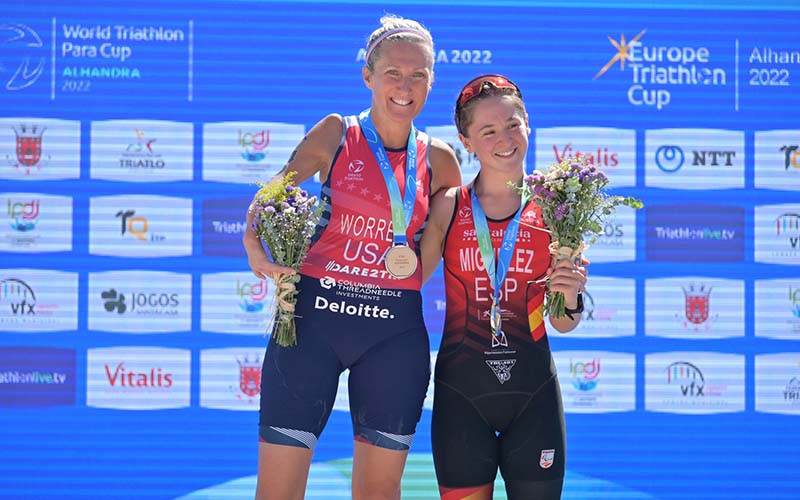 ALHANDRA, Portugal – In the third Para World Cup race of the season, four United States elite paratriathletes earned a spot on the podium on Saturday at the 2022 World Triathlon Para Cup Alhandra.

Zachary Stinson (Chambersburg, Pa.), Mark Barr (Houston, Texas), Kelly Worrell (Cherry Hill, N.J.) and Deborah Chucoski (Corning, N.Y.) all claimed top-three accolades in their respective sport classifications among the seven U.S. elite paratriathletes competing on the sprint-distance course (780-meter swim, 20-kilometer bike, 5-kilometer run) in Portugal.

Stinson placed third in the men's WTWC sport class, crossing the line in one hour, six minutes and 36 seconds. The bronze medal added to his Alhandra collection after he earned the gold at the same venue last year.

In the men's PTS2 event, Barr also grabbed a third-place finish with a time of 1:20:30. Alhandra was the first event back for Barr since the Tokyo Paratriathlon World Cup in 2019.

Worrell collected her first Para Cup medal of the year after finishing second in the women's PTS4 category, clocking in at 1:47:49. While the final U.S. medal of the day wen to Chucoski, who in a time of 1:25:19 secured the silver medal in the women's PTVI division, behind the 2020 Tokyo Paralympic Gold Medalist Susana Rodriguez of Spain.

The remaining U.S. finishers were Uriah Steffan of Plainfield, Ind. (1:12:54) and Robert Rodriguez of Bay Shore, N.Y. (1:21:37), who placed fourth and ninth respectively in the men's PTS4 event and Jesus Moreno(Taylor, Mich.) who finished seventh (1:22:03) in the men's PTS5 sport class.

The final 2022 World Triathlon Para Cup event will be held next month on October 15 in Alanya, Turkey.
2022 World Triathlon Para Cup Alhandra – Complete Results
780m swim, 20k bike, 5k run

U.S. Finishers

PTWC Men
3. Zachary Stinson (Chambersburg, Pa.), 1:06:36
PTS2 Men
3. Mark Barr (Houston, Texas), 1:20:30
PTS4 Men
4. Uriah Steffan (Plainfield, Ind.), 1:12:54
9. Robert Rodriguez (Bay Shore, N.Y.), 1:21:37
PTS4 Women
2. Kelly Worrell (Cherry Hill, N.J.), 1:47:49
PTS5 Men
7. Jesus Moreno (Taylor, Mich.), 1:22:03
PTVI Women
2. Deborah Chucoski (Corning, N.Y.), 1:25:19