Gina Sereno Earns Debut World Triathlon Cup Podium in Vina Del Mar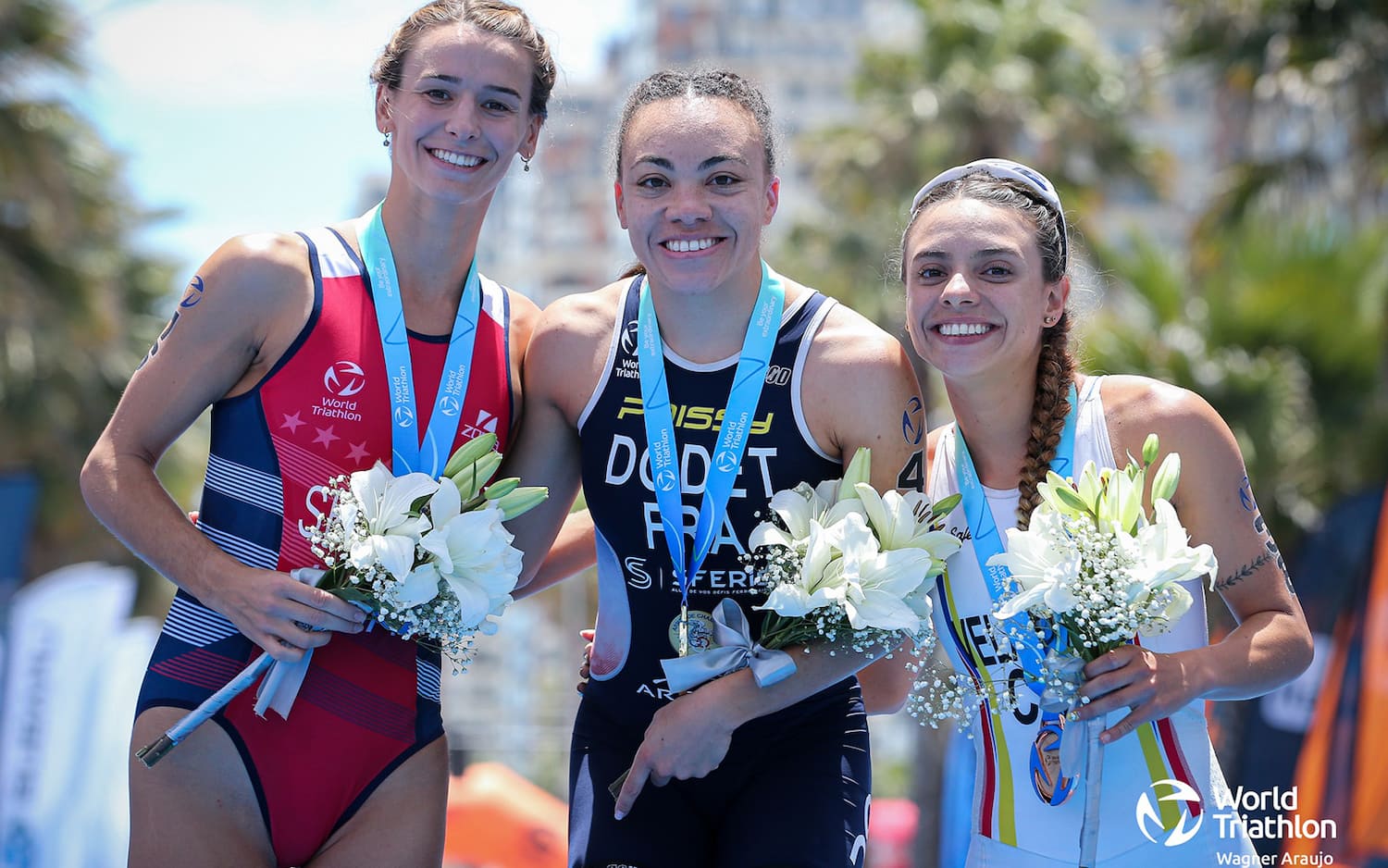 VINA DEL MAR, Chile –
In the final World Triathlon Cup of the year, USA's Gina Sereno (Madison, Wis.) stepped onto her first World Cup podium after a second-place finish at the 2022 World Triathlon Cup Vina del Mar.
Racing through the sprint-distance course (750-meter swim, 18.6-kilometer bike, 5K run) within a large lead pack, Sereno found her moment on the run to cruise past multiple competitors into the finish line to claim the silver medal in a time of 57 minutes and 15 seconds, just two seconds behind the winner.
After a whirlwind season that boasted nine events hosted throughout the globe, Vina de Mar debuted on the World Triathlon Cup circuit to preview the same course that will host the 2023 Pan American Games.
Sereno's inaugural podium came after just her 10th World Cup appearance, first entering the scene in 2020.
Taking the overall women's victory went to France's Sandra Dodet, who crossed the line in 57:13. However, it was Sereno who put forth the fastest 5K (16:43) run split of the race to eventually earn second place. Then completing the podium was Columbian Maria Carolina Velasquez Soto with a time of 57:22.
Annie Kelly (Atlanta, Ga.) was the second U.S. finisher, placing 44th with a time of 1:03:34.
In the men's race, Darr Smith (Atlanta, Ga.) also earned a career high result with his first top-ten World Triathlon Cup finish, placing 8th with a time of 51:23.
Thomas Sonnery-Cottet (Tempe, Ariz.) finished 40th overall, crossing the line in 53:35. Tokyo 2020 Olympian Morgan Pearson (New Vernon, N.J.) returned to the World Triathlon circuit, racing his first event this year, finished 50th with a time of 54:39.
Then rounding out the U.S. men's team was Michael Arishita (San Antonio, Texas), who crossed the line in 57:58 to finish 62nd.
2022 World Triathlon Cup Vina del Mar
750m swim, 18.6k bike, 5k run

Elite Women's Podium - Complete Results
1. Sandra Dodet (FRA), 57:13
2. Gina Sereno (Madison, Wis.), 57:15
3. Maria Carolina Velasquez Soto (COL), 57:22

U.S. Women's Finishers
2. Gina Sereno (Madison, Wis.), 57:15
44. Annie Kelly (Atlanta, Ga.), 1:03:34
DNF Tamara Gorman (Rapid City, S.D.)

Elite Men's Podium - Complete Results
1. David Castro Fajardo (ESP), 50:52
2. Diego Moya (CHI), 50:55
3. Jawad Abdelmoula ((MAR), 50:56

U.S. Men's Finishers
8. Darr Smith (Atlanta, Ga.), 51:23.
40. Thomas Sonnery-Cottet (Tempe, Ariz.), 53:35
50. Morgan Pearson (New Vernon, N.J.), 54:39
62. Michael Arishita (San Antonio, Texas), 57:58