Team USA battles the hot and humid sprint course at the 2022 World Triathlon Cup Huatulco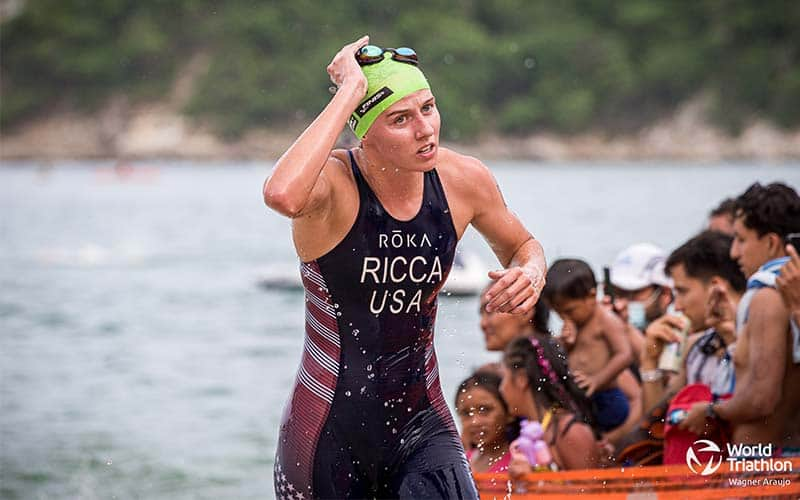 HUATULCO, Mexico – Team USA battled the heat and humidity over the weekend as the World Cup circuit landed in North America for the 2022 World Triathlon Cup Huatulco. Brent Demarest (Charleston, N.C.) secured the top result for the U.S., finishing 17th in the men's race on Sunday, June 19 in what was his first-career World Cup showing.

Demarest completed the 750-meter swim, 20-kilometer-bike and 5-kilometer run sprint-distance course in 54 minutes and 22 seconds.

The women opened up race weekend, taking the starting line on Saturday, June 18. Erika Ackerlund (Helena, Mont.) wore the number one spot on the roster going into the race. However, despite having a strong start to the day, joining the leaderboard out of the water, she suffered a flat tire on the bike that resulted in a DNF.

Madisen Lavin (Vermillion, S.D.) then earned the top finish for the U.S. women, coming in 32nd with a time of 1:03:20. She also was appearing in her first World Cup race.

The remaining U.S. women were Annie Kelly, who placed 34th (1:03:38), Gina Sereno (Los Angeles, Calif.) in 40th (1:05:02), Gabrielle Lumkes in 42nd (1:05:12) and Liberty Ricca (Colorado Springs, Colo.) in 46th with a time of 1:05:55.

In the men's race, following behind Demarest was Michael Arishita (Boerne, Texas), who placed 32nd in 55:09 and Thomas Sonnery-Cottet (Tempe, Ariz.) right behind two seconds later to finish 33rd.

Closing out Team USA was Drew Shellenberger (Tempe, Ariz.) finishing 38th with a time of 55:23 and Griff Morgan (Westfield, N.J.) in 54th with a time of 1:00:20.

Out of the 11 U.S. athletes competing over the weekend, nine were racing Hautulco for the very first time. Ackerlund came in 6th last year in 2021 and Serno finished 31st.
The next stop on the World Triathlon Cup calendar is Pontevedra, Spain on July 24.
2022 World Triathlon Cup Huatulco
750m swim, 20k bike, 5k run


Elite Women – Complete Results
1. Annika Koch (GER), 1:00:01
2. Emy Legault (CAN), 1:00:13
3. Bianca Seregni (ITA), 1:00:15


U.S. Finishers
32. Madisen Lavin (Vermillion, S.D.), 1:03:20
34. Annie Kelly, 1:03:38
40. Gina Sereno (Los Angeles, Calif.), 1:05:02
42. Gabrielle Lumkes, 1:05:12
46. Liberty Ricca (Colorado Springs, Colo.), 1:05:55
DNF Erika Ackerlund (Helena, Mont.)



Elite Men – Complete Results
1. Genis Grau (ESP), 53:47
2. Tyler Mislawchuk (CAN), 53:48
3. Miguel Hidalgo (BRA), 53:50


U.S. Finishers
17. Brent Demarest (Charleston, N.C.), 54:22
32. Michael Arishita (Boerne, Texas), 55:09
33. Thomas Sonnery-Cottet (Tempe, Ariz.), 55:11
38. Drew Shellenberger (Tempe, Ariz.), 55:23
54. Griff Morgan (Westfield, N.J.), 1:00:20