News
Paratriathlon
Results
Elite
Coon, Danz, Norman and Elmlinger Strike Gold at the 2022 World Triathlon Para Series Montreal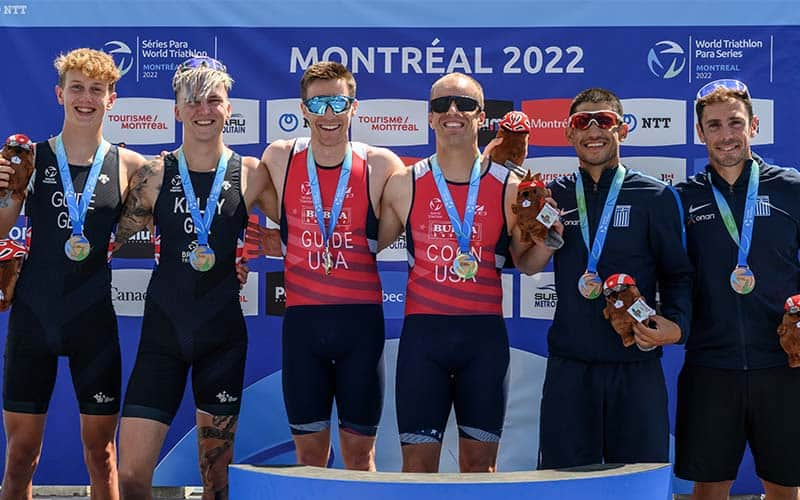 MONTREAL – U.S. elite paratriathletes found success in Canada on Friday as Kyle Coon (Colorado Springs), Hailey Danz (Wauwatosa, Wis.), Kelly Elmlinger (San Antonio, Texas) and Grace Norman (Jamestown, Ohio) all earned gold medals at the 2022 World Triathlon Para Series Montreal.

The U.S. won 10 total medals across six sport categories in the second stop of the 2022 Para Series that featured 15 U.S. elite paratriathletes.

Norman continued her 2022 undefeated streak as she claimed the win in the women's PTS5 classification. She crossed the sprint-distance finish line (750-meter swim, 22.5-kilometer bike, 5k run) in 1 hour, 5 minutes and 45 seconds to win her fifth race of the year.

Montreal was Elmlinger's first Para Series showing of the year, and she snagged an almost 2-minute win over the competition, with a time of 1:13:24 in the PTS4 classification.

The third U.S. gold-medal of the day went to Danz (PTS2), who with a time of 1:20:03 adds her third-straight Para Series win since Leeds in 2021.

Coon collected the sole gold on the men's side in the PTVI category. He crossed the line in 1:01:12 alongside his guide, Zack Goodman. Coon also earned the win in Yokohama in the Series opener.

Chris Hammer (Gilbert, Ariz.) just trailed Canada's own Stefan Daniel in the PTS5 competition, where ultimately, he earned the silver with a time of 1:00:13.

In the women's PTWC race, Kendall Gretsch (Downers Grove, Ill) finished second with a time of 1:11:50, in her first triathlon competition after competing in the 2022 Beijing Winter Paralympics where she earned three medals in biathlon and Nordic skiing.

In her first WTPS appearance, Deborah Chucoski (Corning, N.Y.), with guide, Ericka Hachmeister took third place in the PTVI classification with a time of 1:19:20.

The remaining podiums for the U.S. in Montreal were bronze and went to Mohamed Lahna (Elk Grove, Calif.) in PTS2, with a time of 1:12:44; Chris Marston (Mechanicsville, Va.) in PTS3 with a time of 1:18:32 and Eric McElvenny (Pittsburgh, Pa.) in PTS4 with a time of 1:06:47.

The next stop of the 2022 World Triathlon Para Series will be in Swansea, Wales on Aug. 6.

An extended highlights package of the Montreal event will be available on-demand on TriathlonLIVE.tv.
2022 World Triathlon Para Series Montreal
750m swim, 22.5K bike, 5K run
Men U.S. Finishers – Complete Results
PTWC
5. Howie Sanborn (Colorado Springs, Colo.), 1:07:04

PTS2
3. Mohamed Lahna (Elk Grove, Calif.), 1:12:35
4. Adam Popp (Golden, Colo.), 1:12:44

PTS3
3. Chris Marston (Mechanicsville, Va.), 1:18:32

PTS4
3. Eric Mcelvenny (Pittsburgh, Pa.), 1:06:47
6. Carson Clough (Charlotte, N.C.), 1:09:30

PTS5
2. Chris Hammer (Gilbert, Ariz.), 1:00:13

PTVI
1. Kyle Coon (Colorado Springs, Colo.), 1:01:12
7. Owens Cravens (Algonquin, Ill.), 1:09:15
8. Adriel Fernandez (Central Islip, Ill.) 1:18:28
Women U.S. Finishers – Complete Results
PTWC
2. Kendall Gretsch (Downers Grove Ill.), 1:1150

PTS2
1. Hailey Danz (Wauwatosa, Wis.), 1:20:03

PTS4
1. Kelly Elmlinger (San Antonio, Texas), 1:13:24

PTS5
1. Grace Norman (Jamestown, Ohio), 1:05:45

PTVI
3. Deborah Chucoski (Corning, N.Y.), 1:19:20