News
Paratriathlon
Elite
Results
Hailey Danz earns gold at the 2022 World Triathlon Para Series Swansea on Saturday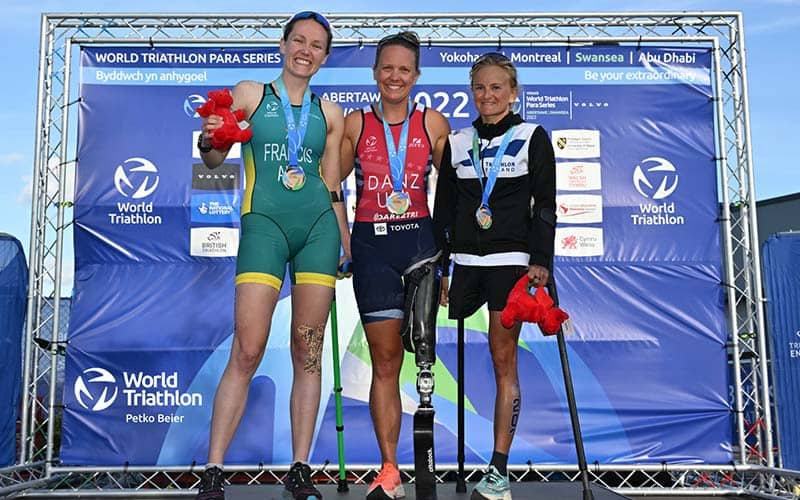 SWANSEA, Great Britain – U.S. elite paratriathlete Hailey Danz (Colorado Springs, Colo.) won gold on Saturday for Team USA at the 2022 World Triathlon Para Series Swansea, one of four medals for the U.S. squad.

Danz, who claimed victory in the PTS2 sport classification, finished in a time of 1 hour, 17 minutes and 34 seconds, winning by nearly four minutes on the the course featuring a 750-meter swim in the River Tawe, followed by a 19.5-kilometer bike and 5k run.
The Swansea win aided in keeping Danz's undefeated streak for the year, as she has not lost a World Triathlon event since August 2021.
Kendall Gretsch (Downers Grove, Ill.), Eric Mcelvenny (Pittsburgh, Pa.) and Kendra Herber (Monroe, Ohio) joined Danz with podium success in Great Britain. Gretsch earned the silver medal in the PTWC event finishing with a time of 1:11:20, while Mcelvenny (1:02:07) and Herber (1:18:57) both claimed the bronze in their respective PTS4 categories.
"It was a great day, it's always fun to race in a new venue. The Swansea venue had a lot of character, a fun and technical bike course through the cobbles and a super fun run course out there," Danz said of her performance.
She added what her plans are for the rest of the season, "We have a little bit of a hiatus before the World Championships in Abu Dhabi in November, so I am going to have a little bit of fun over these next few months doing some races locally and just continue the training build toward Worlds."
Swansea hosted the third and final Para Series race of the year before the World Triathlon Championships Finals in Abu Dhabi in November.
In the women's PTS5 event, Grace Norman (Jamestown, Ohio) was hoping to go head-to-head with Britain's own Claire Cashmore, Norman ultimately suffered a mechanical problem out on the bike course, which caused her to pull out of the race.
For a complete replay of the 2022 World Triathlon Para Series Swansea, it can be viewed on-demand now on triathlonLIVE.tv.
2022 World Triathlon Para Series Swansea – Complete Results
750m swim, 19.5k bike, 5k run

U.S. Finishers

Men PTWC
5. Howie Sanborn (Colorado Springs, Colo.), 1:07:46

Women PTWC
2. Kendall Gretsch (Downers Grove, Ill.), 1:11:20

Men PTS2
4. Adam Popp (Golden, Colo.), 1:12:02

Women PTS2
1. Hailey Danz (Colorado Springs, Colo.), 1:17:34

Men PTS4
3. Eric Mcelvenny (Pittsburgh, Pa.), 1:02:07
8. Erik Hultquist (Scottsdale, Ariz.), 1:05:57
9. Carsen Clough (Charlotte, N.C.), 1:06:39
12. Uriah Steffen (Plainfield, Ind.), 1:09:46

PTS4 Women
3. Kendra Herber (Monroe, Ohio), 1:18:57
4. Kelly Worrell (Cherry Hill, N.J.), 1:28:11

Women PTS5
DNF Grace Norman (Jamestown, Ohio)

Men PTVI
5. Kyle Coon (Colorado Springs, Colo.), 1:01:07
7. Owen Cravens (Algonquin, Ill.), 1:01:43