News
Elite
Paratriathlon
Paralympics
Results
Grace Norman Grabs Gold on Seven-Medal Day for Team USA at ITU Paratriathlon World Championships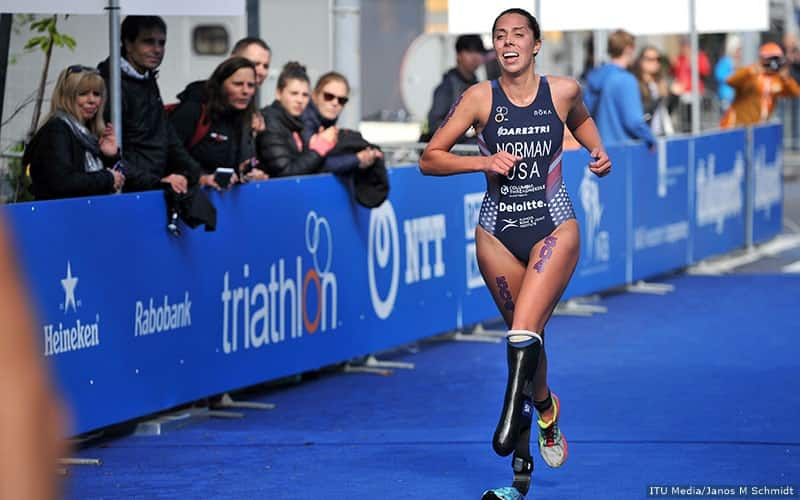 ROTTERDAM, Netherlands — Grace Norman (Jamestown, Ohio, PTS5) successfully defended her world title on Friday at the ITU Paratriathlon World Championships, as U.S. paratriathletes collected seven medals overall.

Norman covered the sprint-distance 750-meter swim, 20-kilometer bike and 5-kilometer run in 1 hour, 9 minutes, 49 seconds, edging runner-up Lauren Steadman of Great Britain by just four seconds. Norman has gone undefeated in ITU competition ever since winning her first world title last year, also in Rotterdam.

Her accolades since then have included a gold medal in paratriathlon's debut at the Rio 2016 Paralympic Games last summer and an ITU World Paratriathlon Series victory in Edmonton in July, though she also struggled with an injury at the beginning of the 2017 season.

"It was a lot harder than I was expecting, but it was good. I'm very glad I didn't give up," Norman said. "I normally catch Lauren easily on the first lap of the run, and it wasn't that easy this time, so I think I was just a little bit more tired than I expected. I had to mentally keep telling myself, 'Stay in it, stay in it.' Coming back from injury in the spring, where I didn't even know if I'd be able to race this, to win this is amazing. And to defend it here again, it was just so fun."

In the men's PTS5 division, Chris Hammer (Salt Lake City, Utah) ran his way to bronze in 1:03:44. Hammer was eighth after the swim, gained some ground on the bike and moved into medal contention with a 14:49 run that was the second-fastest of the field. He crossed the line in 1:03:44, less than 30 seconds back from silver medalist Jairo Ruiz Lopez of Spain. Canada's Stefan Daniel took home the gold with a time of 1:01:20.

Patty Collins (Alexandria, Va.) took bronze for the PTS4 women in 1:28:17, as Japan's Mami Tani (1:18:18) and Australia's Sally Pilbeam (1:18:50) won gold and silver respectively.

The U.S. also had a bronze medalist in the men's PTS4 division in Jamie Brown (Bend, Ore.). Brown finished in 1:07:54, less than a minute behind silver medalist Steven Crowley of Great Britain. France's Alexis Hanquinquant was the PTS4 men's champion in 1:04:15. Also competing for the PTS4 men was Joel Rosinbum (Austin, Texas), who placed 11th.

U.S. athletes won silver medals in both the men's and women's PTS2 divisions. Allysa Seely (Glendale, Ariz.) was the PTS2 women's runner-up in 1:24:50, 1:20 behind race winner Liisa Lilja of Finland. After winning world and Paralympic gold medals in 2016 and recording two early-season WPS victories, an injury forced Seely out of racing and training for much of the summer. Barely back into her regular training schedule, Seely booked her ticket to the Netherlands just a few days ago.

"The swim was really rough for me — I'm not used to coming out that far behind, so I had a lot of ground to make up, and I was able to do a little of that on the bike and the run," Seely said. "All in all, with the decision to be here being made less than a week ago, I gave it everything I could, and I really had nothing left in me. Next year I'll come back stronger."

Fran Brown of Great Britain was the PTS2 bronze medalist in 1:25:09. Hailey Danz (Chicago, Ill.), also raced well, covering the course in 1:25:57 to place fourth.

Mark Barr (Houston, Texas) took silver in the PTS2 men's race, crossing the line second in 1:11:09. Great Britain's Andrew Lewis was the champion in 1:09:55, and Mohamed Lahna, representing the ITU, was third on the podium in 1:11:21.

Heavy rainfall in the days leading up to the race and a morning rain delay left the athletes facing slick roads and uncertain conditions, though the precipitation held off for most of the race itself.

"Yesterday with the bike familiarization and the swim course being so windy and rainy, I think it affected a lot of people in the head," Barr said. "My goal going into the race was to use that to my advantage and not let any of it affect me, and I was happy with the result."

Aaron Scheidies (Seattle, Wash.) and guide Colin Riley (Cincinnati, Ohio) collected silver in the men's PTVI division. Great Britain's Dave Ellis broke the tape in 1:05:21, with Scheidies and Riley close behind in 1:05:33. They had a solid hold on second place, finishing more than a minute and a half ahead of bronze medalist Vasyl Zakrevskyi of Ukraine.

In the women's PTVI race, Amy Dixon (Encinitas, Calif.) and guide Kirsten Sass (McKenzie, Tenn.) recorded a top-five finish in 1:18:28. Katie Kelly took the women's PTVI gold medal in 1:13:48, Susana Rodriguez of Spain collected silver in 1:15:02, and Melissa Reid of Great Britain rounded out the podium in 1:17:05.

The women's PTWC contenders closed out the day, and Ahalya Lettenberger (Glen Ellyn, Ill.) placed a solid fourth in her first-ever international triathlon competition in 1:26:57. Mary Kate Callahan (Chicago, Ill.) also raced well, taking sixth with a time of 1:32:13. The top-three in the women's PTWC division were Emily Tapp of Australia (1:20:28), Jade Jones of Great Britain (1:21:26) and Eva María Moral Pedrero of Spain in 1:24:12.

The U.S. had no competitors in the women's PTS3, men's PTS3 or men's PTWC divisions.

Racing action at the ITU World Triathlon Grand Final Rotterdam continues this afternoon with world championships for junior women and U23 men. Junior men, U23 women and elite men and women will race on Saturday, followed by the Standard and Sprint-Distance ITU Age Group Triathlon World Championships on Sunday.

For coverage of all U.S. performances at the ITU World Triathlon Grand Final Rotterdam, visit usatriathlon.org. Complete event information is available at rotterdam.triathlon.org.

ITU Paratriathlon World Championships
750m swim, 20k bike, 5k run
Complete Results

U.S. Finishers

PTS2 Women
2. Allysa Seely (Glendale, Ariz.), 1:24:50
4. Hailey Danz (Chicago, Ill.), 1:25:57

PTS2 Men
2. Mark Barr (Houston, Texas), 1:11:09

PTS4 Women
3. Patty Collins (Alexandria, Va.), 1:28:17

PTS4 Men
3. Jamie Brown (Bend, Ore.), 1:07:54
11. Joel Rosinbum (Austin, Texas), 1:21:15

PTS5 Women
1. Grace Norman (Jamestown, Ohio), 1:09:49

PTS5 Men
3. Chris Hammer Salt Lake City, Utah), 1:03:44

PTVI Women
5. Amy Dixon (Encinitas, Calif.), 1:18:28

PTVI Men
2. Aaron Scheidies (Seattle, Wash.), 1:05:33

PTWC Women
4. Ahalya Lettenberger (Glen Ellyn, Ill.), 1:26:57
6. Mary Kate Callahan (Chicago, Ill.), 1:32:13

About USA Triathlon
USA Triathlon is proud to serve as the National Governing Body for triathlon, as well as duathlon, aquathlon, aquabike, winter triathlon, off-road triathlon and paratriathlon in the United States. Founded in 1982, USA Triathlon sanctions more than 4,300 races and connects with nearly 500,000 members each year, making it the largest multisport organization in the world. In addition to its work with athletes, coaches, and race directors on the grassroots level, USA Triathlon provides leadership and support to elite athletes competing at international events, including International Triathlon Union (ITU) World Championships, Pan American Games and the Olympic and Paralympic Games. USA Triathlon is a proud member of the ITU and the United States Olympic Committee (USOC).