Taylor Spivey Leads U.S. with Fourth-Place Finish at the 2022 World Triathlon Championship Series Hamburg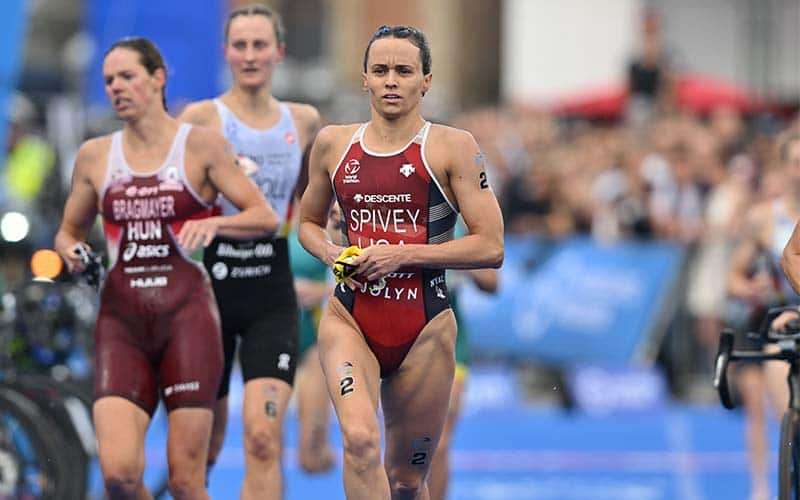 HAMBURG, Germany – U.S. elite triathlete Taylor Spivey (Redondo Beach, Calif.) finished fourth on Saturday to lead the charge for the U.S. at the 2022 World Triathlon Championship Series Hamburg.

Missing the podium by just a mere 5 seconds, Spivey completed the 750-meter swim, 21-kilometer bike and 5k run sprint-distance course in 58 minutes, 58 seconds.

The fourth-place finish matches Spivey's best result in the German city after she placed fourth in Hamburg in 2020. Her performance also preserves her fourth-place position in the 2022 WTCS rankings, as she's shown consistency this season, with another fourth-place finish in Leeds last month.

Spivey and her fellow U.S. elite women pushed out of the gate to perform well in the water. Tokyo 2020 Olympian Summer Rappaport (Thornton, Colo.) led out of the swim with a time of 9:35, with Spivey following 6 seconds back.

Spivey had a swift transition to land her within the lead bike pack, which tallied 15 riders. Also making it into the main group was Erika Ackerlund (Helena, Mont.).

Once onto the run, Spivey showcased her speed and bypassed six contenders to settle into fourth position. She finished just off the podium, which was made up of Bermuda's Flora Duffy who overcame a 10-second penalty to earn the win with a time of 58:37, and followed with Great Britain's Beth Potter in second with a time of 58:43 and Germany's Lisa Tertsch in third in 58:53.

Ackerlund ended her day in 14th, her third top-15 finish in 2022, her first full season competing on the WTCS circuit. Rappaport placed 26th.

Seth Rider (Germanton, Tenn.) led the U.S. elite triathlete men, placing 21st with a time of 54:07. He was particularly strong on the bike, sharing time at the front of a 33-strong bike pack. Tokyo 2020 Olympian Kevin McDowell (Geneva, Ill.) and Chase McQueen (Columbus, Ind.) also found themselves in that leading bike pack throughout the six-lap course. McDowell finished in 24th and McQueen in 30th.

Marc Dubrick (Glen Ellyn, Ill.) rounded out the men's team, placing 52nd.

The action continues on Sunday as four U.S. elites will compete as a team in the final Mixed Relay event of the season. The race will begin at 9 a.m. ET (3 p.m. local time) and will be streamed live on TriathlonLIVE.tv.
2022 World Triathlon Championship Series Hamburg
750m swim, 21K bike, 5K run – Complete Results

Elite Women's Podium
1. Flora Duffy (BER), 58:37
2. Beth Potter (GBR), 58:43
3. Lisa Tertsch (GER), 58:53

U.S. Women Finishers
4. Taylor Spivey (Redondo Beach, Calif.), 58:58
14. Erika Ackerlund (Helena, Mont.), 59:27
26. Summer Rappaport (Thornton, Colo.), 59:57

Elite Men's Podium
1. Hayden Wilde (NZL), 53:10
2. Matthew Hauser (AUS), 53:13
3. Jawad Abdelmoula (MAR), 53:26

U.S. Men's Finishers
21. Seth Rider (Germantown, Tenn.), 54:07
24. Kevin McDowell (Geneva, Ill.), 54:14
30. Chase McQueen (Columbus, Ind.), 54:29
52. Marc Dubrick (Glen Ellyn, Ill.), 59:44