News
Results
Elite
Paralympics
7 U.S. Elite Paratriathletes Earn Medals and Four U.S. Elite Triathletes Finish in Top 10 at World Triathlon Season Opener in Yokohama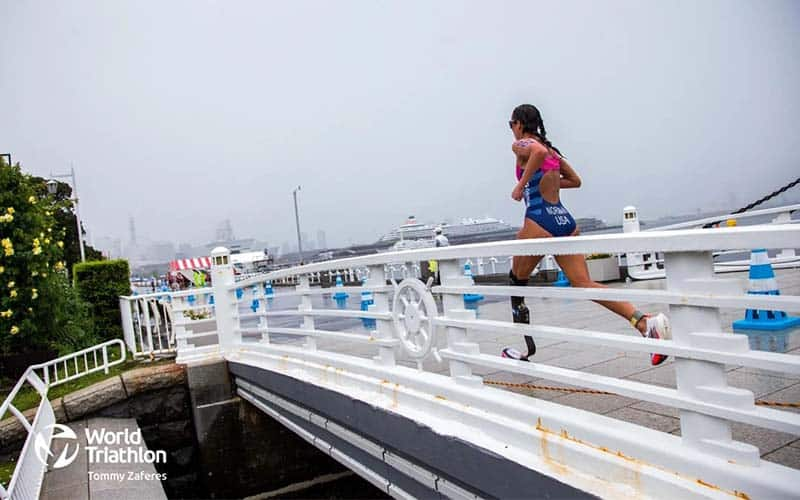 YOKOHAMA, JAPAN – The quest for the 2022 World Champions officially began on Saturday, May 14 as the 2022 World Triathlon Championship Series Yokohama and 2022 World Triathlon Para Series Yokohama took place in Japan.
Three U.S. women and one man on the 2022 U.S. Elite Triathlon National Team placed in the top 10, led by Taylor Knibb (Washington, D.C.), who finished sixth. She completed the Olympic-distance course consisting of a 1500-meter swim, 40-kilometer bike and 10-kilometer run in a time of 1 hour, 53 minutes on a rainy day in Yokohama.
Taylor Spivey (Redondo Beach, Calif.) placed eighth with a time of 1:54:36 and Kirsten Kasper (North Andover, Mass.) finished in ninth (1:55:18). For the U.S. men, Kevin McDowell (Geneva, Ill.) had the top finish, coming in 10th place with a time of 1:45:02.
The races in Yokohama were the first in 2022 for the World Triathlon Championship Series, an annual series of triathlon events held in cities around the world where athletes compete head-to-head for points. The rankings are used to determine the best-performing triathletes of the season and, ultimately, the World Champions. The 2022 WTCS officially kicked off with two events in fall of 2021 — in Hamburg and Abu Dhabi — and will continue throughout 2022 with a total of seven races through November.
In the women's race Saturday in Yokohama, Knibb exited fifth out of the choppy waters in the swim, with Spivey and Kasper following just two seconds behind.
Heading out on the bike course, Knibb, Kasper and Spivey all made it into an initial lead pack of 14. However, the group slimmed down to nine riders after a first lap crash took out a few riders due to the slick road conditions from the morning rain.
After a swift second transition, the leading nine began to thin out onto the run. Spivey and Kasper ultimately fell off the back, while Knibb tried to catch the frontrunners, but could not make up the over a minute gap that formed.
Great Britain's Georgia Taylor-Brown won the gold, finishing with a time of 1:51:44. Joining her on the podium was France's Leonie Periault (1:51:50) with the silver and Flora Duffy of Bermuda (1:51:55) with the bronze.
Rounding out the U.S. women was Erika Ackerlund (Helena, Mont.), who clocked a time of 1:56:21 to place 15th – her third top-15 WTCS finish of her career after marking her WTCS debut in 2021.
In the men's race, a majority of the field bunched together through the swim and bike, making a pack of nearly 40, which included McDowell, Seth Rider (Germantown, Tenn.) and Chase McQueen (Columbus, Ind.).
Matt McElroy (Huntington Beach, Calif.), found himself in the chase pack riding about a minute back.
A sprint finish on the blue carpet saw Great Britain's Alex Yee claim the gold, winning with a time of 1:43:30 over New Zealand's Hayden Wilde (1:43:40). France's Leo Bergere placed third in 1:43:59.
With a strong 10k, McElroy ran himself up to 13th, with a time of 1:45:14 in his first WTCS race since June 2021. Rider finished in 24th and McQueen in 42nd.
Next up is the World Triathlon Championship Series Leeds on June 11-12.
2022 World Triathlon Para Series Yokohama
Paratriathlon kicked off the full day of Yokohama racing. Team USA locked in four total victories in the season opener as Kyle Coon (Colorado Springs, Colo.), Grace Norman (Jamestown, Ohio), Melissa Stockwell (Colorado Springs, Colo.) and Kelly Worrell (Cherry Hill, N.J.) earned a win in their respective sport classes.
Rainy, wet conditions met the elite paratriathletes as they took on a 750m swim, 20km bike and 5k run in Yokohama, the first of four events of the 2022 World Triathlon Para Series.
Coon, alongside his guide Zack Goodman (Salisbury, Md.), won his second consecutive gold medal in Yokohama in the PTVI division, finishing with a time of 1:00:10. Coon earned his first career World Para Series gold medal last year at Yokohama.
Joining him on the podium with the silver was compatriot Owen Cravens (Algonquin, Ill.), with guide Colin Riley, who finished second in a time of 1:00:38.

Norman collected her second-career Yokohama win in the women's PTS5 race, clocking in at 1:02:50.
In the women's PTS2 event, Stockwell retained the Yokohama gold for the second year in a row with her time of 1:19:11.
Making her debut WTPS appearance, Worrell pulled off a win in the PTS4 classification, clocking a time of 1:25:30.
Mohamed Lahna (Elk Grover, Calif.) earned the silver in the men's PTS2 event, finishing in 1:12:43, and in the men's PTWC division, Howie Sanborn (Denver, Colo.) took the bronze with a time of 1:06:04.
Robert Rodriguez (Bay Shore, N.Y.) finished eighth in the men's PTS4 event with a time of 1:16:36.
The next World Triathlon Para Series will be held in Montreal on July 8.
2022 World Triathlon Championship Series Yokohama
1,500m swim, 40k bike, 10k run

Elite Women — Complete Results
1. Georgia Taylor-Brown (GBR), 1:51:44
2. Leonie Periault (FRA), 1:51:50
3. Flora Duffy (BER), 1:51:55

U.S. Finishers
6. Taylor Knibb (Washington, D.C.), 1:53:00
8. Taylor Spivey (Redondo Beach, Calif.), 1:54:36
9. Kirsten Kasper (North Andover, Mass.), 1:55:18
15. Erika Ackerlund (Helena, Mont.), 1:56:21

Elite Men — Complete Results
1. Alex Yee (GBR), 1:43:30
2. Hayden Wilde (NZL), 1:43:40
3. Leo Bergere (FRA), 1:43:59
U.S. Finishers
10. Kevin McDowell (Geneva, Ill.), 1:45:02
13. Matt McElroy (Huntington Beach, Calif.), 1:45:14
24. Seth Rider (Germantown, Tenn.), 1:45:50
42. Chase McQueen (Columbus, Ind.), 1:49:4
2022 World Triathlon Para Series Yokohama
750m swim, 20k bike, 5k run — Complete Results

PTWC Men
3. Howie Sanborn (Denver, Colo.), 1:06:04
PTS2 Men
2. Mohamed Lahna (Elk Grove, Calif.), 1:12:43
PTS2 Women
1. Melissa Stockwell (Colorado Springs, Colo.), 1:19:11
PTS4 Men
8. Robert Rodriguez (Bay Shore, N.Y.), 1:16:36
PTS4 Women
1. Kelly Worrell (Cherry Hill, N.J.), 1:25:30
PTS5 Women
1. Grace Norman (Jamestown, Ohio), 1:02:50
PTVI Men
1. Kyle Coon with guide Zack Goodman (Colorado Springs, Colo.), 1:00:10
2. Owen Cravens with guide Colin Riley (Algonquin, Ill.), 1:00:38