News
Results
Elite
Paralympics
Kasper, McDowell and 8 Para Elites Earn Podium Success at the 2022 Americas Triathlon Cup Sarasota-Bradenton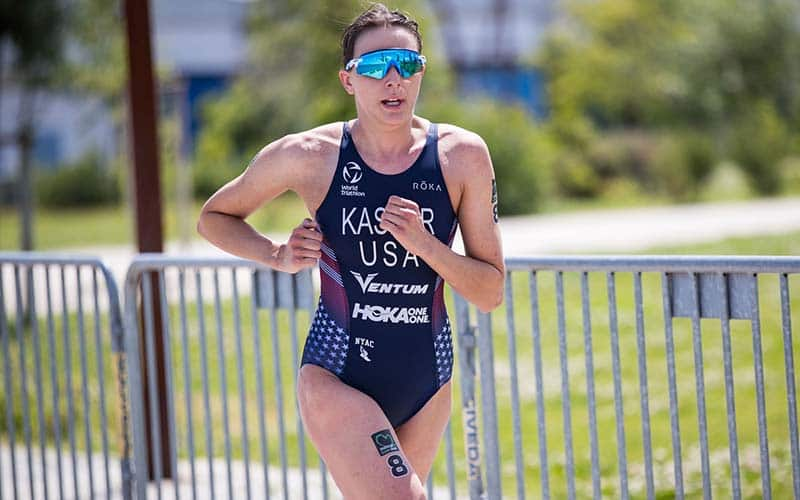 SARASOTA-BRADENTON, Fla. — The first Americas Cup of the season held on U.S. soil, the 2022 Americas Triathlon Cup Sarasota-Bradenton, took place on Sunday, March 13, ensuring that international elite competition for the year is well underway. 2022 U.S. Elite Triathlon National Team member Kirsten Kasper (North Andover, Mass.) claimed the gold medal in the women's event, while U.S. Olympic silver medalist Kevin McDowell (Geneva, Ill.) took second in the men's elite race.

While originally scheduled for Saturday, March 12, both the elite and junior races for men and women were moved to Sunday due to weather. Held at Nathan Benderson Park, the elite race was also shortened to a super sprint triathlon, featuring a 350-meter swim, 12.2-kilometer bike and 2.5-kilometer run. The junior races were switched to a super sprint duathlon race format featuring a one-kilometer run, 12.2-kilometer bike and 2.5-kilometer run course. Youth races were canceled due to the weather-related schedule changes.

The Americas Triathlon Para Championships Sarasota-Bradenton also shared the stage over the weekend. Team USA claimed eight out of the 11 podiums, including victories from 2020 Tokyo Paralympic silver medalists Grace Norman (Jamestown, Ohio), who won the women's PTS5 event and Hailey Danz (Colorado Springs, Colo.) who earned the women's PTS2 race.

Kasper's gold was the first Americas Cup victory in her career and first individual win since the World Triathlon Plymouth World Cup in 2018. She finished in a time of 32 minutes and 47 seconds. Joining her on the podium was Emy Legault (CAN) who came in second with a time of 32:50, followed by Rachel Klamer (NED) in third with a time of 32:55.

A pair of U.S. female elites also placed in the top-10, including Tamara Gorman (Rapid City, S.D.), who finished in sixth at 33:59 and Grace Walther (Seattle, Wash.), who took eighth at 34:18.

In the men's race, only a second separated the gold from the silver. Richard Murray (TRI) claimed the overall elite victory, clocking in at 29 minutes and 14 seconds, with McDowell coming in just one second after to take the silver with a time of 29:15. Murray, who previously raced for South Africa will be competing this season under the World Triathlon flag as he transitioned to represent the Netherlands. Finishing the men's podium was Great Britain's Daniel Dixon, who with a time of 29:23 claimed the bronze medal.

Four other U.S. male elites joined McDowell in the top-10 as Austin Hindman (Wildwood, Mo.) with a time of 29:43, Darr Smith (Atlanta, Ga.) at 29:53 and Brent Demarest (Charleston, S.C.) at 30:02 took fifth through seventh and Clayton Hutchings (San Anselmo, Calif.) finished in 10th with a time of 30:08.

In the men's junior event, Luke Anthony (East Lyme, Conn.) won with a time of 27:59 as the only American to claim a podium. In second came Canadian Mathias Beaulieu, stamping in at 28:05, followed by Mexico's Miguel Angel Rubio Medina in 28:14 for third.

Canadian Noemie Beaulieu captured the women's junior title in 31:15, followed by Americans Naomi Ruff (West Chicago, Ill.) with a time of 31:31 and Faith Dasso (New Braunfels, Texas), with a time of 31:49 to place second and third, respectively. Ruff and Dasso will both join the Arizona State varsity women's triathlon program for the 2022-23 season.

In the paratriathlon showdown, Adam Popp (Arlington, Va.) earned the men's PTS2 win in 1:13:16, sharing the podium with fellow American Mohamed Lahna (Elk Grove, Calif.) in second and Cahin Perez (Christiana, Tenn.) in third. In the men's PTS3 event, Chris Marston (Mechanicsville, Va.), had a dominating 28-minute win over Canadian Hicham Boufecane.

Tokyo Paralympians Kelly Elmlinger (San Antonio, Texas) and Eric McElvenny (Pittsburgh, Pa.) seized the PTS4 women's and men's titles, while in the men's PTVI race, Kyle Coon (Colorado Springs, Colo.), another Tokyo Paralympian, also earned victory.

The final USA gold of the day went to Howie Sanborn (Colorado Springs, Colo.), who with a time of 1:03:00, claimed the men's PTWC crown.

The events in Sarasota-Bradenton also included the first-ever paratriathlon mixed-team relay, which took place on Friday, March 11 as a test event with hopes of it being included in the Los Angeles Paralympic Games in 2028.
2022 Americas Triathlon Cup Sarasota-Bradenton
Elite: 350m swim, 12.2k bike, 2.5k run
Junior: 2.5k run, 10k bike, 2.5k run

Elite Men — Complete Results
1. Richard Murray (TRI), 29:14
2. Kevin McDowell (Geneva, Ill.), 29:15
3. Daniel Dixon (GBR), 29:23

Top U.S. Finishers
2. Kevin McDowell (Geneva, Ill.), 29:15
5. Austin Hindman, (Wildwood, Mo.), 29.42
6. Darr Smith, (Atlanta, Ga.),29.53

Elite Women — Complete Results
1. Kirsten Kasper (North Andover, Mass.), 32:47
2. Emy Legault (CAN), 32:50
3. Rachel Klamer (NED), 32:55

Top U.S. Finishers
1. Kirsten Kasper (North Andover, Mass.), 32:47
6. Tamara Gorman (Rapid City, S.D.), 33:59
8. Grace Walther (Seattle, Wash.), 34:18

Junior Male — Complete Results
1. Luke Anthony (East Lyme, Conn.), 27:59
2. Mathias Beaulieu (CAN), 28:05
3. Miguel Angel Rubio Medina (MEX.), 28:14

Top U.S. Finishers
1. Luke Anthony (East Lyme, Conn.), 27:59
4. Reese Vannerson (Sugar Land, Texas), 28:16
7. Keller Norland (Corvallis, Ore.), 28:33

Junior Female — Complete Results
1. Noemie Beaulieu (CAN), 31:15
2. Naomi Ruff (West Chicago, Ill.), 31:31
3. Faith Dasso (New Braunfels, Texas), 31:49

Top U.S. Finishers
2. Naomi Ruff (West Chicago, Ill.), 31:31
3. Faith Dasso (New Braunfels, Texas), 31:49
6. Clara James-Heer (Grand Rapids, Mich.), 32:10

2022 Americas Cup Para Championship Series Sarasota-Bradenton
750m swim, 20k bike, 5k run
Complete Results

Men's PTS2
1. Adam Popp (Arlington, Va.), 1:13:16
2. Mohamed Lahna (Elk Grove, Calif.), 1:16:29
3. Cahin Perez (Christiana, Tenn.), 1:23:20

Women's PTS2
1. Hailey Danz (Colorado Springs, Colo.), 1:16:13
2. Melissa Stockwell (Colorado Springs, Colo.), 1:19:08

Men's PTS3
1. Chris Marston (Mechanicsville, Va.), 1:15:40
2. Hicham Boufekane (CAN) 1:43:00

Men's PTS4
1. Eric McElvenny (Pittsburgh, Pa.), 1:03:09
2. Erik Hultquist (Scottsdale, Ariz.), 1:04:02
3. Jorge Luis Fonseca (BRA), 1:04:42

Women's PTS4
1. Kelly Elmlinger (San Antonio, Texas), 1:10:33
2. Emma Meyers (Tacoma, Wash.), 1:21:03
3. Kendra Herber (Cincinnati, Ohio), 1:24:04

Men's PTS5
1. Ronan Cordeiro (BRA), 58:04
2. Chris Hammer (Elkins, W.V.), 59:14
3. Stefan Daniel (CAN), 59:38

Women's PTS5
1. Grace Norman (Jamestown, Ohio), 1:05:10
2. Leah Kaplan (Spokane, Wash.), 1:30:56

Men's PTVI
1. Kyle Coon (Colorado Springs, Colo.), 59:36
2. Owen Cravens (Algonquin, Ill.), 1:01:13
3. Adriel Fernandez (Central Islip, N.Y.), 1:20:36

Women's PTVI
1. Jessica Tuomela (CAN), 1:08:55
2. Deborah Chucoski (Corning, N.Y.), 1:18:39
3. McClain Hermes 1:27:37

Men's PTWC
1. Howie Sanborn (Colorado Springs, Colo.),1:03:00
2. Fernando Aranha (BRA), 1:06:13
3. Zachary Stinson (Chambersburg, Pa.), 1:08:12

Women's PTWC
1. Jessica Ferreira (BRA), 1:10:54
2. Leanna Taylor (CAN), 1:14:07
3. Brenda Osnaya Alvarez (MEX), 1:15:56