USA Triathlon Weekend Notebook: Young U.S. Athletes Make World Cup Debuts in Mexico and Grace Norman Wins Gold Again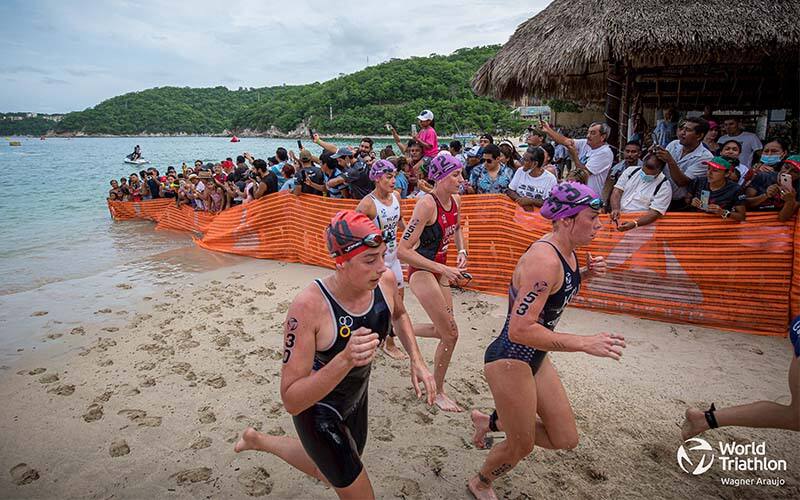 2022 World Triathlon Cup Huatulco
Huatulco, Mexico
Team USA headed to Mexico over the weekend to take on one of the hottest (temperature wise) races of the year!
Out of the 11 U.S. athletes competing in Mexico, nine were racing Hautulco for the first time.
It was a race weekend of firsts for many of the younger U.S. athletes as many were also racing in their first World Triathlon Cup, such as Madisen Lavin.
As well as Brent Dermarest, who had the top result for the U.S. team in Sunday's race when he placed 17th with a time of 54:22 in the sprint-distance race.
Following Dermarest in the men's race was Michael Arishita, who placed 32nd.

The U.S. team times were:
Women U.S. Finishers
32. Madisen Lavin (Vermillion, S.D.), 1:03:20
34. Annie Kelly, 1:03:38
40. Gina Sereno (Los Angeles, Calif.), 1:05:02
42. Gabrielle Lumkes, 1:05:12
46. Liberty Ricca (Colorado Springs, Colo.), 1:05:55
DNF Erika Ackerlund (Helena, Mont.)

Men U.S. Finishers
17. Brent Demarest (Charleston, N.C.), 54:22
32. Michael Arishita (Boerne, Texas), 55:09
33. Thomas Sonnery-Cottet (Tempe, Ariz.), 55:11
38. Drew Shellenberger (Tempe, Ariz.), 55:23
54. Griff Morgan (Westfield, N.J.), 1:00:20
2022 World Triathlon Para Cup A Coruna
Three-time Paralympic medalist Grace Norman ripped off another World Triathlon Para Cup win on Sunday, handily taking the gold in the PTS5 category, with a time of 1:06:21 in the sprint-distance triathlon.
Her 5k run was especially impressive — a 17:52 — nearly 2 minutes ahead of the next fastest athlete.
Norman was joined in A Coruna, Spain, by several development paratriathletes, who gained valuable international racing experience.
Owen Cravens, with guide Zack Goodman, earned the silver in the men's PTVI, while Zachary Stinson took the silver in the men's PTWC race.
U.S. elite paratriathletes will be back in action July 8 at World Triathlon Para Series Montreal.
A Coruna results:
U.S. Finishers
Women
PTS5
1. Grace Norman, 1:06:21
Men
PTWC
2. Zachary Stinson, 1:18:49
PTS2
4. Cahin Perez, 1:35:56
PTS4
5. Carson Clough, 1:13:39
11. Robert Rodriguez, 1:23:53
PTS5
12. Jesus Moreno, 1:12:32
PTVI
2. Owen Cravens (Guide Zack Goodman), 1:02:51
3 Pigs Triathlon
Smithfield, N.C.
Pigs + triathlon? Count us in!
This year was the 12th year that the 3 Little Pigs Triathlon has been held. The swim is in the beautiful Smithfield Recreation and Aquatics Center in Smithfield, and is a 250 yards pool swim. The 14 mile bike course takes you from the SRAC into rural Johnston County on a scenic, but flat course. The 5k run course is an out-and-back course that will take you through Smithfield's community park and onto the Buffalo Creek Greenway and back to SRAC.
Plus, there are actual pigs at the finish line!
For more information on this unique race, check out their website here.