USA Triathlon Weekend Notebook: World Triathlon Racing is Back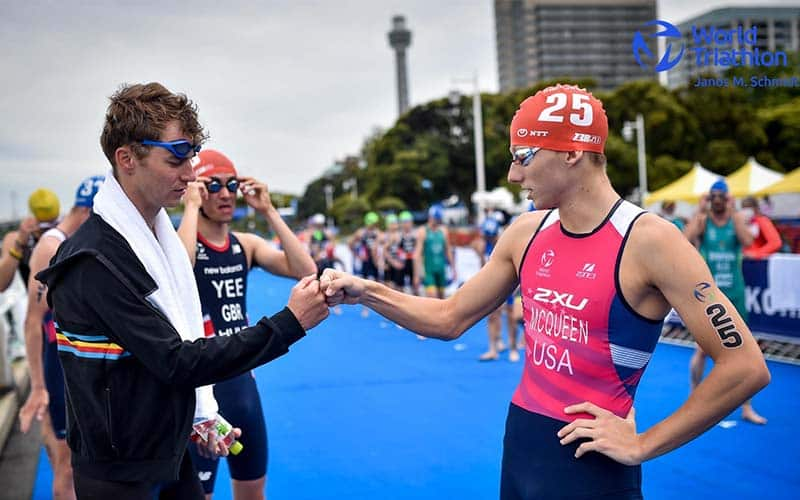 2022 World Triathlon Championship Series Yokohama & 2022 World Triathlon Para Series Yokohama
WORLD TRIATHLON RACING IS BACK!
We all waited patiently through the offseason and were eager to see Team USA take on the international start line!
It was a great way to start to open up the 2022 season with back-to-back-to-back elite races with both the elite paratriathlon and elite triathlon races all taking place on the same day.
If you were one of the die-hard fans who stayed up late to stream all three events due to the time zone (especially you east coasters), we salute your commitment to supporting Team USA. There is nothing better than triathlon at midnight!
If you didn't catch the race live, you can watch the replay and all of the upcoming events for both the WPS and WTCS on TriathlonLIVE.tv here. All USA Triathlon members can get 20% off the annual pass using code NF2022 at checkout.
The elite paratriathletes kicked us off last weekend. Eight athletes across five sport classes competed in Yokohama.
Team USA showed up.
We collected seven total medals on race day, including four golds!

Kyle Coon alongside his guide Zack Goodman claimed the first gold for the Americans in the PTVI division. It was Coon's third WPS victory!
The first female gold for Team USA in Yokohama went to Grace Norman in the PTS5 sport class. It was a nice victory to remind her of the gold she earned in Yokohama in 2019!
Although her British rival Lauren Steadman wasn't racing last weekend, check out this story on how Norman and Steadman trained together this winter to get ready for this season!
Hear from @gracenormantri after her season opening W in Yokohama! 🎦@worldtriathlon | #WTPSYokohama pic.twitter.com/nAXGmr7yq6


— USA Triathlon (@usatriathlon) May 14, 2022
Melissa Stockwell is two for two the last two years for wins in Yokohama. She won last year in 2021 and returned this year and reclaimed her gold.
What's even more impressive? Just weeks before she competed in the Boston Marathon!
In her debut World Triathlon Para Series appearance, Kelly Worrell won her first gold in Yokohama!
What a debut for Kelly Worrell! 🤩

Our 2021 Paratriathlon Development Athlete of the Year made her debut WTPS appearance, picking up the win in the PTS4 classification and clocking a time of 1:25:30! 🔥#WTPSYokohama | @WorldTriathlon pic.twitter.com/1q4JR318u7


— USA Triathlon (@usatriathlon) May 14, 2022
It was a great day for Team USA, they dominated the Japanese course... and did we mention it was raining that morning? Just in case you needed more reasons to be amazed by these elites!
The female elite triathletes were next up on the docket. The star-studded roster brought all of the top talent to start off the year. Yokohama would count towards the third race on the full tour that will crown the 2022 World Champions since WTCS Hamburg and WTCS Abu Dhabi last fall counted toward this year.
Four U.S. women toed the line. Taylor Knibb, Erika Ackerlund, Taylor Spivey and Kirsten Kasper.
It was a strong start to the year with three women finishing in the top 10.
Taylor Knibb grabbed the highest finish of the weekend for Team USA. She had a strong race from start to finish, landing in sixth place overall -- which landed her third in the overall rankings.
Strong start for the U.S. Elite National Team at #WTCSYokohama! 🇺🇸@TaylorKnibb leads the way with a sixth-place finish, joined in the top ten by @TKSpivey and @KirstenKasper! 🔥@KMcDowell1 finishes tenth in the men's race, followed by @MattMcElroy9 who places 13th overall! 👏


— USA Triathlon (@usatriathlon) May 14, 2022
Spivey placed eighth, which was a great result as she entered Yokohama post injury and still in recovery mode.
Kasper followed just behind Spivey in ninth place. Acklerund rounded out the U.S. women finishing in 15th, in only her third-ever WTCS race after entering the Series just last year!
If you caught the men's race you know that a giant pack moved together through the swim and bike, leaving the run to decide the results.
Four U.S. men represented on the start line.
It was Kevin McDowell who had the top men's result of the day, finishing 10th. Matt McElroy started Yokohama not having raced a WTCS event since June 2021 due to injury. He had a strong turnout, finishing 13th after putting out an impressive bike and run split.
Seth Rider placed 24th and Chase McQueen was 42nd.
The next WTCS race is in Leeds, England on June 11 and will include a Mixed Relay event on June 12.
HerbaLife24 Triathlon LA
Los Angeles, Calif.
The first PTO Pro-Am race took place on Sunday at the HerbaLife24 Triathlon in LA.
Held over the Olympic-Distance, the event combined PTO professionals with CAF athletes (Challenged Athletes Foundation) tagging off to complete the three disciplines.
Familiar U.S. names that joined in were Sam Long, Allysa Seely, Chris Hammer and Heather Jackson.
Gold Nugget Triathlon
Anchorage, Alaska
The Gold Nugget Triathlon is a women's only triathlon in Alaska that empowers women of all experience levels to improve their lives through sport!
Check out more about the race here.