News
Team USA
Paralympics
Elite
USA Triathlon Weekend Notebook: Thankful for World Champions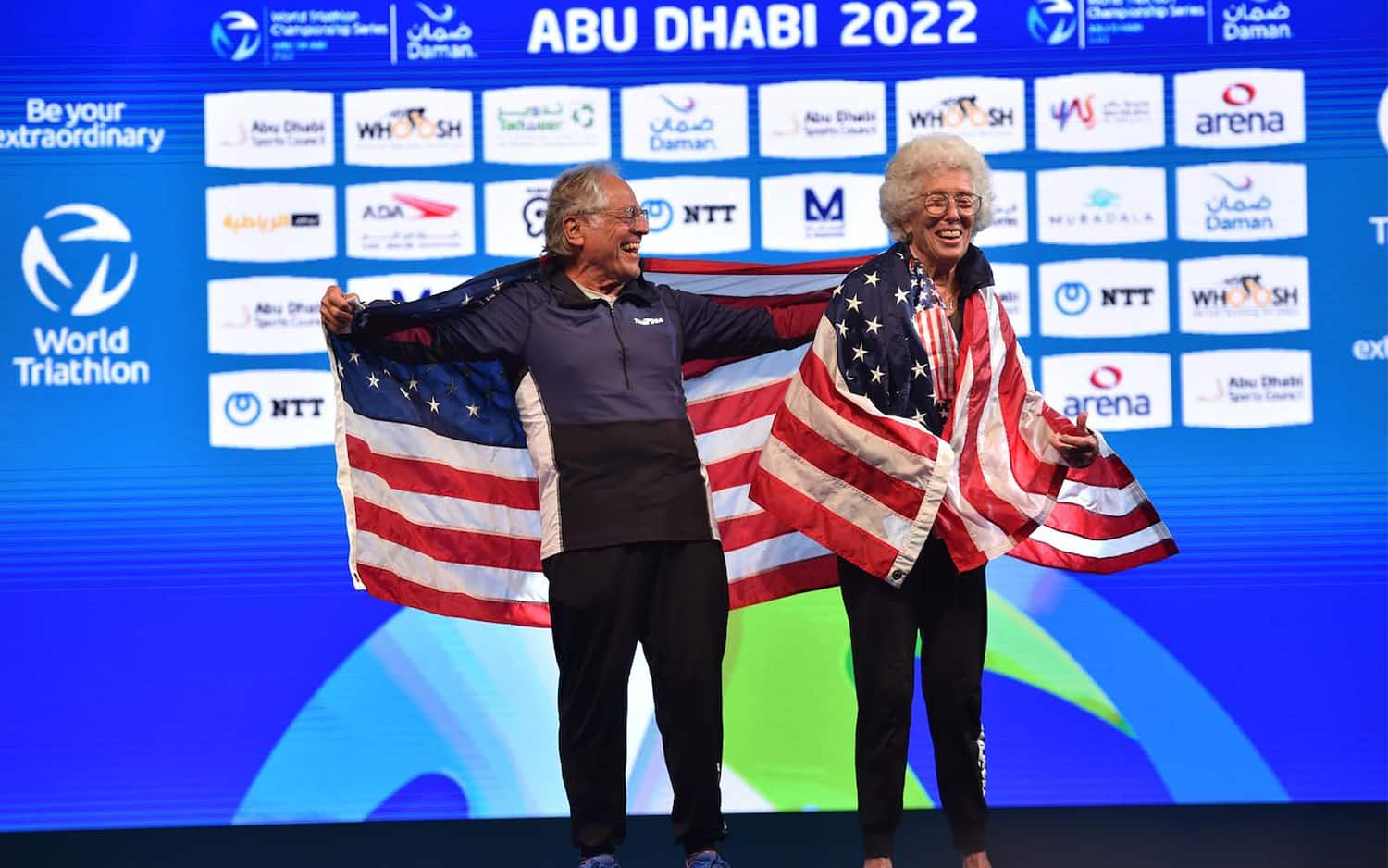 We hope everyone had a fantastic Thanksgiving holiday.
Here at USA Triathlon, we have so much to be thankful for! Big event competitions well into late November is one of them!
While most of the nation was gobbling up some turkey and stuffing over last week, a large group of nearly 300 U.S. multisport athletes, including elite, elite paratriathletes and age-groupers all were soaking up the desert sun at the World Triathlon Championships in Abu Dhabi, UAE competing for world titles.
Which gives us another thing to be thankful for.... Team USA World Champions!
Let's recap Abu Dhabi!
2022 World Triathlon Championship Finals Abu Dhabi
Abu Dhabi, UAE
Starting out with the parade of nations, Team USA got to flaunt the Stars and Stripes as 234 age group athletes represented the U.S.
The team was also a female-led roster, with 53% of the competitors being women.
The elite paratriathlons were the first to take on the Abu Dhabi course. A total of 19 athletes across 11 sport classifications were on the roster in the hopes of collecting some well-deserved world titles after a decorated 2022 World Paratriathlon Series!
Plus, some reigning champions lined up hoping to reclaim some crowns: Chris Hammer, Grace Norman, Hailey Danz, Kendall Gretsch, Melissa Stockwell and Kelly Elmlinger.
Ultimately, it was a HUGE day for the U.S. elite paras as six paratriathletes won world champion podiums.
Danz and Norman won gold in their respective PTS2 and PTS5 sport classes, while fellow U.S. elite paratriathletes Elmlinger, Gretsch, (PTWC) and Stockwell (PTS2) took home silver. Hammer earned the bronze in his PTS5 class.
Next up was the elite triathlon action!
Going into the women's event, both Taylor Knibb and Taylor Spivey were within World Champion Podium contention, meaning race day was going to be FIERCE!
And as always, the U.S. elite performed!
Knibb was able to produce a fourth-place overall finish, which granted her the bronze medal for the Series!
Spiveyfinished her day seventh in the race, to land her fourth overall in the Series - an amazing end to the 2022 season!
Other women's results were:
17. Kirsten Kasper
18. Erika Ackerlund
28. Summer Rappaport
Following the elite women's event in Abu Dhabi, eight up-and-coming U.S. triathletes representing the future of elite U.S. triathlon raced in the U23 World Championships.

John Reed (Virginia Beach, Va.) led the U.S., clocking a top-10 finish to cap his first season racing as an elite. With a strong run, Reed placed ninth with a time of 1:51:16.

Liberty Ricca (Colorado Springs, Colo.) and Lydia Russell (Bryn Mawr, Pa.) led the U.S. women, placing 25th and 26th. Ricca is a member of the Arizona State University women's collegiate triathlon team, which won its sixth straight national title earlier this month. A former collegiate runner at the University of Oregon and University of New Mexico, Russell transitioned to triathlon this spring, competing in her first elite-level triathlon at the 2022 Americas Triathlon Cup Sarasota-Bradenton.

Ricca's Arizona State teammate Faith Dasso placed 29th.
For the men's elite race, while the quest for the overall series podium was out of reach, there still was some showing up to do when it came to closing out the 2022 season! All smiles came from Morgan Pearson, after A HUGE performance in Abu Dhabi left him with a silver medal in the final WTCS race of the year.
This was Pearson only's WTCS appearance in the 2022 due to recovering from some injuries. But we can be THANKFUL for his health journey and training this year as it paid off BIG TIME!
Pearson's medal is the first for a U.S. man at a triathlon world championship event since Mike Pigg earned bronze at the ITU Triathlon World Championship in 1991 in Gold Coast, Australia.
Matt McElroy (Huntington Beach, Calif.) placed 10th, earning him his best individual WTCS result of the year.
Fellow U.S. Elite Triathlon National Team member Seth Rider (Germantown, Tenn.) placed 16th in 1:46:09 and Chase McQueen (Columbus, Ind.) took 28th in 1:46:56. Kevin McDowell (Geneva, Ill.) finished 31st.
For the age-group events, athletes had world stakes on the line for the Standard-Distance Triathlon, Super Sprint and Standard Aquabike.
In the super sprint, Team USA collected seven world titles across the age groups!
Here is the list of medallists!
Super Sprint Age Group Medallists
Women:
Shantelle Tupaz, 2nd, F15-19
Jenny Seuling, 2nd, F25-29
Jen Schweigert, 2nd F40-44
Emily Soley-Johnson, 3rd, F40-44
Marisa Rastetter, 1st, F45-49
Tanja Digrande, 3rd, F50-54
Steph Popelar, 1st, F55-59
Tracy Disabato-Aust, 1st, F60-64
Nancy Lyon-Stadler, 2nd, F60-64
Sarah Crewe, 3rd, F60-64
Barbara Thomas, 2nd F65-69
Kimberly Peterson, 3rd, F65-69
Ruth King, 2nd, F70-74
Barbara Kostner, 3rd, F70-74
Ruth Hamilton, 1st, F75-79
Lois Leon, 1st, F80-84

Men:
Matt Coleman, 2nd, M20-24
Dave Leveque, 1st, M35-39
Brek Minarik, 2nd, M35-39
Lawrence Herold, 3rd, M40-44
Jim Taylor, 3rd, M60-64
James Aust, 1st, M65-69
Dennis West, 3rd, M75-79
George Eymer, 2nd, M80-84
Robert Levy, 3rd, M80-84
In the standard triathlon, the U.S. earned two world titles.
Standard Triathlon Age Group Medallists

Men:
Audie Mcrae, 3rd, M35-39
Iain Campbell, 2nd, M60-64
Kyle Welch, 3rd, M60-64
Robert Plant, 3rd, M75-79
John Turner, 2nd, M80-84
Women:
Kristine Banks-Smith, 2nd, F35-39
Jessica Holmes, 1st, F45-49
Marisa Rastetter, 3rd, F45-49
Lisa Mueller, 3rd, F50-54
Robyn Williams, 1st, F60-64
Mary Hager, 2nd, F70-74
Linda Clarkson, 3rd, F70-74
And then in the aquabike event, seven age groupers were named world champions!
Standard Aquabike Age Group Medallists
Men:
Brendan Mueller, 1st, M30-34
James Aust, 2nd, M65-69
Robert Smartt, 3rd, M65-69
Dennis West, 1st, M75-79
Larry Nelson, 3rd, M75-79
Albert Leon, 1st, M80-84

Women:
Laurel Krause, 3rd, F20-24
Emily Boardman, 3rd, F25-29
Katherine Tobin, 2nd, F40-44
Melissa Langworthy, 3rd, F40-44
Betty Janelle, 2nd, F55-59
Tracy Disabato-Aust, 3rd, F60-64
Sue Reynolds, 1st, F65-69
Polly Wright, 2nd, F65-59
Kathleen Hughes, 3rd, F65-69
Karen Wilcox, 1st, F70-74
Billie Pate, 2nd, F70-74
Ruth Hamilton, 1st, F75-79
Sarah Artese, 3rd, F75-79
Lois Leon, 1st, F80-84
And to top off an unbelievable week that brought in world champions and world champion medallists, the week was also historical as the elite paratriathletes got to compete in the first-ever paratriathlon mixed relay!
Teams consisted of four men and women across different Para classification groups.