News
USA Triathlon
Elite
Paralympics
Paralympic Gold Medalists Kendall Gretsch, Brad Snyder Named 2021 Elite Paratriathletes of the Year, Presented by Wahoo Fitness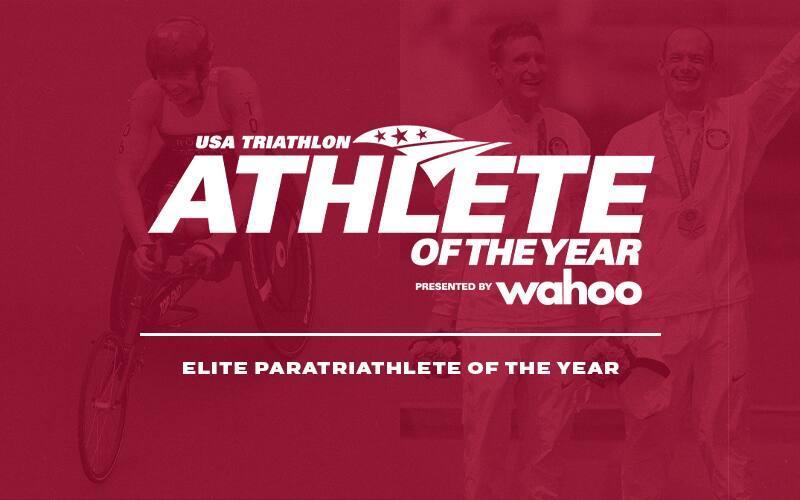 COLORADO SPRINGS, Colo. — USA Triathlon today named Kendall Gretsch (Downers Grove, Ill.) and Brad Snyder (Baltimore, Md.), along with his guide Greg Billington (Poway, Calif.), as the 2021 Elite Paratriathletes of the Year presented by Wahoo Fitness, recognizing their standout performances on the world stage throughout the 2021 season.

In a highlight moment of the Paralympic Games Tokyo 2020, Gretsch caught Australia's Lauren Parker at the tape to win her first Paralympic gold medal in paratriathlon in the women's PTWC race, which made its Paralympic Games debut. The paratriathlon gold was Gretsch's third Paralympic gold medal, alongside the two she earned at the 2018 PyeongChang Winter Paralympic Games in Nordic skiing. Her achievement in Tokyo made her the fifth American — third female — to win gold at both the Summer and Winter Paralympic Games.

In 2021, Gretsch also won both the World Triathlon Para Series Yokohoma and World Triathlon Para Series Leeds, as well as the 2021 Americas Triathlon Para Championships in Pleasant Prairie, Wisconsin.

"I am honored to be recognized with this award, especially considering how successful the entire U.S. paratriathlon team was in 2021," Gretsch said. "I'm thankful for all the support I've received from so many people to help me chase and achieve my goals."

Snyder, with Billington as his guide, won gold in the men's PTVI classification at the Paralympic Games Tokyo 2020, becoming the first U.S. man — Paralympic or Olympic — to win a medal in an individual triathlon competition at the Games. The gold medal adds to Snyder's seven (five gold) he won as a Paralympic swimmer in the 2012 and 2016 Paralympic Games before transitioning to paratriathlon in 2018.

Billington, a 2016 U.S. Olympian, teamed up with Snyder as his guide in June of 2021. The pair made massive strides in their training in the final months of preparation before the Paralympic Games, including winning the U.S. national title at the 2021 Toyota USA Paratriathlon National Championships in Long Beach, California.

"This is an incredible honor and 2021 was an incredible year full of wonderful memories," Snyder said. "It was amazing to stand on the podium in Tokyo with Greg and share that moment with him after winning gold together. I'm so grateful for the incredible support team I have, including my wife, Sara, who is so supportive in so many ways and there with me every step of the way. I'm also grateful to have the support of some amazing sponsors who have helped to broaden Paralympic awareness, not only enabling my dreams, but also inspiring similar dreams in other athletes worldwide."

Up-and-coming elite paratriathlon stars Owen Cravens (Algonquin, Ill.) and Kelly Worrell (Cherry Hill, N.J.) were named Elite Paratriathlon Development Athletes of the Year, as both had breakout performances in 2021.

Competing in the men's PTVI classification, Cravens, 18, took third place at the Toyota USA Triathlon Paratriathlon National Championships. He also finished third at the Sarasota-Bradenton Triathlon and placed fourth at the Americas Triathlon Para Championships Pleasant Prairie. Cravens was an original member of USA Triathlon's and the Challenged Athletes Foundation's (CAF) Junior Paratriathlon Development Program that launched in 2020. The first-of-its-kind program supports aspiring young paratriathletes ages 12-17 with grant funding, coaching guidance, apparel and other development resources.

Worrell's 2021 highlights included winning the women's PTS4 race at the Sarasota-Bradenton Triathlon and finishing second at the Americas Triathlon Para Championships in Pleasant Prairie, Wisconsin. Worrell, 45, then went on to place second at the Toyota USA Triathlon Paratriathlon National Championships. Worrell is the assistant director of the Athletes With Disabilities Network Northeast based in Moorestown, New Jersey, and co-founder of Swim Bike Run 4 Equality, whose mission is to offer opportunities to increase diversity and inclusion in the sport of triathlon. She is also a member of the 2022 USA Triathlon Foundation Ambassador team.
The 2021 USA Triathlon Elite Paratriathlete of the Year selections are as follows:

Women's Elite Paratriathlete of the Year: Kendall Gretsch (Downers Grove, Ill.)

Men's Elite Paratriathlete of the Year: Brad Snyder (Baltimore, Md.), and guide Greg Billington (Poway, Calif.)

Women's Paratriathlon Development Athlete of the Year: Kelly Worrell (Cherry Hill, N.J.)

Men's Paratriathlon Development Athlete of the Year: Owen Cravens (Algonquin, Ill.)