Matt McElroy Earns Bronze Medal at the 2022 World Triathlon Cup Valencia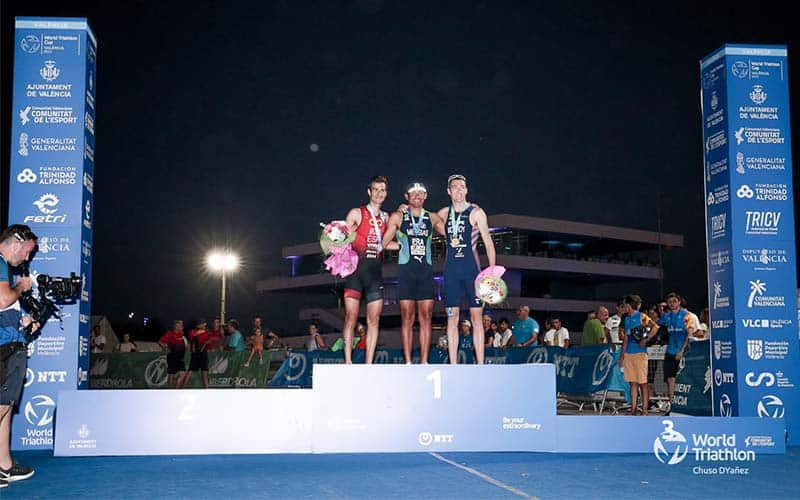 VALENCIA, Spain – Matt McElroy (Huntington Beach, Calif.) earned the first World Cup podium of the year for the United States as he secured the bronze medal at the 2022 World Triathlon Cup Valencia on Saturday.

Taking on the hot and humid Spanish sprint-distance course (750-meter swim, 19.4-kilometer bike, five-kilometer run), McElroy crossed the line in 50 minutes and 25 seconds to claim a third-place finish and grant his first World Cup podium since 2019.

"I was out last year with a knee injury and I had surgery on my right knee. I didn't know if I was going to come back, I thought about retiring a couple of times because we didn't know what the injury was. We finally got it figured out about six months ago, so I am just happy to be here to be honest," McElroy said of his podium performance.

He added, "I just think I have a new mindset coming into this year. I am approaching races with just a 'have fun' attitude – it's pretty simple. A lot of people want to come out here and be aggressive and I am just stoked to be on the line every time, I can't complain."

Coming out of the swim, McElroy was in the middle of the pack that carried out into the bike and created a mass group which tallied the majority of the field. As Valenica is known as the running city, McErloy then put his best discipline forward and started picking off the competition immediately after the second transition.

He eventually found himself in third place, attempting to chase down Spaniard Mario Mola who finished second overall with a time of 50:18. Brazil's Manoel Messias was the untouched champion, who claimed victory in a time of 50:14.

McElroy said of his running performance trying to catch Mola, "I do well in the heat, but I wouldn't say I like the heat. But chasing Mario [Mola], I mean everyone looks up to Mario, he is a legend. He just had a kid and in December I will be having a baby boy, so I am kind of following his footsteps. I am excited to be a Dad!"

The remaining results for the men's U.S. team were Austin Hindman (Tempe, Ariz.) who placed 46th with a time of 52:54, Marc Dubrick (Glen Ellyn, Ill.) in 51st place (53:40) and Davis Bove(Franklin, Tenn.) following after in 52nd with a time of 54:01.

In the women's race, Summer Rappaport (Thornton, Colo.) placed sixth in her first World Cup showing of the year. With a time of 55:45, she earned the top result for the U.S. women, after also collecting the best swim time of the race.

Also placing in the top-ten was Gina Sereno (Madisen, Wis.). She clocked in at 55:57 to earn a career-best World Cup finish.

Kirsten Kasper (North Andover, Mass.) followed closely behind, placing 14th with a time of 56:06 and then Madisen Lavin (Vermillion, S.D.) rounded out the women's U.S. team by placing 56th in a time of 1:00:23.

The next World Triathlon Cup will be held in Karlovy Vary, Czech Republic on September 11.
2022 World Triathlon Cup Valencia - Complete Results
750m swim, 19.4k bike, 5k run

Elite Women's Podium
1. Lisa Tertsch (GER), 55:17
2. Anahi Alvarez Corral (MEX), 55:19
3. Leonie Periault (FRA), 55:24

U.S. Women's Finishers
6. Summer Rappaport (Thornton, Colo.), 55:45
10. Gina Sereno (Madisen, Wis.), 55:57
14. Kirsten Kasper (North Andover, Mass.), 56:06
56. Madisen Lavin ((Vermillion, S.D.), 1:00:23
Elite Men's Podium
1. Manoel Messias (BRA), 50:14
2. Mario Mola (ESP), 50:18
3. Matt McElroy (Huntington Beach, Calif.), 50:25

U.S. Men's Finishers
3. Matt McElroy (Huntington Beach, Calif.), 50:25
46. Austin Hindman (Tempe, Ariz.), 52:54
51. Marc Dubrick (Glen Ellyn, Ill.), 53:40
52. Davis Bove (Franklin, Tenn.), 54:01