Team USA Age Group Athlete Sue Reynolds Releases "The Athlete Inside: The Transforming Power of Hope, Tenacity and Faith"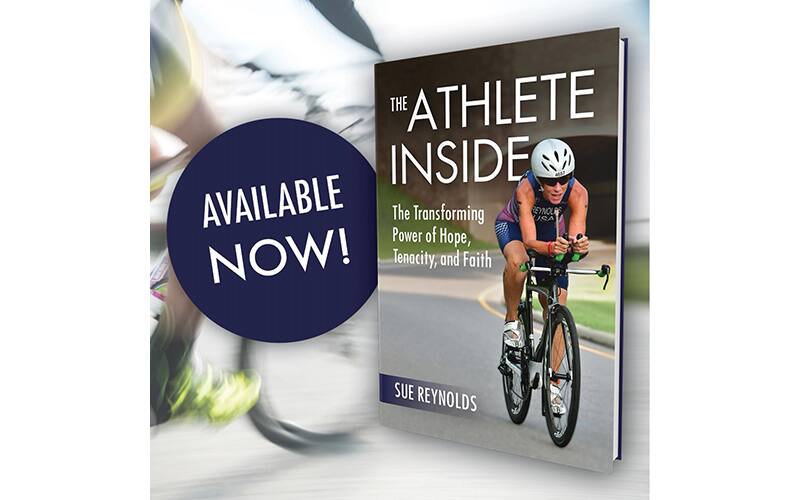 COLORADO SPRINGS, Colo. — The USA Triathlon Foundation and Fortress Press today announced that "The Athlete Inside: The Transforming Power of Hope, Tenacity, and Faith," by Team USA age group triathlete Sue Reynolds, is available for purchase today.
The debut book follows Reynolds' four-year journey as she lost 200 pounds, transitioning from a sedentary lifestyle to that of a triathlete who competes at ITU Age Group Triathlon World Championships. Reynolds began her fitness journey as a grandmother in her late 50s, proving that it's never too late to transform your life.
Proceeds from the book's first year of sales will benefit the USA Triathlon Foundation and help support its mission, which is to transform lives through sport by providing opportunities to swim, bike and run.
"Sue Reynolds is one of the USA Triathlon Foundation's most inspiring ambassadors, and we are honored that she has chosen to donate proceeds from 'The Athlete Inside' to the foundation to support our mission," said David Deschenes, USA Triathlon Foundation Executive Director. "Sue's story of self-belief and perseverance teaches us that we are all capable of much more than we may think. Her commitment to give back through this initiative will help us encourage others and continue to transform lives through sport, just as Sue experienced."
From her first walk to the neighbor's mailbox to earning a personal best finish of sixth in her age group at the 2017 ITU Age Group Triathlon World Championships in Rotterdam, the Netherlands, Reynolds discovered the joy of conquering fear and pride to find that the best version of herself had been there all along.
"I wrote 'The Athlete Inside' in hope that my story and the proceeds from the book would help others," Reynolds said. "The kindness of so many people within the triathlon community had helped me so much, especially as a beginning triathlete, and I wanted to extend that kindness to others. The USA Triathlon Foundation was a perfect fit for the book's proceeds. I love the Foundation's mission, to help others transform their lives through triathlon. The USA Triathlon Foundation's work is making a difference in people's lives."
Since 2014, Reynolds has competed in six USA Triathlon National Championship events and represented Team USA on the world stage on four occasions, finishing no lower than 12th in her age group.
"Sue Reynolds has inspired many in the USA Triathlon family by sharing her transformative journey, and 'The Athlete Inside' provides an even bigger platform to reach those both within and outside the multisport community," said Rocky Harris, USA Triathlon CEO. "Her infectious personality and incredible determination are evident as she shares how she tapped into the strength she had all along."
The book is now available for purchase at Amazon, Barnes & Noble, Indiebound and Broadleaf Books.
Media Requests: To receive a copy of "The Athlete Inside" or to interview Reynolds, please contact Mallory Hayes of Fortress Press at hayesm@1517.media.
To donate to the USA Triathlon Foundation, or to learn more about the foundation and the programs and individuals it supports, visit usatriathlonfoundation.org.
What others are saying about "The Athlete Inside":
Bob Babbitt, Challenged Athletes Foundation Co-Founder, USA Triathlon and IRONMAN Hall of Famer
"Sue Reynolds changed her perception of herself, and this book will help you do the same. Her message is simple: If this 335-pound grandmother can changer her life for the better, so can you!"
Gwen Jorgensen, 2016 Olympic Triathlon Gold Medalist
"Sue Reynolds shows how sport changed her life by telling a story familiar to me — one of discovering untapped talents, finding a trusted team and using focus and discipline to achieve goals."
Joe Maloy, 2016 U.S. Olympian, USA Triathlon Collegiate Recruitment Program Manager
"No matter what you weigh, what you've been told or how many birthdays you've had, 'The Athlete Inside' is a powerful reminder that each of us is capable of athletic achievement. Sue's example inspires both courage and vulnerability, two necessary ingredients for anyone thinking about taking that first step to fulfillment."
Brittany Bearden, Sports Dietitian, Dallas Mavericks
"Sue's journey exemplifies the power of consistency is far greater than perfection in achieving big goals. Anyone striving to improve in life, health or sport can learn from Sue's stick-with-it-ness through doubts, struggles and setbacks. Read this book, surround yourself with support and go achieve your goals."
Matt Fitzgerald, Endurance Sportswriter, Bestselling Author and Nutritionist
"Sue Reynolds' incredible story of personal transformation is proof there's an athlete inside each and every one of us, and it's never too late to find him or her. If she can do it, you can too!"
Ronald Hoffman, Host of the Nationally Syndicated Radio Program 'Intelligent Medicine'
"Sue Reynolds offers a remarkable, inspiring story about personal transformation. I love sharing her accomplishments with my radio listeners!"
Jane Rubietta, Author, 'Worry Less So You Can Live More'
"An astounding journey of determination from a single decision, repeated day after day. Sue Reynolds' journey — and success — is accessible to every single person. Because success is a daily decision, and today is a new day. Regardless of your end goal, Sue demonstrates the possibility of achievement."

About the USA Triathlon Foundation
The USA Triathlon Foundation was created in 2014 by the USA Triathlon Board of Directors as an independent tax-exempt 501(c)(3) entity. Under the leadership of its Trustees and Committee members, the Foundation serves as a means to create a healthier America through triathlon and seeks to transform lives by opening up new pathways to the sport for all, especially those who are otherwise underserved. The USA Triathlon Foundation operates with the belief that every child should have the chance to participate, every paratriathlete should have the opportunity to compete, and every aspiring elite athlete should be able to chase his or her Olympic dream. Since the Foundation's inception, more than $3 million has been provided to worthy causes and organizations that support its mission. Donations to the USA Triathlon Foundation ensure America's youth are introduced to the benefits and fun of a multisport lifestyle, athletes with disabilities receive the training, support and gear to be able to participate and excel, and the best aspiring young athletes have a chance to pursue their Olympic Dreams. Visit usatriathlonfoundation.org to learn more and donate today.

About USA Triathlon
USA Triathlon is proud to serve as the National Governing Body for triathlon, as well as duathlon, aquathlon, aquabike, winter triathlon, off-road triathlon and paratriathlon in the United States. Founded in 1982, USA Triathlon sanctions more than 4,300 events and connects with more than 400,000 members each year, making it the largest multisport organization in the world. In addition to its work at the grassroots level with athletes, coaches, and race directors — as well as the USA Triathlon Foundation — USA Triathlon provides leadership and support to elite athletes competing at international events, including International Triathlon Union (ITU) World Championships, Pan American Games and the Olympic and Paralympic Games. USA Triathlon is a proud member of the ITU and the United States Olympic & Paralympic Committee (USOPC).

About Fortress Press
Fortress Press, an imprint of 1517 Media, publishes relevant and influential works that help shape the thought of general readers, clergy, students and scholars across faiths. We are committed to catalyzing conversations that matter. For more information please visit Fortresspress.com.