News
Winter
Team USA
Results
Team USA Earns Two Age Group Podiums at 2022 World Triathlon Winter Championships in Andorra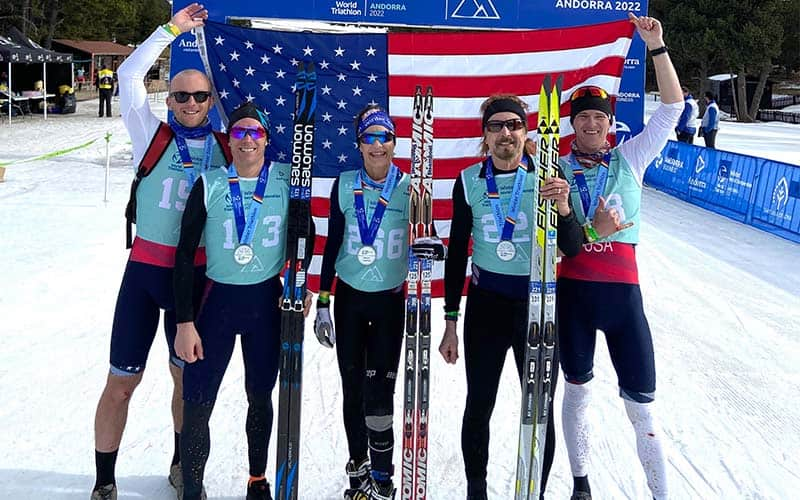 SANT JULIÀ DE LÒRIA, Andorra – Winter triathlon enthusiasts from around the world gathered in the small European country of Andorra for the 2022 World Triathlon Winter Championships on Sunday, Feb. 6. It was the 24th edition of the event welcoming multisport athletes to compete for a world title, with this year also including the 2022 World Triathlon Winter Duathlon Championships to the docket for the very first time.

Five U.S. age-group athletes competed for Team USA over the weekend in both the winter triathlon and duathlon events.

Winter duathlon opened up the world championship festivities on Friday, Feb. 4. Lawrence Herold of Chicago was the lone U.S. representation in the run-ski format and the only U.S. athlete to compete in both the duathlon and triathlon races. Athletes started out with a two-lap 6.4-kilometer run before switching to cross country skis and gliding through a four-lap 12.4-killometer ski course.
Herold finished fourth in the men's 40-44 age group, clocking in at a time of 1 hour, 23 minutes and 10 seconds.

Returning to the Pyrenees mountains on Sunday for the winter triathlon, athletes were treated to a course consisting of a four-lap 5.4-kilometer run, three-lap 9-kilometer bike and three-lap 9.3-kilometer ski. Team USA collected two podiums across all age-group events.

Earning the top finish of the day for the Americans was 2022 USA Triathlon Winter Triathlon National Champion Sheri Schrock of Cohasset, Minnesota. As the returning 2018 and 2021 Winter Triathlon World Champion, Schrock finished second in the women's 65-69 age group category with a time of 3:02:31.

The second USA podium earned in Andorra went to William Head of Fort Richardson, Alaska. In his first Winter Triathlon World Championship showing, he claimed the bronze medal with a time of 2:11:46 in the men's 25-29 age group.

Following shortly behind in fourth place was William Naworski (M25-29), who crossed the line in 2:41:58.

After earning the bronze medal in his age group last year in Andorra, Herold (M40-44) put up a strong battle on the course and missed this year's podium by a mere seven seconds. He finished fourth overall in his second competition of the weekend with a time of 1:38:43.

The final U.S. winter triathlete to compete was Edward Wheeler of Strongsville, Ohio. He placed sixth in the men's 65-69 age group category, finishing in a time of 2:52:46.
In addition to age group world titles, Andorra crowned champions in the elite, U23, junior, paratriathlon and mixed relay categories.
For a list of the complete results click here.
For more information on winter triathlon and Team USA, please visit here.
2022 World Triathlon Winter Championships Andorra
5.4k run, 9k bike, 9.3k cross country ski
U.S. Finishers - Complete Results
M25-29: William Head (Fort Richardson, Alaska), 3rd, 2:11:46
M25-29: William Naworski, 4th,2:41:58
M40-44: Lawrence Herold (Chicago, Ill.) 4th, 1:38:43
M65-69: Edward Wheeler (Strongsville, Ohio), 6th, 2:52:46
F65-69: Sheri Schrock (Cohasset, Minn.), 2nd, 3:02:31
2022 World Triathlon Winter Duathlon Championships Andorra
6.5k run, 12.4k ski
U.S. Finishers - Complete Results
M40-44: Lawrence Herold (Chicago, Ill.), 4th, 1:23:10