U.S. Wins Bronze at 2022 Mixed Relay World Championships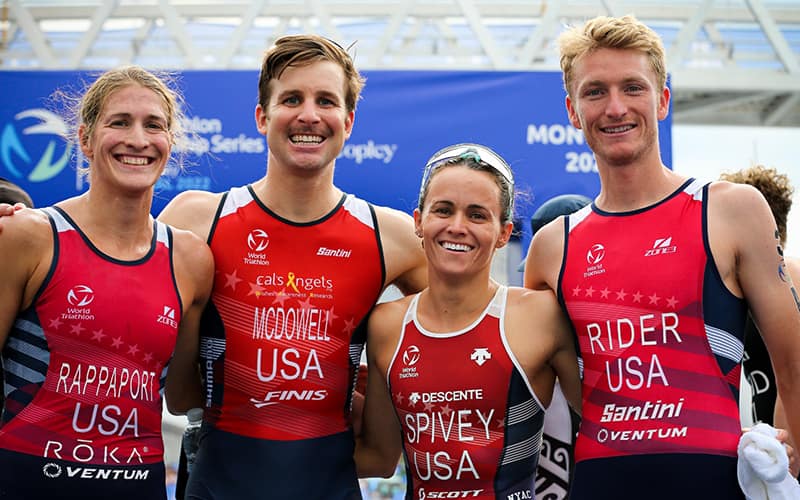 MONTREAL — The U.S. team of elite triathletes Seth Rider (Germantown, Tenn.), Taylor Spivey (Redondo Beach, Calif.), Kevin McDowell (Geneva, Ill.) and Summer Rappaport (Thornton, Colo.) won the bronze medal on Sunday at the 2022 World Triathlon Mixed Relay World Championships in Montreal.

The U.S. has long had international success in the Mixed Relay event — winning silver at the 2020 Mixed Relay World Championships, bronze in 2018, silver in 2017 and the world title in 2016. The U.S. elite team also won silver at last summer's Olympic Games Tokyo 2020 in the Mixed Relay's Olympic Games debut.

Showcasing its depth of talent throughout the years, each medal the U.S. elite team has won at the World Championships has featured a different combination of four athletes. Sunday's performance was another example as this quartet teamed up for the first time.

Fifteen countries raced Sunday's Mixed Relay World Championships, each comprised of two women and two men. Each athlete raced a 300-meter swim, 6.6-kilometer bike and 1.5k run in the new format of male-female-male-female which will be in place for the Paris 2024 Olympic Games.

The Mixed Relay in Montreal was the third and final day of an exhausting weekend of racing for elite triathletes that included as many as two super-sprint qualification races on Friday and up to three super-sprint final stages on Saturday. So, fresh legs were welcomed. McDowell, who didn't race the individual events in Montreal, provided the spry legs — and medal experience as a member of the silver medal winning team from Tokyo.

Rider led off for the U.S. and turned in one of his best performances of the weekend, swimming to the lead and biking in the lead pack before tagging to Spivey 24 seconds behind the leaders, Great Britain and New Zealand.

Spivey, who finished sixth in the individual World Triathlon Championship Series Montreal race this weekend, turned in the fourth-fastest second leg in the field, and tagged to McDowell with the U.S. in sixth place. The feat more impressive considering she raced five times Friday and Saturday heading into Sunday's race.
"I didn't know how I'd feel after doing five races — two duathlons — but I knew we had to work hard on the bike and luckily I had two girls working pretty well with me and we caught the front group heading into transition, which put our team in a good position," Spivey said.

With his fresh legs, McDowell made quick work on the bike, joining New Zealand's Tayler Reid to form a two-man chase group trying to catch race leader, Vincent Luis of France, who broke away solo to build a 19-second lead. The duo continued to chase Luis on the run, though the Frenchman still held the 19-second lead heading into the tag zone where McDowell, in third place, tagged to Rappaport.
"I was excited to line up and be racing with these guys this weekend, so I wanted to put my best foot forward," said McDowell. "I was happy to get away with Tayler (Reid) and really press it and try to set it up for Summer to bring it home."

Racing strong and sharp throughout the weekend — leading to a fifth-place performance in the individual World Triathlon Championship Series Montreal race — Rappaport emptied the tank for a final time over the taxing weekend to clock the third-fastest anchor leg time. She passed New Zealand's Nicole Van Der Kaay, though Great Britain's Georgia Taylor-Brown passed both Rappaport and Van Der Kaay to snag the silver for the Brits.
"I've never gone last before, and there's definitely a lot of pressure going last, so I just did everything I could to hold a podium spot for the team and I'm really proud we were able to get it done," Rappaport said.
France earned the 2022 World Championships gold, completing the race in a time of 1:27:14. Great Britain secured the silver in 1:27:37, with the U.S. 7 seconds behind in 1:27:44.

Up next for elite U.S. triathletes is the 2022 World Triathlon Championship Series Hamburg July 9-10, which also includes a mixed relay event.

World Triathlon Mixed Relay World Championships
300m swim, 6.6k bike, 1.5k run (X4)

1. France (Pierre Le Corre, Emma Lombardi, Vincent Luis, Cassandre Beaugrand) 1:27:14
2. Great Britain (Alex Yee, Sophie Coldwell, Samuel Dickinson, Georgia Taylor-Brown), 1:27:37
3. United States (Seth Rider, Taylor Spivey, Kevin McDowell, Summer Rappaport), 1:27:44