USA Triathlon Weekend Notebook: Podium Party to Kick Off the Season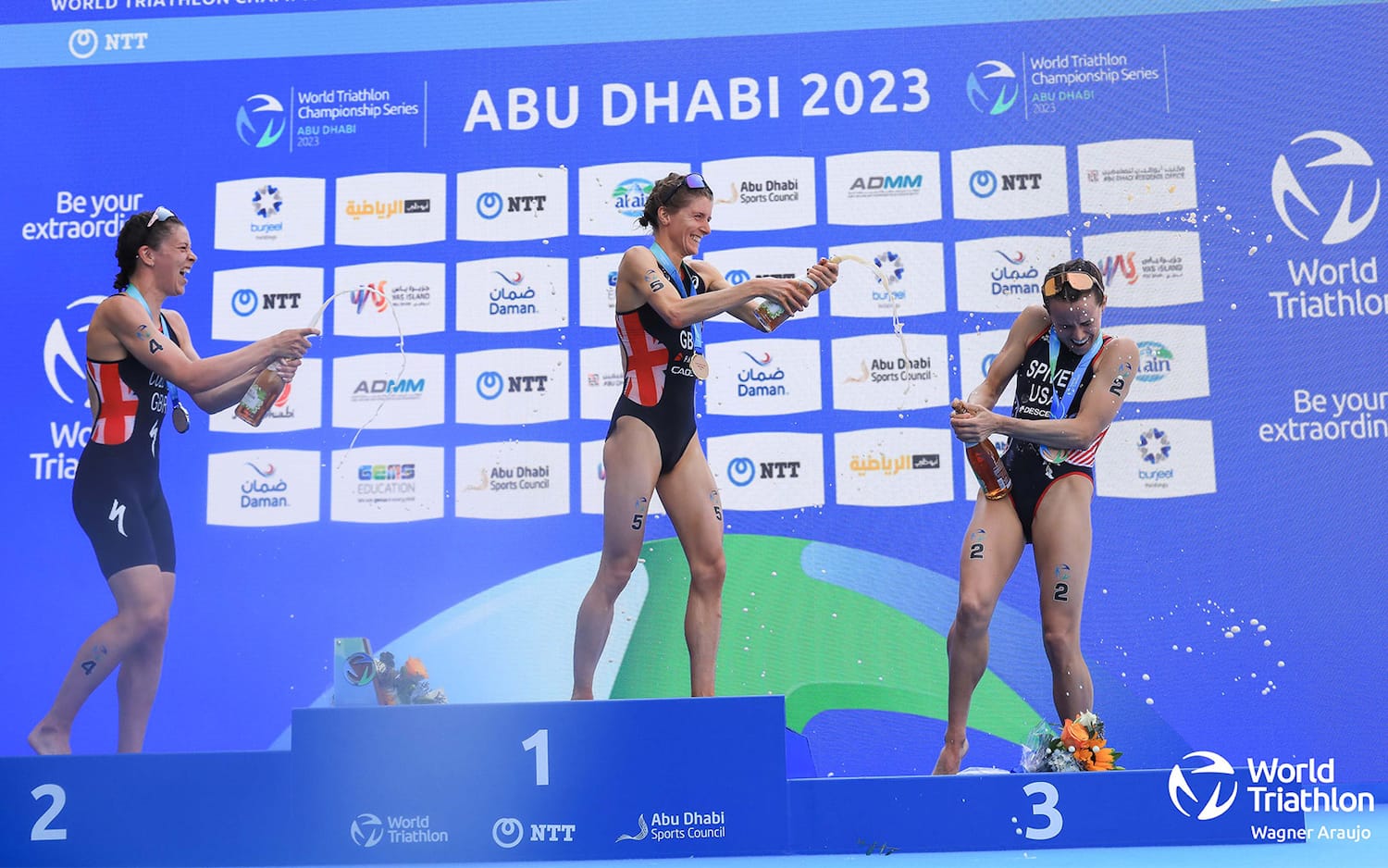 It feels good to be back in the groove of things and officially covering Team USA again! Offseasons are long and usually cold and most of us grow cranky having to train inside all the time. So, to have the glimmer of hope that race season is back with the elites taking the charge on the international front, it's a GREAT THING!
And what could be a better way to brighten all of our multisport spirits than to kick off the 2023 season with a podium?!
On behalf of all of us triathlon enthusiasts, we thank you Taylor Spivey!
Let's check out what went down over the weekend in the USA Triathlon universe!
2023 World Triathlon Championship Series Abu Dhabi
Abu Dhabi, UAE
No, you are not having a case of deja vu, Abu Dhabi did just host the WTCS Championship Finals in November to end the 2022 season. But our elites made the long trip out to the desert once again to this time open up the 2023 season.
Abu Dhabi has been good for Team USA these past five months. If you recall, last fall, Taylor Knibb finished fourth in the women's race to ultimately get onto the overall Series rankings podium in third place.
Then in the men's race, Morgan Pearson popped in for a one-time WTCS appearance and ended up getting the silver medal in the process!
This past weekend, it was Taylor Spivey who graced us with the podium power!
Spivey really performed from start to finish on the sprint-distance course. She was fifth out of the water, made it into the leading bike pack and then maintained her stride on the run to cross the line in a time of 58:27, to earn the bronze medal.
It was her first WTCS medal since 2021 and fifth career WTCS medal. And especially when last season she had three 4th-place finishes, so just missing the podium by inches, this medal was MUCH DESERVED!
We are all excited to watch Spivey this season and see her keep this forward momentum.
Another huge U.S. finish in Abu Dhabi came from Summer Rappaport. She finished in fourth, just 8 seconds behind Spivey. Rappaport is another athlete where we are hoping to see this top-finish trend continue this season!
A face we all enjoyed seeing on the start line was Katie Zaferes, who raced in Abu Dhabi after taking a 18-month hiatus so she could experience first-time motherhood with her beautiful son Kimble.
Welcome back Katie!
Can we also just say how lucky little Kimble is to get to travel across the world to watch Mom race and Dad take the photos? Talk about the dream tri-family team!
Matt McElroy also had a fantastic start to his season. Placing 8th, he earned his best WTCS finish since 2019. He had a great end to his 2022 season, racking up three World Cup podiums in a row, including a win, so it was thrilling to see him keep that momentum into this year.
Sending all the WTCS podium vibes his way in 2023!
It's also important to note that Matt and his wife had their first son in December. Looks like this will be the year of power parents!
The other U.S. finisher in Abu Dhabi came from Gina Sereno on the women's side, who finished 41st with a time of 1:00:46.
It's going to be a GREAT SEASON!
USA Triathlon Foundation Fantasy Camp
Chula Vista, Calif.
Who doesn't wish they could be an Olympian?
Well for a group of 40 age-group triathletes, this past week they got the chance to find out at the USAT Foundation Fantasy Camp that was held at the U.S. Olympic Training Center in Chula Vista, Calif.
Participants got to train, learn and live the life of an Olympian, getting special sessions and appearances from some of the top athletes and coaches in the sport.
Bonus? It's one amazingly fun time!
For more information on Fantasy Camp and the USAT Foundation, check out here.