News
Results
Collegiate Club
Elite
USA Triathlon Weekend Notebook: Collegiate Club Champions and Knibb Overtakes Oceanside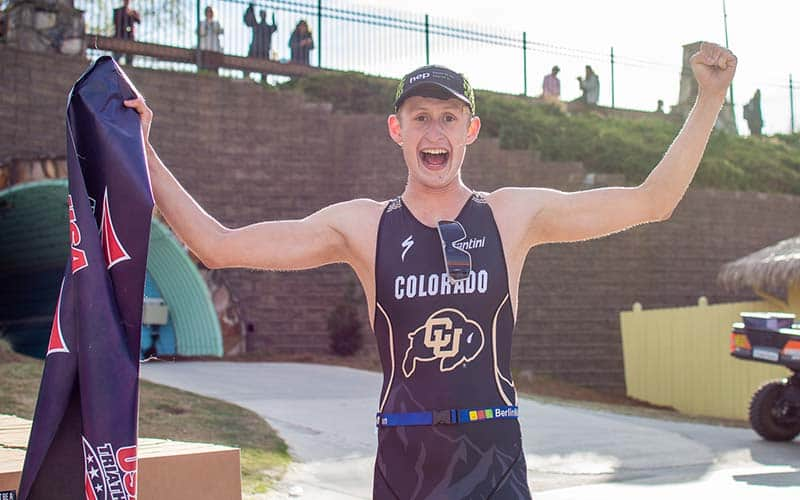 USA Triathlon Collegiate Club National Championships

We are going to declare a bold statement...the Collegiate Club National Championships might be the event with one of the most electric environments in triathlon!

Thousands of student athletes took over Lake Lanier, Georgia, over the weekend where over 60 collegiate club teams competed for national titles. The energy and excitement were unmatched after the restrictions to racing over the past couple of years.

Crowds of people cheering and teams supported their athletes — it was an unforgettable event!

Congratulations to Queens University of Charlotte who earned the overall team title! Queens University also took the men's team championship, while the women's national champions were awarded to Cal-Berkeley.
No need for a water cooler victory dunk when you can tackle your coach in a whole open water lake!
Cal's Kate Kennedy helped lead her women's team to overall victory by winning the Olympic-distance national title on Saturday.
The man of the weekend though went to University of Colorado, Boulder's Ben Bettin. Not only did he win the draft-legal sprint-distance race on Friday, but he then turned around 24 hours later to also win the Olympic-distance race. Going home with two national titles must be a great feeling!

Take a look at some of the other highlights of the weekend. Congrats to everyone who competed!
And a special shoutout to the University of Wisconsin team, who showed up with spirit all weekend long, earning the Spirit Award and winning the Journey to Nationals competition, both presented by Perspective Fitwear! Hype squad at its finest!

IRONMAN 70.3 Oceanside
California played host on Saturday, April 2 to the first North American IRONMAN 70.3 race of the season.
The pro field was STACKED!
Olympians. Paralympians. World Champions. It was a star-studded roster, a true California dream!
U.S. National Team Member and Tokyo 2020 Olympic Silver Medalist Taylor Knibb had a fantastic performance to win the women's overall victory by a over two-minute margin.
Knibb continues to showcase her strength in the longer distances, proving she is a force to be reckoned with at any start lines she lines up to.
Six Americans finished in the top ten of the race: Jackie Hering (5), Paula Findlay (6), Chelsea Sodaro (7), Skye Moench (8) and Danielle Lewis (10).
In the men's race, Canadian Jackson Laundry snagged the top spot with a brilliant race. A showdown for second came down to a fighting photo finish between Canada's Lionel Sanders and USA's Rudy Von Berg. They battled neck-in-neck right down into the gantry, where ultimately Sanders got the edge to take the silver.
Check out this photo finish shot!
Making his pro debut was three-time Paralympian Chris Hammer. We can't wait to see him excel on the longer courses!