News
USA Triathlon
National Championships
USA Triathlon Nationals
USA Triathlon Adds Intellectual Impairment Category for Athletes at Zone3 Youth and Junior Nationals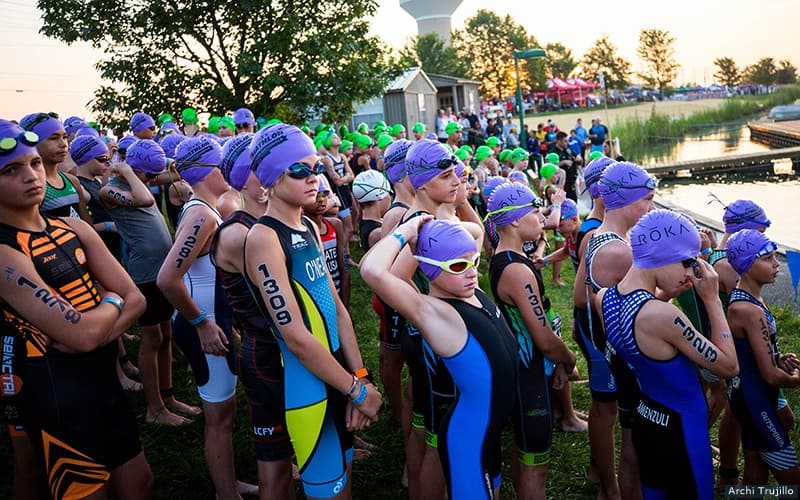 COLORADO SPRINGS, Colo. — USA Triathlon today announced it is offering a dedicated racing category for youth athletes with an intellectual impairment at Zone3 Youth & Junior Nationals July 30-31 in West Chester, Ohio. Adding the new category is a part of the organization's continued efforts to increase opportunities and access for current and prospective youth athletes and encouraging a culture of equality in the sport.

In addition, as part of USA Triathlon's 2022 Return to Racing Youth Stimulus Package, race entry is free for all 15-19 year-old athletes at the Toyota Legacy Triathlon July 15-17 in Long Beach, California. USA Triathlon is also hosting free Youth Splash & Dash events at the Toyota Legacy Triathlon and the Toyota USA Triathlon Age Group National Championships Aug. 5-7 in Milwaukee, Wisconsin.

"At USA Triathlon, we are committed to building a future for the sport that all people can see themselves being a part of. By adding an intellectual impairment category at Zone3 Youth & Junior Nationals, all athletes can see the sport truly is accessible and fun for everyone. I want to thank USA Triathlon Certified Coaches Christine Palmquist and Hector Torres for approaching us and helping us develop this great idea," said Rocky Harris, USA Triathlon CEO. "The sport and the multisport community offers a myriad of lifelong benefits and we are pleased to offer free entry for 15-19 year-olds at the Toyota Legacy Triathlon and free Youth Splash & Dash events at Toyota Legacy Triathlon and the Toyota USA Triathlon Age Group National Championships. Easing the barrier of entry to the sport is imperative as we continue to work to increase opportunities and access for youth athletes."
All youth athletes with an intellectual impairment are invited to race at Zone3 Youth & Junior Nationals on July 31. The race will start at 7:15 a.m. and includes a 200-meter swim, 10-kilometer bike and 2k run. All athletes will receive a free USA Triathlon youth annual membership, donated by the USA Triathlon Foundation. Athletes can race with the assistance of a guide for their safety.
On Friday, July 29, Torres, a USA Triathlon Level III Certified Coach, will lead an intellectual impairment athlete clinic and course talk beginning at 8 a.m. This is an opportunity for athletes, their guide and parents to meet and get a preview of the course.
Torres is the coach of triathlete Chris Nikic, who in 2020 captivated and inspired the world when he became the first person with Down syndrome to complete an IRONMAN triathlon. Nikic was awarded the Jimmy V Award for Perseverance at the 2021 ESPYS.
Registration for the intellectual impairment wave is open at register.usatriathlon.org/event/YJN2022.
The 10th year in West Chester, Zone3 Youth & Junior Nationals on July 30-31 will take place at Voice of America Park and welcomes youth athletes of all experience levels to participate in the fun and iconic youth triathlon event.
Qualification is not required to participate in the youth age group races, which are open to athletes ages 7-18 (previously limited to ages 7-15). Emphasizing participation and personal goal setting over competition for the younger age groups, "National Champion" titles will only be awarded to athletes ages 13-18, while athletes ages 7-12 will receive placement awards.
To learn more about Zone3 Youth & Junior Nationals and to register visit the event website here.
Youth Events at Toyota Legacy Triathlon
All athletes ages 15-19 years-old can race the Toyota Legacy Triathlon or relay for free by using the code 2022-LEGACY-WELCOME. Registration for the race on July 16 in Long Beach, California is open at register.usatriathlon.org/event/legacy2022.
The free Youth Splash & Dash at Legacy will take place on Saturday, July 16 at 9:45 a.m. In addition, for the second consecutive year the USA Triathlon Foundation is partnering with the LA Sports Council's Ready, Set, Gold! program, which helps youth discover healthy and active lifestyles while learning Olympic and Paralympic ideals.

The USA Triathlon Foundation and Ready, Set, Gold! will host a youth event on Friday, July 15, at the Zwift Corporate Headquarters in Long Beach as children ages 13-16 will get an up-close look at the intersection of technology, gaming and sport. Zwift has been an integral partner in supporting youth engagement, including working with the aforementioned organizations to identify eligible schools, put on in-school presentations and develop a unique opportunity for local-area kids.

Free Youth Race Toyota USA Triathlon Age Group National Championships
USA Triathlon will host a free Youth Splash & Dash on Aug. 5 at 5 p.m. at the Toyota USA Triathlon Age Group National Championships in Milwaukee. All participants will receive a free USA Triathlon youth annual membership.

Splash & Dash events are focused on participation and fun, rather than competition. The free Splash & Dash in Milwaukee features a 100-meter swim and 1k run for children ages 7 to 10 and a 200-meter swim and 2k run for youth ages 11 to 15. The event will take a place at Milwaukee's Lakeshore State Park on the Pebble Beach near Discovery World.

To sign up for the free event, visit register.usatriathlon.org/event/2022-usa-triathlon-kids-splash-and-dash.
USA Triathlon is proud to serve as the National Governing Body for triathlon, as well as duathlon, aquathlon, aquabike, winter triathlon, off-road triathlon, paratriathlon, and indoor and virtual multisport events in the United States. Founded in 1982, USA Triathlon sanctions more than 4,000 races and connects with more than 400,000 members each year, making it the largest multisport organization in the world. In addition to its work at the grassroots level with athletes, coaches, and race directors — as well as the USA Triathlon Foundation — USA Triathlon provides leadership and support to elite athletes competing at international events, including World Triathlon Championships, Pan American Games and the Olympic and Paralympic Games. USA Triathlon is a proud member of World Triathlon and the United States Olympic & Paralympic Committee (USOPC).