News
Multisport National Championships Festival
Triathlon Latest News
Team USA
National Championships
USA Triathlon
USA Triathlon Nationals
USA Triathlon Announces Omaha as Host of 2024 and 2025 Multisport National Championships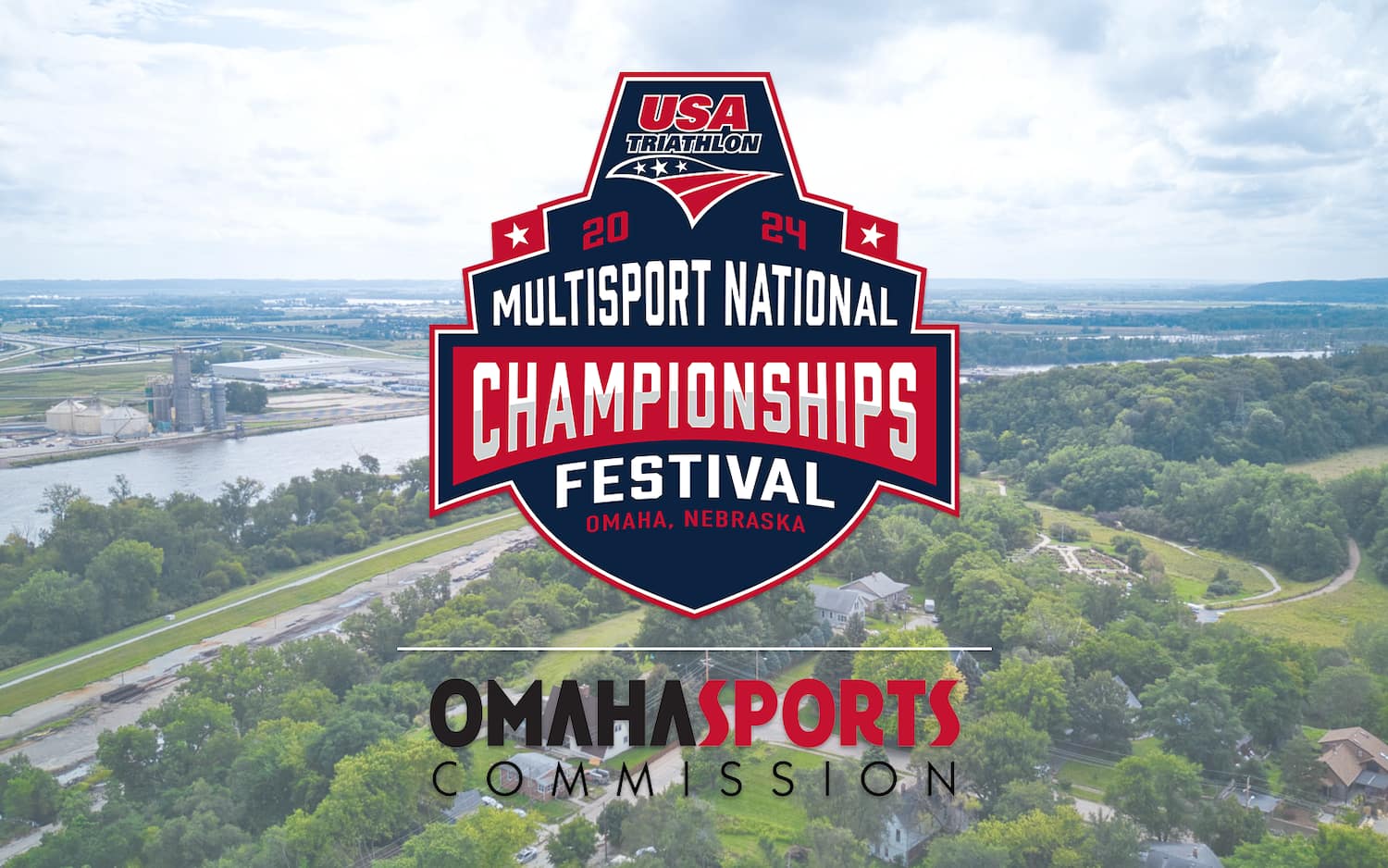 COLORADO SPRINGS, Colo. — USA Triathlon, in partnership with Omaha Sports Commission and the City of Omaha, Nebraska, today announced that Omaha will host the 2024 and 2025 USA Triathlon Multisport National Championships Festival at Lake Cunningham June 5-9, 2024. The event, which will span over the course of 5 days, will bring the Multisport community to Omaha for the nation's best multisport athletes as they compete in 12 events across multiple race formats along with nine National Championship Events.
The 2024 USA Triathlon Multisport National Championships Festival schedule will include the following events:

Wednesday, June 5
Open Water Swim Competition

Thursday, June 6
Standard Aquabike National Championship
Super Sprint Triathlon Time Trial National Championship
Super Sprint Duathlon Time Trial National Championship

Friday, June 7
Standard Duathlon National Championship
Standard Aquathlon National Championship

Saturday, June 8
Draft-Legal Sprint Duathlon National Championship
Draft-Legal Sprint Triathlon National Championship
Youth Triathlon

Sunday, June 9
Mixed Relay Triathlon National Championship
Individual Medley Triathlon
Mixed Relay Duathlon National Championship

"We are thrilled to continue our Multisport Festival in Omaha next year. This event has become an event where we are able to come together as a community and celebrate Multisport and our athletes," said Victoria Brumfield, USA Triathlon CEO. "Whether it's someone's first race, they're coming back to earn another Multisport Master belt buckle, or taking the opportunity to qualify for Team USA, we're excited to partner with Omaha to create a can't-miss racing experience."

Omaha Sports Commission President and Executive Director Lindsay Toussant Brown shares in the excitement of bringing this national championship event to Omaha.

"The Omaha Sports Commission and the entire Omaha metropolitan community is honored to welcome USA Triathlon back to our city. The sport of triathlon is significant to many in our community, and we are thrilled to have these exceptional triathletes spend five days with us to achieve successes and explore what our city has to offer."

Athletes are encouraged to participate in multiple disciplines and will once again award anyone who completes five or more races will earn the honor and a special belt buckle commemorating the feat.

All races will be held at Lake Cunningham, a 390-acre lake surrounded by a 1,050-acre park located in north central Omaha, Nebraska. The lake was constructed by the U.S. Army Corps of Engineers for flood control and recreation and opened to the public in 1977. After 1977, Lake Cunningham underwent significant renovations beginning in 2017 and reopened in August 2021.

Omaha previously hosted USA Triathlon with the 2016 and 2017 Age Group National Championships. The 2016 and 2017 events occurred at a different venue with different courses. In 2024 at Lake Cunningham, athletes can expect a rolling bike course with a scenic and relatively flat run course with lake views.

In addition to racing for age group national championships, athletes will also have the opportunity to qualify to represent age group Team USA at 2025 World Triathlon Age Group World Championships. For more information about Team USA, comprised of the nation's top amateur multisport athletes who represent the U.S. at World Triathlon Age Group World Championship events, visit usatriathlon.org/teamusa.

The five days of racing kick off on Wednesday, June 5 with an open water swim competition and continue into Thursday with the Standard Aquabike National Championships (1500m swim, 40k bike) the Super Sprint Triathlon Time Trial National Championships (250m swim, 5k bike, 1.2k run) and the Super Sprint Time Trial Duathlon (1.2k run, 5k bike, 1.2k run).

Friday's races include the Standard Duathlon National Championships (10k run, 40k bike, 5k run) and swim-run athletes will compete in the Aquathlon National Championships (1,000m swim, 5k run).

Saturday will include the Draft-Legal Sprint Triathlon (750m swim, 20k bike, 5k run) as well as the Draft-Legal Duathlon National Championships (5k run, 20k bike, 2.5k run). Draft-legal racing, where athletes ride in packs on the bike, is the format of racing contested on the World Triathlon and Olympic stage and is gaining popularity at the age-group level.

Racing will conclude on Sunday with the final three events the Mixed Relay Triathlon, Individual Medley Triathlon and Mixed Relay Duathlon.

To learn more about the 2024 USA Triathlon Multisport National Championships Festival, visit multisportfestival.com.
About the Omaha Sports Commission
Omaha Sports Commission (OSC) is the leading sport event organizer for the Omaha metropolitan area. OSC's reputation for unique and high caliber event experiences is known across the country. OSC has hosted seven Olympic Trials to date, U.S. Figure Skating National Championships, the Valley O.NE Marathon, Curling Night in America, Curling World Cup, USA BMX Mid-America Nationals, and a myriad of other sporting events. OSC staff began partnering with Team Nebraska Triathlon to be the local organizing committee for the state games triathlon two (2) years ago. The current OSC staff brings a high level of talent and expertise that we know will reflect in the triathletes' experience. OSC and the entire Omaha community is so excited to welcome the USA Triathlete participants in 2024 and 2025! We hope that all athletes are anticipating their trip to the middle of the country and are ready to race some of their best times!
USA Triathlon is proud to serve as the National Governing Body for triathlon, as well as duathlon, aquathlon, aquabike, winter triathlon, off-road triathlon, paratriathlon, and indoor and virtual multisport events in the United States. Founded in 1982, USA Triathlon sanctions more than 4,000 races and connects with more than 400,000 members each year, making it the largest multisport organization in the world. In addition to its work at the grassroots level with athletes, coaches, and race directors — as well as the USA Triathlon Foundation — USA Triathlon provides leadership and support to elite athletes competing at international events, including World Triathlon Championships, Pan American Games and the Olympic and Paralympic Games. USA Triathlon is a proud member of World Triathlon and the United States Olympic & Paralympic Committee (USOPC).