News
Multisport National Championships Festival
USA Triathlon
National Championships
USA Triathlon Weekend Notebook: Successful Debut Multisport Festival Thrills Nearly 2500 Age Group Athletes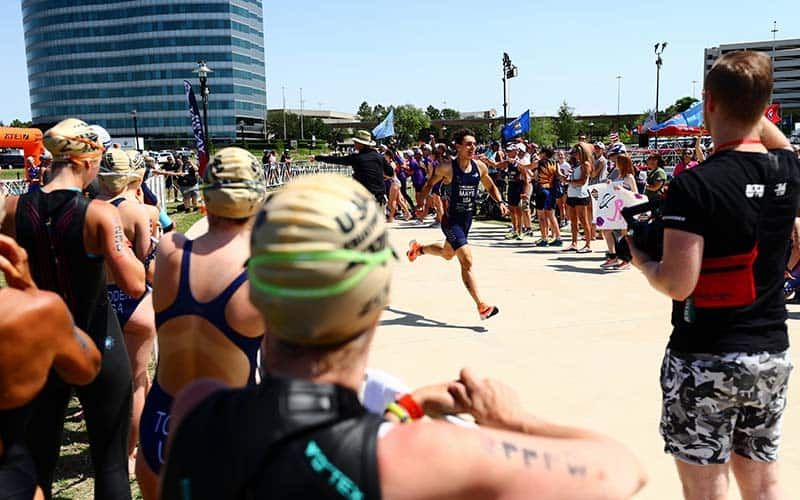 2022 USA Triathlon Multisport National Championships Festival Presented by Toyota
Irving, Texas
WHAT AN EPIC WEEKEND!
The first-ever Multisport Festival could not have gone better. Nearly 2,500 age-group athletes from all across the country gathered in Irving, Texas to compete for national titles in six multisport events.
The competition was on fire for four straight days, bring the electric energy and heat to an already hot Texas!
Thank you to everyone who participated in the event and helped us debut a Festival we will never be able to forget!
There were so many highlights from the weekend, it is hard to choose our favorites, but check out these top moments from the event:
First event up was the super sprint triathlon on Thursday, April 28.
Starting one-by-one in a time-trial format, athletes raced a super sprint distance course consisting of a 250-meter swim in Lake Carolyn and a 5-kilometer bike and 1.2k run along Las Colinas Boulevard. The distance is a shortened version of the standard sprint distance of a 750m swim, 20k bike and 5k run. With the short distance, athletes sped through the fast and flat course.
We were honored by the presence of the women's overall winner, Kirsten Sass. You might recognize her star-studded name as the guide for Paratriathlete Amy Dixon, competing in the Tokyo 2020 Paralympic Games this past summer.
Did we mention that Kirsten now has 24 national titles? SUPER WOMAN ENERGY!
Congratulations to our Women's Super-Sprint Triathlon Time Trial Champion - 𝗞𝗶𝗿𝘀𝘁𝗲𝗻 𝗦𝗮𝘀𝘀 of McKenzie, Tennessee! 🏅#USATMultisportFest pic.twitter.com/hZJU1sSZeG


— USA Triathlon (@usatriathlon) April 28, 2022
The men's overall went to Brave Mays of Aubrey, Texas. Can you tell by his finish shot below that he gave it his all?
For the full recap of the super sprint triathlon event, check out here.
Maximum effort from Brave Mays for the National Championship victory 👏#USATMultisportFest pic.twitter.com/xVVNp4IYUK


— USA Triathlon (@usatriathlon) April 28, 2022
Friday morning welcomed draft-legal sprint triathletes and 350 swim-run aquathletes.
Smile - Day Two of #USATMultisportFest is here 😄 🤠 pic.twitter.com/J90lFdEDe2


— USA Triathlon (@usatriathlon) April 29, 2022
Alexandra Schwein and Miguel Mattox claimed the overall titles for the draft-legal sprint event.
The audio from the post below says it best when it comes to their performance.... unbelievable!
The aquathlon brought out an unforgettable moment that I think two triathletes in particular will talk about for the rest of their lives!
A proposal at the finish line for Kristen Doster after she won the women's national title. AND SHE SAID YES!

Day three was for the standard duathlon and for the first time, age group mixed relay!
We were fans of day three.
Speaking of fans, it was so amazing seeing all of the spectators coming out to cheer for their favorite multisport athletes. The signs and cheers were creative and motivational, see below for an example.
It's time to erupt! 🌋

Source: Sign Guy 🪧#USATMultisportFest pic.twitter.com/GHbbjnlSTA


— USA Triathlon (@usatriathlon) April 29, 2022
The four-day complete craziness (in the best way) concluded on Sunday with aquabike, Olympic triathlon and sprint duathlon.
The aquabike champions were Jenna Haufler and Miguel Mattox, who by the way earned THREE national titles over the weekend.
And the duathletes champions were crowned to Todd Buckingham and Kirsten Sass, who also leaves Texas with three medals weighing down her luggage.
Overall, the event was a huge success, we had so much fun seeing all the multisport athletes of all ages and states.
See you next year!
A smile that makes you smile :)#USATMultisportFest pic.twitter.com/7FMrUf6eRj


— USA Triathlon (@usatriathlon) April 30, 2022
𝐴𝐿𝐿 𝐿𝑂𝑉𝐸 💞 pic.twitter.com/BGY44HmKfh


— USA Triathlon (@usatriathlon) April 30, 2022
For even more moments, check out our event moment on Twitter here.
St. Anthony's Triathlon
St. Petersburg, Fla.
While the age group athletes were having their fun down in Texas, the pros were busy competing at the 29th annual St. Anothony's Triathlon in Florida. A string of top U.S. talent grazed the roster, including Ben Kanute and Matt McElroy.
McElroy had his first race appearance since being injured last year and ended up with a stellar result of finishing second overall in the men's race. He was just a second shot of the win after a sprint finish to the tape. Kanute joined him on the podium in third.
For a complete rundown on the race, check out the recap here.