News
Triathlon Latest News
Multisport National Championships Festival
Team USA
USA Triathlon Nationals
National Championships
Multisport Athletes to Compete at 2023 USA Triathlon Multisport National Championships Festival in Irving, Texas, This Weekend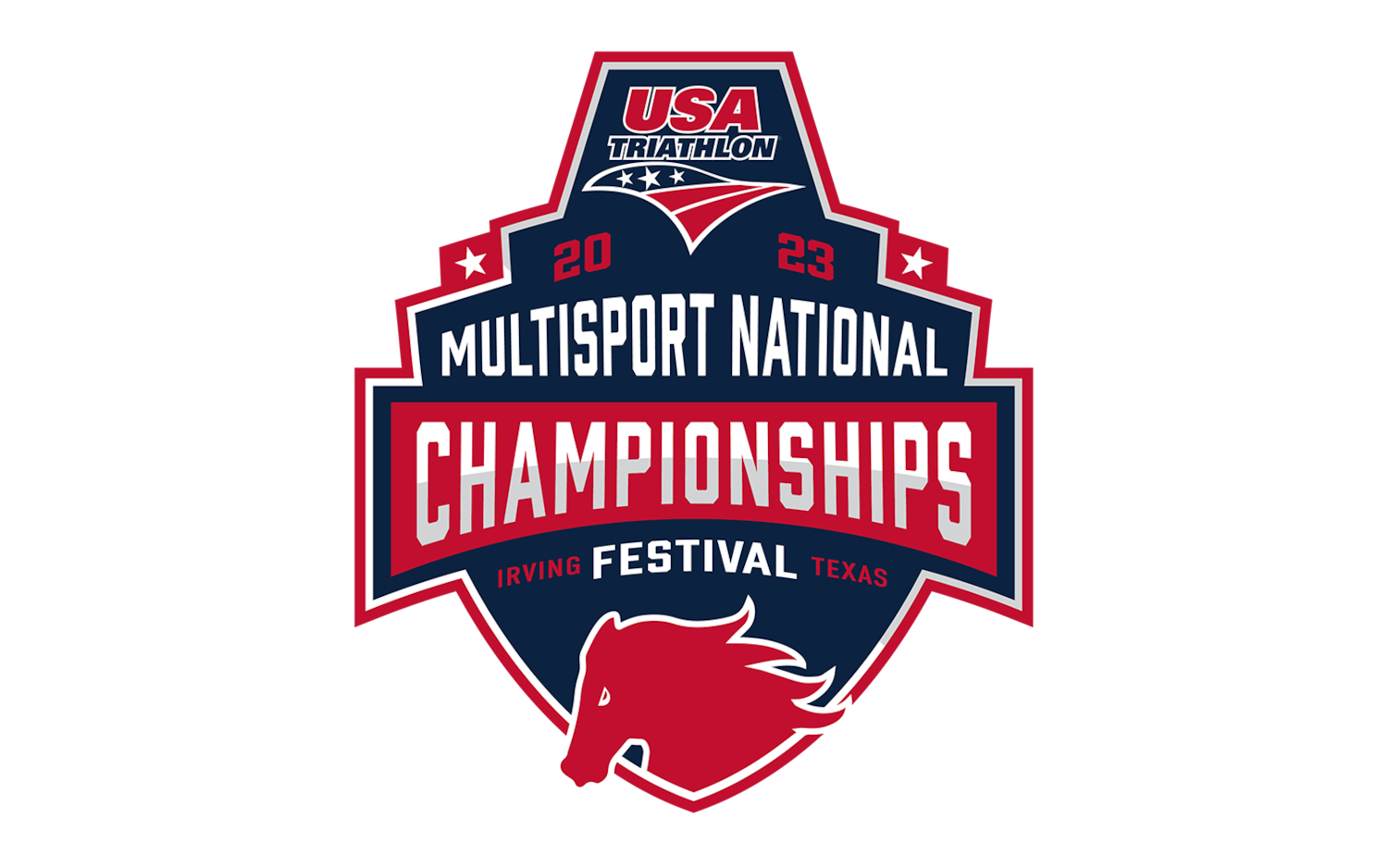 COLORADO SPRINGS, Colo. — More than 3,000 registrants will compete in swim-bike-run, run-bike-run, run-swim-run and swim-bike multisport races this Wednesday through Sunday in Irving, Texas, at the 2023 USA Triathlon Multisport National Championships Festival.

The Multisport National Championships Festival returns for the second consecutive year to Irving, Texas, bringing to Irving the nation's best multisport athletes who will compete for age group national titles in the following National Championships:

• Draft-legal Triathlon National Championships
• Duathlon (run-bike-run) National Championships (standard and draft-legal sprint distances)
• Aquathlon (run-swim-run) National Championships
• Aquabike (swim-bike) National Championships (standard distance)
• Super Sprint Triathlon Time Trial National Championships
• Super Sprint Duathlon Time Trial National Championships
• Mixed Relay National Championships

Athletes will compete in Irving at Levy Event Plaza, which opened in 2020 along Lake Carolyn as a dedicated outdoor hub for Irving community events. Athletes will swim in Lake Carolyn and the bike and run courses will take athletes on rolling hills through the main thoroughfares of Irving, including Las Colinas Boulevard, Lake Carolyn Parkway and Royal Lane.

In addition to racing for age group national championships, athletes will also have the opportunity to qualify to represent age group Team USA at 2024 World Triathlon Age Group World Championships. For more information about Team USA, comprised of the nation's top amateur multisport athletes who represent the U.S. at World Triathlon Age Group World Championship events, visit usatriathlon.org/teamusa.

With the opportunity to race multiple events over the four-day span, more than 50 athletes will attempt to race five or more events for the chance to earn the title of "Multisport Master." Athletes crowned as Multisport Master will receive a special belt buckle and be honored at the final Awards Ceremony on Sunday evening.

The event will also feature a youth triathlon race on Sunday morning, kicking off USA Triathlon's USA Kids Tri Dallas program, which includes a series of six youth races across the North Texas region.

EVENT PROGRAM & WEBSITE
Complete event information for the 2023 USA Triathlon Multisport National Championships Festival, including a detailed schedule and course maps for all races, is available in the official Multisport National Championships Festival event program and website, multisportfestival.com.

MEDIA & COVERAGE
To request a media credential for onsite coverage, please fill out the USA Triathlon National Events Media Credential Request Form or contact Stephen Meyers, USA Triathlon Communications and Content Senior Manager, at stephen.meyers@usatriathlon.org. Photos will be available for each day's events, beginning Thursday via this folder.

EVENT SCHEDULE
(All times Central)

Wednesday, April 19
3 p.m. Open Water Swim Competition: 750m

Thursday, April 20
7:30 a.m. Super Sprint Triathlon Time Trial: 250m swim, 5k bike, 1.2k run
10:30 a.m. Super Sprint Duathlon Time Trial: 1.2k run, 5k bike, 1.2k run
2:15 p.m. Aquathlon: 2.5k run, 1000m swim, 2.5k run (or 1000m, 5k run)

Friday, April 21
7:15 a.m. Draft-Legal Sprint Duathlon: 5k run, 20k bike, 3.3k run
12:50 p.m. Draft-Legal Sprint Triathlon: 750m swim, 20k bike, 5k run

Saturday, April 22
7 a.m. Standard Duathlon: 10k run, 40k bike, 5k run
2:05 p.m. Standard Aquabike: 1500m swim, 40k bike

Sunday, April 23
7 a.m. Youth Triathlon: 100m swim, 5k bike, 1.2k run
8:30 a.m. Triathlon Mixed Relay: 250m swim, 5k bike, 1.2k run
8:32 a.m. Super Sprint Individual Medley Triathlon: 250m swim, 5k bike, 1.2k run four times each
12:30 p.m. Age Group Duathlon Mixed Relay: 1.2k run 1, 5k bike, 1.2k run

LOCATION
All races will be held at Levy Event Plaza, located at 501 E Las Colinas Blvd, Irving, TX 75039. Athletes will swim in Lake Carolyn and the bike and run courses will take athletes on rolling hills through the main thoroughfares of Irving, including Las Colinas Boulevard, Lake Carolyn Parkway and Royal Lane.
USA Triathlon is proud to serve as the National Governing Body for triathlon, as well as duathlon, aquathlon, aquabike, winter triathlon, off-road triathlon, paratriathlon, and indoor and virtual multisport events in the United States. Founded in 1982, USA Triathlon sanctions more than 4,000 races and connects with more than 400,000 members each year, making it the largest multisport organization in the world. In addition to its work at the grassroots level with athletes, coaches, and race directors — as well as the USA Triathlon Foundation — USA Triathlon provides leadership and support to elite athletes competing at international events, including World Triathlon Championships, Pan American Games and the Olympic and Paralympic Games. USA Triathlon is a proud member of World Triathlon and the United States Olympic & Paralympic Committee (USOPC).