News
National Championships
USA Triathlon Nationals
Triathlon
Elite
Paratriathlon
USA Triathlon Weekend Notebook: Triathlon Takes Over Milwaukee for AGNC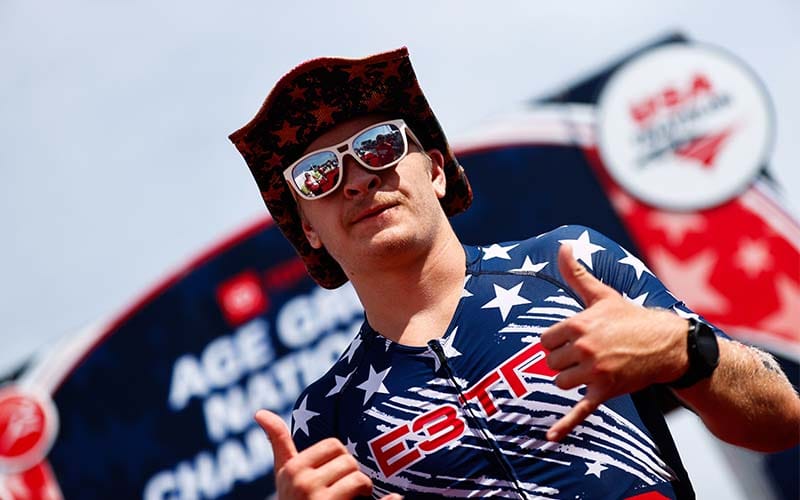 USA Triathlon Age Group National Championships
Milwaukee, Wis.
It's the most wonderful time of the year! Age-Group Nationals!
The city of Milwaukee, Wisconsin was invaded over the weekend with thousands of triathlon enthusiasts all vying for the chance to win a national title!
Athletes from all 50 states came together to race for the sprint and Olympic-distance honors after training hard and earning their spot at the big show!
This year's event was bigger than ever as the nation's fastest amateur triathletes swam in Lake Michigan and biked and ran the streets of downtown Milwaukee.


Good luck to everyone competing in the @usatriathlon 2022 Toyota Age Group National Championships this weekend! #USATAGNC #thehopmke pic.twitter.com/vBQrI6rHFS

— The Hop (@thehopmke) August 5, 2022
The big winners of the weekend went to 25-year-old Matthew Guenter (Boulder, Colo.), who won two overall national titles during the weekend, claiming Saturday's Olympic-Distance national title and Sunday's Sprint national title.
33-old Dani Fischer (Indianapolis, Ind.), won the women's Olympic Distance national championship.
And then 21-year-old Shannon Feran (Grand Junction, Colo.) won Sunday's Sprint national championship.

New for this year's event included the return of the Clydesdale & Athena National Championships as a part of Age Group National Championships and a category for athletes who identify as non-binary.
In addition to racing for national titles in their respective age groups, athletes also raced for the opportunity to represent age group Team USA at the 2023 World Triathlon Age Group Championships in Pontevedra, Spain. (Olympic-Distance) and Hamburg, Germany (Sprint).
It was an incredible weekend showcasing the top of triathlon and the spirit of USA through swimming, biking and running.
Everyone's favorite Sister Madonna, AKA the "Iron Nun" competed in the sprint-distance event at 92 years old!
Another standout moment came from witnessing young 15-year old Caleb Prewitt make history as the first person with Down syndrome to compete at USAT Age-Group Nationals.
History. Being. Made!
AGNC is basically our yearly version of triathlon's Super Bowl and we had a fabulous time watching so many people compete and enjoy the sport!


2022 World Triathlon Para Series Swansea
Swansea, Great Britain

The U.S. Elite Paratriathletes were across the pond this weekend for the final stop of the 2022 Para Series tour before the Championship Finals in Abu Dhabi take place in November.
13 total athletes competed on Saturday and Team USA ended up securing four total podiums, including a gold from Hailey Danz in the PTS2 sport category.

We should mention that she is undefeated this year and has been since August 2021... so reaching GOAT status for 2022 VERY SOON!

Check out the full recap here.
U.S. elite paratriathlete Hailey Danz won 🥇 yesterday to bring home one of 4️⃣ medals from #WTPSSwansea! pic.twitter.com/GZCewBwCjY

— USA Triathlon (@usatriathlon) August 7, 2022
Our U.S. elite paratriathletes are all smiles as they gear up for race day tomorrow in Swansea 🤩 #WTPSSwansea pic.twitter.com/nd9oUr2eG7

— USA Triathlon (@usatriathlon) August 5, 2022
IRONMAN 70.3 Boulder
Boulder, Colo.

While the midwest was welcoming the shorter-distance triathletes, the west coast was open for those who prefer the long course.
Boulder, Colorado, a triathlete mecca, hosted the 70.3 event, with over 2,200 people lining up to race in high altitude.
Kudos to all of the racers who can handle the elevation!
IRONMAN ALASKA
Juneau, Alaska
This was one of the newest editions this year to the IRONMAN global portfolio. Juneau, Alaska offers a course where you can stare out at ice-capped mountain peaks and glaciers.
It was a cold one this year, with rain welcoming the start line. However, over 800 people raced on Sunday and made it through one of the most epic finish lines.
Add this one to your IRONMAN bucket list if you like unique races. The scenery alone makes it worth all 140.6-miles of grit and glory.