News
USA Triathlon
Paratriathlon
National Championships
USA Triathlon, Challenged Athletes Foundation Announce Members of 2021 U.S. Paratriathlon Junior/U23 Development Team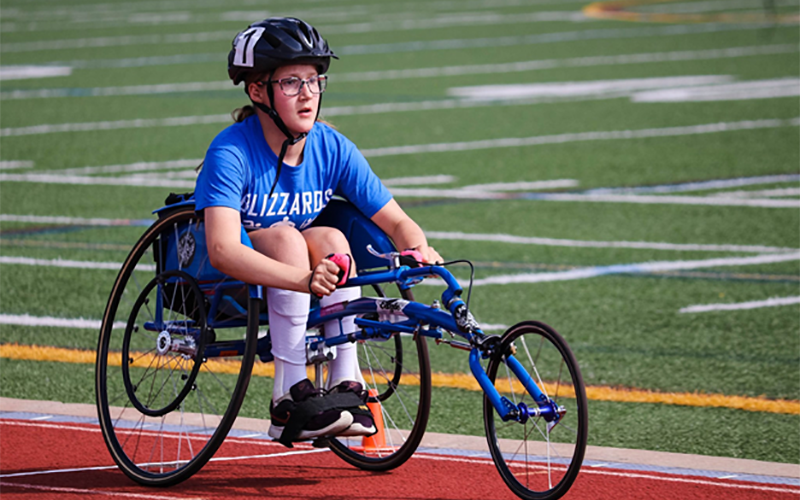 Isabelle Hogness returns to the U23/Junior Development Team for the second consecutive year.
COLORADO SPRINGS, Colo. — USA Triathlon, in partnership with the Challenged Athletes Foundation, today announced the roster for the 2021 U.S. Paratriathlon Junior/U23 Development Team. The group is comprised of up-and-coming paratriathletes ages 13-21, who are aiming to develop their skills and ultimately race at the national and international levels.

The purpose of the program, in operation for its second year, is to identify talent, provide assistance and encourage passion in the sport of paratriathlon. Athletes will once again receive a CAF travel grant to cover all travel expenses during races and camps, as well as USA Triathlon and CAF-branded equipment and apparel.

Team members will also receive support and advice from Christine Palmquist, USA Triathlon Level III, Youth & Junior, and Paratriathlon Certified Coach. Palmquist was named USA Triathlon's 2019 Developmental Coach of the Year and 2017 Paratriathlon Coach of the Year. In November 2020, she was elected to the World Triathlon Paratriathlon Committee.

"USA Triathlon and the Challenged Athletes Foundation are proud to equip five aspiring paratriathletes with the resources, coaching and support they need to grow and excel in multisport," said Amanda Duke Boulet, USA Triathlon Paralympic Program Director. "We can't wait to get back to racing, training camps and clinics this season, and we look forward to guiding these rising stars in pursuit of their goals."

"CAF is once again proud to be supporting the pipeline of paratriathlon by partnering with USA Triathlon on the U23/Junior Development Team," said Travis Ricks, Director of Programs at CAF. "We look forward to seeing all of these amazing young ladies out there competing and showing the world the next generation of the sport."

Members of the Junior/U23 Development Team are committed to training primarily for triathlons during the 2021 season and participating in at least three events: the USA Triathlon/Challenged Athletes Foundation Youth Paratriathlon Camp in Chula Vista, California; the USA Triathlon Youth & Junior Nationals in West Chester, Ohio; and an optional event of the athlete's choice. The five athletes were identified through an application process and selected at the discretion of the USA Triathlon High Performance team and the CAF Programs team.

The following athletes have been named to the 2021 U.S. Paratriathlon Junior/U23 Development Team:

Skyler Fisher (Dallas, Texas), Age 16
Skyler Fisher is an adaptive athlete from Texas. She enjoys competing in paratriathlon, track & field, swimming, and WCMX (a sport in which athletes use wheelchairs to perform tricks adapted from skateboarding and BMX, usually in a skatepark). She has been competing in adaptive sports for about two-and-a-half years and has loved the experience as well as getting to meet so many new people. Fisher competed in triathlons when she was younger but was formally introduced to paratriathlon following her diagnoses. In her spare time, she enjoys animal rescue, competing in pageants, and hanging out with family in nature.

Isabelle Hogness (Fargo, N.D.), Age 13
Isabelle Hogness is a member of the U23/Junior Paratriathlon Development Team for the second consecutive year. She completed her first triathlon at the age of 11 and has loved it ever since. Hogness was born with spina bifida and uses a wheelchair for long distances and competitions. She competes on her high school and local club swim teams, as well as her school track & field team. She has competed at Move Untied Junior Nationals for two summers. In her free time, Hogness enjoys spending time with family and friends, playing sled hockey, traveling, and a new pandemic hobby of painting.

Emma Meyers (Pensacola, Fla.), Age 14
Emma Meyers joins the U23/Junior Paratriathlon Development Team for the second year. Meyers is a below-the-knee amputee who started competing in triathlons when she was ten years old. In addition to triathlons, she loves to compete in 5k running races and has competed at the U.S. Paralympics National Para Swimming Championships for the last three years. She enjoys traveling, reading, writing, and hanging out with friends and family.

Olivia Molnar (Lewisville, Texas), Age 15
Olivia Molnar is originally from the Chicagoland area. She moved overseas to India in 2015, then back to the U.S. to Dallas in 2018, and has been here ever since. She is currently a swimmer for her high school as well as for Metroplex Aquatics Swim Club. Molnar is also the first wheelchair track athlete at her high school. Her multisport experience includes a junior triathlon in 2013 — a year after she had major surgery, as a goal of rehabilitation. Her hobbies include swimming, reading, traveling and watching movies and historical documentaries.

Sammy Rhodes (Wooster, Ohio), Age 21
Sammy Rhodes was born with spina bifida. She is a junior at the University of Illinois majoring in speech language pathology. She has competed in adaptive swimming and Paralympic track & field, and she is currently a member of the Illinois Paralympic track and road racing team. She looks forward to being a part of the U.S. Paratriathlon U23/Junior Development Team and competing in paratriathlons.
To learn more about USA Paratriathlon, including development pathways for aspiring elite paratriathletes, visit usaparatriathlon.org. For questions regarding the junior paratriathlon development program, contact paratriathlon@usatriathlon.org.

About USA Triathlon
USA Triathlon is proud to serve as the National Governing Body for triathlon, as well as duathlon, aquathlon, aquabike, winter triathlon, off-road triathlon, paratriathlon, and indoor and virtual multisport events in the United States. Founded in 1982, USA Triathlon sanctions more than 4,000 events and connects with more than 400,000 members each year, making it the largest multisport organization in the world. In addition to its work at the grassroots level with athletes, coaches, and race directors — as well as the USA Triathlon Foundation — USA Triathlon provides leadership and support to elite athletes competing at international events, including World Triathlon Championships, Pan American Games and the Olympic and Paralympic Games. USA Triathlon is a proud member of World Triathlon and the United States Olympic & Paralympic Committee (USOPC).

About the Challenged Athletes Foundation
The Challenged Athletes Foundation® (CAF) is a world leader in helping people with physical challenges lead active, healthy lifestyles. CAF believes that participation in physical activity at any level increases self-esteem, encourages independence and enhances quality of life. Since 1994, more than $112 million has been raised and over 26,000 funding requests from people with physical challenges in all 50 states and dozens of countries have been satisfied. Additionally, CAF's outreach efforts impact another 60,000 individuals each year. Whether it's a $2,500 grant for a handcycle, helping underwrite a carbon fiber running foot not covered by insurance, or arranging enthusiastic encouragement from a mentor who has triumphed over a similar challenge, CAF's mission is clear: give opportunities and support to those with the desire to live active, athletic lifestyles. To learn more, visit challengedathletes.org or call 858-866-0959.