USA Triathlon Launches Young Adult Membership as Part of 2022 Return to Racing Junior and Young Adult Stimulus Package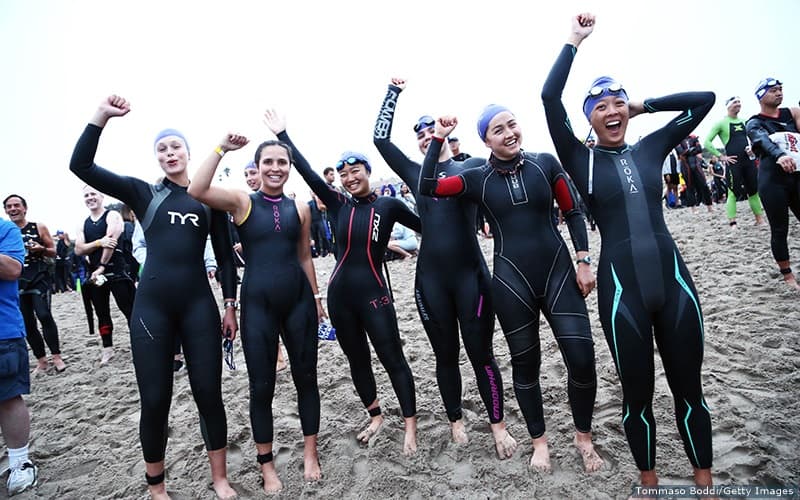 COLORADO SPRINGS, Colo. – USA Triathlon today announced the launch of its Young Adult Membership, a 28 percent discount on an adult membership that comes with the same benefits. The membership, which is for athletes ages 18-23, is the cornerstone of USA Triathlon's 2022 Return to Racing Junior and Young Adult Stimulus Package designed to encourage current and aspiring athletes to remain or become a part of the multisport community and spur long-term growth for multisport coaches, clubs and race directors.

The 2022 Return to Racing Junior and Young Adult Stimulus Package includes the following:
• Creation of USA Triathlon Young Adult Membership
• Shift in Junior Development Race Series
• Expansion of junior divisions at Zone3 Youth and Junior Nationals
• Additional six-figure funding toward the Women's Triathlon Emerging Sport Grant
• Increased support for collegiate clubs and the Collegiate Club National Championships
• Free registration for USA Triathlon Official Junior Clubs

"The development of the Young Adult Membership is one of the ways we are working with our athletes and industry to help keep young people engaged and active in our sport and ensure it remains a part of their lives," says Rocky Harris, USA Triathlon CEO. "Whether an athlete's journey takes them to a collegiate club or an NCAA program, the Olympic or Paralympic pipeline or age-group racing, we just want young people to continue racing and having fun, finding their place in our sport and reaping the lifelong benefits our community affords."

The USA Triathlon Young Adult Membership is for athletes ages 18-23 and costs $36 for the year, a 28 percent discount on an adult membership, and comes with the same benefits as an adult membership. The membership is available now on all multisport registration platforms. A $3 per month monthly payment option will be available in the future through the USA Triathlon Membership Hub and other select event registration platforms.

USA Triathlon has renewed its commitment to young athletes interested in developing skills necessary for NCAA triathlon, collegiate club triathlon, Project Podium and World Triathlon events with an expanded "Development Race Series." Formerly called the Youth and Junior Elite Series, USA Triathlon's Youth and Junior Development Race Series offers national-level draft-legal competition opportunities to youth (ages 13-15) and junior (ages 16-19) triathletes. The series runs from May through July and culminates at the Zone3 Youth and Junior Draft-Legal Nationals in West Chester, Ohio.

In addition, USA Triathlon will host five National Paratriathlon Development Races between April-July with the goal of continuing to develop and grow paratriathlon in the United States by expanding opportunities for adaptive athletes, particularly juniors and young adults, and creating a forum for them to interact, train and compete together.

USA Triathlon has opened an additional 150 spots for 16-19-year-old athletes at Zone3 Youth and Junior Nationals by splitting the junior age-group into two divisions of 16-17-year-olds and 18-19-year-olds for both males and females. This not only expands the field, but also allows athletes to compete against peers at a similar stage in their development.

Due to the generous gift from donor Dave Alexander, USA Triathlon now has the funding needed to further support NCAA schools interested in adding women's triathlon at the varsity level through USA Triathlon's Women's Triathlon Emerging Sport Grant. The grant is distributed to select NCAA membership institutions to develop, implement and sustain women's triathlon programs at the varsity level. USA Triathlon has distributed $3.5 million to this initiative since 2014 and there are currently 38 NCAA schools offering women's triathlon, two away from the 40 needed to become an NCAA Championship sport. Preference will be given to schools looking to start women's triathlon in the 2022-2023 school year as USA Triathlon is committed and prepared to help schools move quickly through the process of adding a sport.

USA Triathlon is placing a renewed emphasis on growing and supporting collegiate clubs through increased communication, education and resource sharing with collegiate club presidents and collegiate triathlon conference commissioners. There will also be additional support around collegiate club coaches, including a program to match prospective coaches with schools and develop more opportunities for athletes to get involved in coaching. Through a partnership with Perspective Fitwear, USA Triathlon's Official Training Apparel, USA Triathlon will provide enhanced exposure and promotion of clubs and athletes in the lead-up to and during the 2022 Collegiate Club National Championships in Lake Lanier, Georgia April 1-2.

The USA Triathlon Difference
USA Triathlon invests its membership dues – whether from annual members or one-day members – back into making the sport more accessible and safer for athletes, and in supporting the multisport community through education, resources and best practices for race directors, coaches, officials, athletes and clubs. This investment also ensures a consistent experience for all and maintains credibility and quality standards throughout our sport. Learn more about USA Triathlon's role in our sport.

About the USA Triathlon Foundation
The USA Triathlon Foundation is a 501(c)(3) non-profit organization and the charitable arm of USA Triathlon. With its mission to transform lives through sport by providing opportunities to swim, bike and run, the Foundation serves to generate a greater impact on the multisport community through charitable giveback and grants that advance the Foundation's three pillars: (1) Encourage youth participation; (2) Inspire adaptive athletes; and (3) Ignite Olympic and Paralympic dreams. Since the Foundation was established in 2014, it has provided millions in grants to organizations and individuals in pursuit of its mission and pillars to create a healthier United States through triathlon. To learn more about the Foundation and get involved, please visit usatriathlonfoundation.org.

About USA Triathlon
USA Triathlon is proud to serve as the National Governing Body for triathlon, as well as duathlon, aquathlon, aquabike, winter triathlon, off-road triathlon and paratriathlon in the United States. Founded in 1982, USA Triathlon sanctions more than 4,300 events and connects with more than 400,000 members each year, making it the largest multisport organization in the world. In addition to its work at the grassroots level with athletes, coaches, and race directors — as well as the USA Triathlon Foundation — USA Triathlon provides leadership and support to elite athletes competing at international events, including World Triathlon Championships, Pan American Games and the Olympic and Paralympic Games. USA Triathlon is a proud member of World Triathlon and the United States Olympic & Paralympic Committee (USOPC).