USA Triathlon Weekend Notebook: Arena Games Begin Pursuit of First-Ever Esports World Champion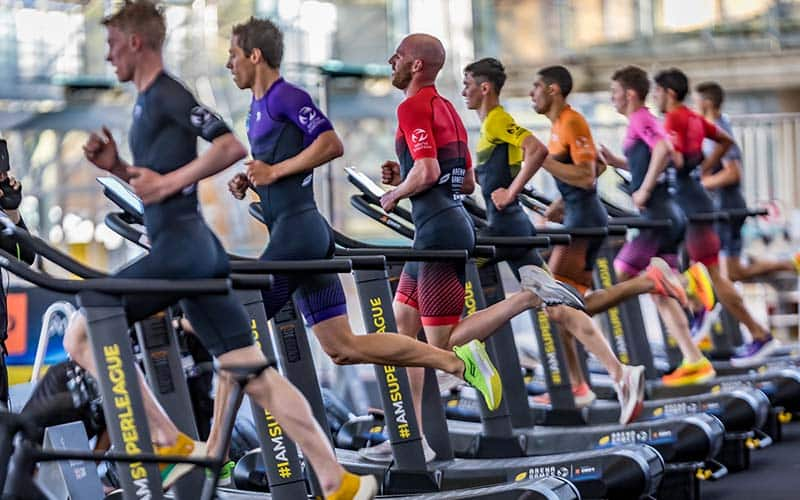 2022 Arena Games Triathlon Series
Munich, Germany
What do you get when you combined triathlon + professional athletes + a virtual world?

The first-ever Esports world championship event – the Arena Games Triathlon Series!

Multisports are evolving, allowing for space to get creative and think about how we approach endurance racing. Indoor racing using technology is the future of the sport.

Over the weekend, Super League Triathlon and World Triathlon hosted the first stop of the trailblazing virtual series in Munich, Germany. Athletes were pushed to the limits, enduring a grueling format that called for three stages, each featuring the same 200m pool swim, 4km virtual bike and 1km virtual run, powered by Zwift. A unique aspect of this format is that the order of disciplines is shuffled for each round and the third stage athletes start based on the times of the first two.

An extra twist? The faster an athlete finishes, the more rest time they get between races.

Team USA had three athletes up for the challenge of testing their physical and virtual strengths.
Chase McQueen was a strong swimmer right off the bat, pushing the leaderboard. He was the top-performing American, finishing fifth overall in the men's event.
Finishing in ninth place was Darr Smith, who put up a solid performance each stage, but unfortunately not making the final round by just one spot.
And if you need any reassurance just how brutal this race really is, scroll to see Smith's face, which tells it all.
On the women's side, rising talent Gina Sereno put up a fight for the U.S. She finished sixth overall, making it all the way to the final stage.
In two weeks, the series continues in London, before finishing up in Singapore in May where the first-ever Esports World Champion will be crowned!
Want to get in on the virtual action?!
Join us on Workout Wednesdays for USA Triathlon virtual rides on Zwift! These Power Within Power Hour rides are led by USA Triathlon Certified Coaches, featuring a 6 p.m. ET ride, and open to all athletes. For more information, click here.
Cocoa Beach Triathlon & Duathlon
Cocoa, Beach, Fla.
Who wouldn't want to swim in a place called the "banana river"? Based on the beautiful Florida coast, the Ron Jon Cocoa Beach Triathlon is a great early season triathlon for athletes wanting to get right into racing season or attempting their very first triathlon.
For more information, check out the event website.
Hyco Lake Triathlon
Roxboro, N.C.
Hosted by Kinetic Multisports, the Hyco Lake Triathlon is an outstanding event with clear water, rural roads and fast times, another great event for beginners looking to dip their toe in the triathlon pond.
For more information, check out the event website.