USA Triathlon Weekend Notebook: IRONMAN World Champions Crowned in St George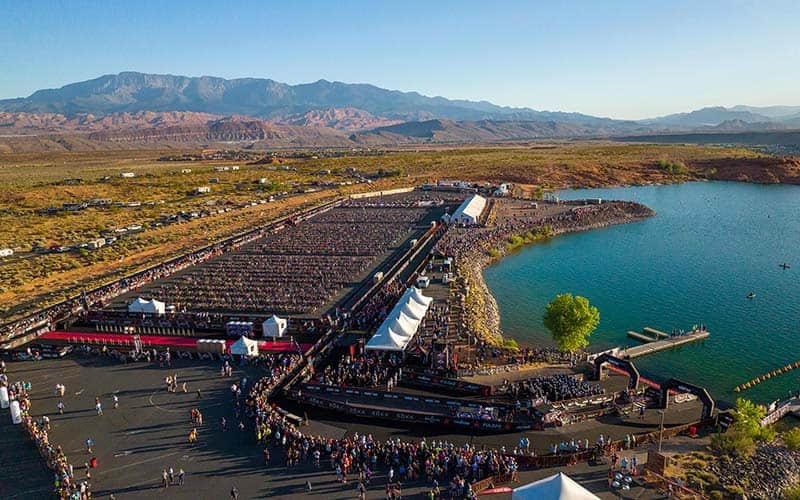 IRONMAN World Championship
St. George, Utah
This year, long-distance triathlon fans are blessed with two IRONMAN World Championship events. Since COVID postponed the 2021 event, St. George, Utah stepped up to the plate this past weekend to give out the hugely anticipated and delayed world titles.
In the weeks leading up to the event, the pro roster was up in the air of who would make it to the starting line. Many athletes such as legends Laura Philipp (GER), Jan Frodeno (GER) and Javier Gomez (ESP) all pulled out of the competition. The Norwegian power duo, Kristian Blummenfelt and Gustav Iden, were even rumored to be battling colds ahead of race day.
Come race day, the rosters were locked in and five American men and four American women stepped up to the start line.
Ultimately, it was Blummenfelt who came out on top in the men's race, finishing in 7 hours, 49 minutes and 16 seconds to win his first Ironman World Title.
Which that honor alone would be impressive, but Blummenfelt is adding the Ironman Championship trophy to his collection after just previously winning the Olympic Gold in the Tokyo 2020 Olympic Games and the 2021 World Triathlon World Title. The man is unstoppable right now.
The top performing U.S. athlete was Chris Leiferman, who just missed the podium by finishing in fourth, with a time of 7:57:51.
USA's Ben Hoffman also finished in the top 10, with a time of 8:06:38.
On the women's pro side Daniela Ryf of Switzerland took home the female World Crown. It was her fifth world title of her career from her overall time of 8:34:59.
Skye Moench seized the top performance on the women's side for Team USA. She also just missed stepping on the podium by placing fourth with a time of 8:55:21.
In addition to the pros, nearly 2,800 age-group athletes from 80 countries also traveled in to race for world honors in Utah after waiting nearly a year to compete.
The race featured a 2.4-mile swim at the Sand Hollow State Park Reservoir in Hurricane, Utah, followed by a hilly 112-milebike course that led athletes through stunning desert landscapes with 7,374 feet of elevation gain and an unforgettable climb through the Snow Canyon State Park at the 100-mile mark. Athletes then finished with a full marathon (26.2-miles) on two loops through St. George with 1,413 feet of climbing.
Team USA claimed 11 of the 25 available age group world titles, the most of any country.

Congrats to all of the USA Age Group Champions!
F18-24: Julia Iglesias (West Lafayette, Ind.), 10:46:45
F50-54: Beni Gras-Thompson (Roanoke, Va.), 10:38:06
F55-59: Julie Dunklen (Encinitas, Calif.), 11:46:26
F60-64: Lynne Fiedler (Beverly Hills, Calif.), 12:36:03
F70-74: Diane Tracy (St George, Utah), 16:32:59
M25-29: Justin Riele (San Francisco, Calif.), 9:08:35
M35-39: Eric Engel (Madison, Wis.), 8:49:11
M45-49: Brice Williams (Ogden, Utah), 9:17:57
M60-64: Steven Galat (Woodland Park, Colo.), 10:36:16
M70-74: Rick Simpson (Henderson, Nev.), 13:37:00
M75-79: Simon Butterworth (Lafayette, Colo.), 15:58:18
And a huge shout-out to the M35-39 Age-Group World Champion, Eric Engel, who also just happens to be the USA Triathlon Senior Marketing Manager. We may be a little biased, but we are pretty impressed with this guy!
2022 Arena Games Triathlon Finals Presented by Zwift
Singapore
The inaugural Arena Games World Champion was also crowned over the weekend after the debut 2022 Arena Games Triathlon Series came to a conclusion in Singapore. The three-stop series started in Munich, headed over to London before closing and crowning the champions in Singapore.
Brits Alex Yea and Beth Potter became the first-ever esportsl triathlon world champions!
Americans Chase McQueen and Darr Smith represented for the U.S. for both the men and women.
McQueen competed in Munich, but did not race in the London series. He ended the day in fifth overall, but landed fourth in the series.
Smith, who raced is all three series events resulted in 17th place in Singapore.
2022 World Triathlon Viborg Middle Distance Duathlon World Championships
Run-bike-run specialists took center stage at the 2022 World Triathlon Powerman Middle Distance Duathlon Championships in Viborg, Denmark.
Congratulations to Age Group Team USA athletes Carolyn Hoover (F20-24) and Jaime Torchiana (F40-44) who earned the silver and bronze medals in their age groups!
Shout-out to all Team USA athletes for their great performances on the world stage! Including:
Vanessa Cook (F55-59) - 5th
Derek Armer-Derner (M35-39) - 12th
Christian Botting (M45-49) - 17th
Ron Kaisman (M50-54) - 19th
Jaime Mata (M50-54) - 17th
Feilim Maxwell (M50-54) - 12th
Dan Brabander (M55-59) - 20th
Ron Reynolds (M55-59) - 11th
James Griffis (M65-69) - 4th
David Lowe (M75-79) - 4th
In the elite races, Rendy Williams took ninth in the women's field, while fellow U.S. elite duathlete Franz Hinojosa took 25th in the men's race.