Women's Collegiate Triathlon Teams Across the Nation Head to Regional Championships to Qualify for Nationals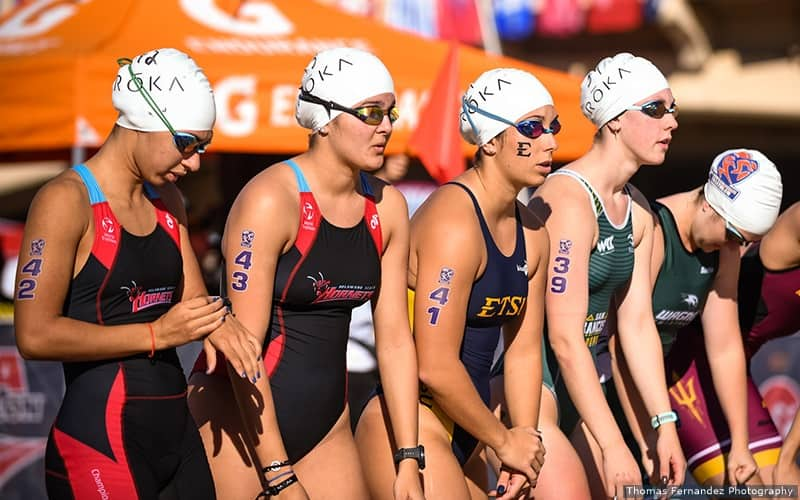 COLORADO SPRINGS, Colo. — Women's Collegiate Triathlon athletes will race this Saturday for National Championships qualification spots at two Regional Championship races in Virginia and Missouri. Up for grabs is qualification to the 2022 Women's Collegiate Triathlon National Championships, scheduled for Nov. 12 in Tempe, Arizona. This will be the fifth year for Tempe and Arizona State University to host the National Championships.
"This is an incredibly exciting time in women's collegiate triathlon. We are on the precipice of becoming an NCAA Championship sport and as the sport continues to grow at the collegiate level we're seeing more competition at the NCAA Division I, DII and DIII levels," said Tim Yount, Chief Sport Development Officer at USA Triathlon. "We're looking forward to an exciting and fun weekend of racing at first-class events organized by local USA Triathlon Race Directors at beautiful venues in Smith Mountain Lake in Virginia and Stockton, Missouri."

Both the East and West Regional Championship races are scheduled for this Saturday, Oct. 15.

The East Regional Championship takes place at Smith Mountain Lake State Park in Huddleston, Virginia, as part of the Kinetic Cup Triathlon Festival, hosted by race management company Kinetic Multisports.

The West Regional Championship is in Stockton, Missouri, at the NCAA Heartland Triathlon Cup, organized by race management company Heartland Racing Co.

Women's Collegiate Triathlon athletes compete in a draft-legal race format, featuring a sprint-distance triathlon consisting of a 750-meter open-water swim, 20-kilometer bike and 5k run.

At the 2021 National Championships in Tempe, Arizona, Arizona State University claimed its fifth straight DI national title and Queens University of Charlotte took home its sixth straight DII national title. Trine University won its first DIII national title. Queens University moved to DI this year for the first time.

To date, more than 40 schools offer women's collegiate triathlon at the varsity level, an important benchmark reached earlier this year as the NCAA Emerging Sport for Women now has a few more steps to take on its way to being fully managed by the NCAA as a Championship Sport, including committee, council, divisional and budget approvals. In August, the University of Arizona became the latest school to announce it would add varsity women's triathlon to its sports programs.

Throughout the next month in the leadup to the Women's Collegiate Triathlon National Championships USA Triathlon will highlight the athletes, coaches and storylines in "day in the life" features, social media takeovers and more. Check out @usatriathlon social media and usatriathlon.org for the content.
For more information about triathlon as an NCAA Emerging Sport for Women, visit usatriathlon.org/ncaa.
For questions regarding women's collegiate triathlon events, programming and recruiting, contact Tim Yount, USA Triathlon Chief Sport Development Officer, at tim.yount@usatriathlon.org.
2022 Women's Collegiate Regional & National Championships Schedule
East Regional
Championship
Kinetic Cup Triathlon
Saturday, Oct. 15
Smith Mountain Lake State Park, Huddleston, Virginia
Managed by: Kinetic Multisports
Info: https://kineticmultisports.com/races/kineticcup/
West Regional
Championship
NCAA Heartland Triathlon Cup
Saturday, Oct. 15
Stockton, Missouri
Managed by: Heartland Racing Co.
Info: https://runsignup.com/Race/MO/Stockton/TheNCAAHeartlandTriathlonCup
Women's Collegiate Triathlon National
Championships
Saturday, Nov. 12
Tempe, Arizona
Managed by: Kinetic Multisports
Info: https://runsignup.com/Race/AZ/Tempe/SunDevilTriathlonClassic