What Does it Take to Launch a Women's Collegiate Tri Team?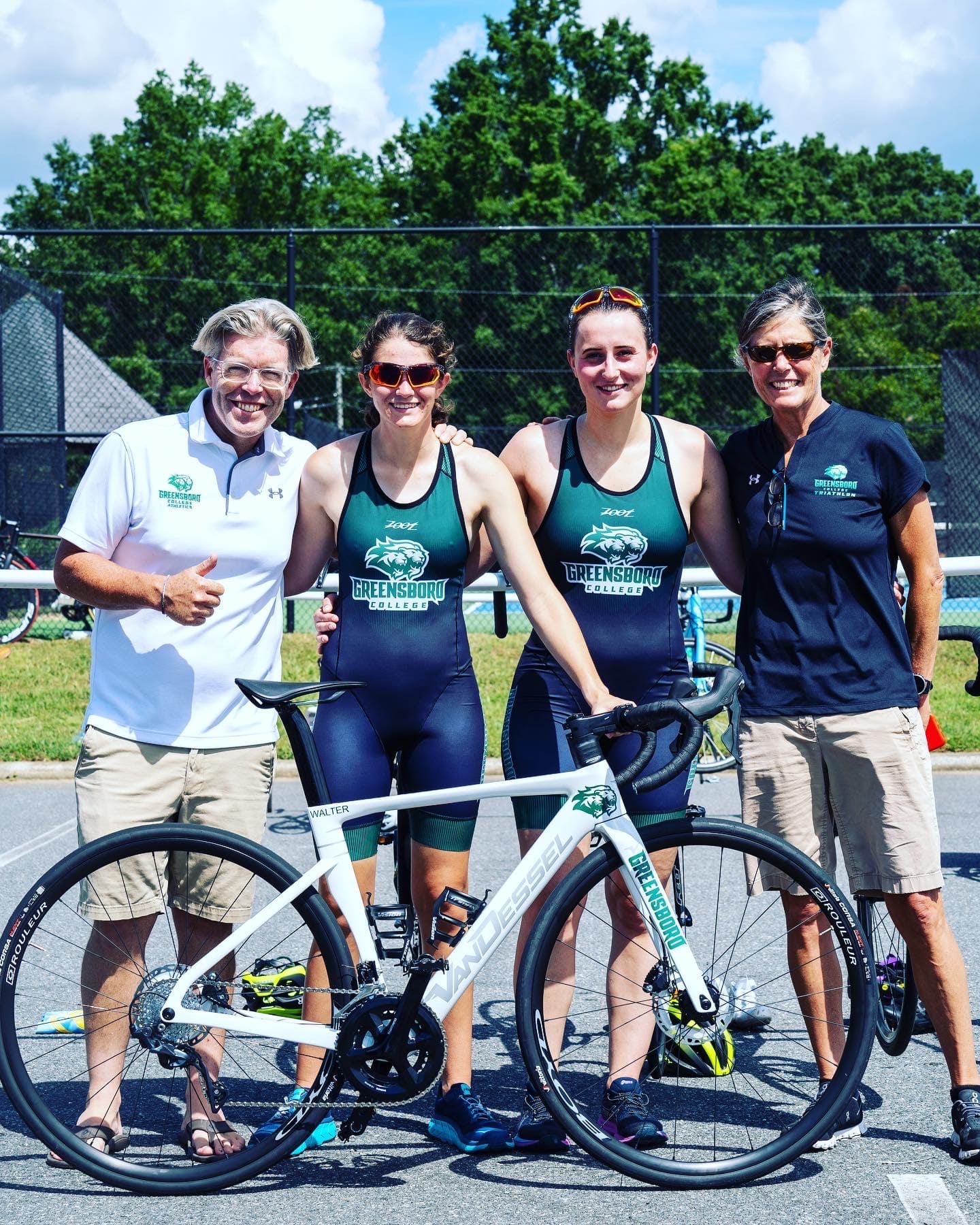 At the end of 2021, Greensboro College — an NCAA Division III school in North Carolina — announced it would be adding a varsity women's triathlon team for the fall 2022 season. USA Triathlon Level III Certified Coach Karen Buxton had been hired as head coach and the team would join a density of new collegiate women's triathlon programs in the state.

The hard part was done, right? Now all that was left to do was train and race.

With women's triathlon set to potentially become the next NCAA championship sport, we're talking a look inside what it takes to get one of these programs up and running, and meet the teams as they prepare for nationals on Nov. 12 in Tempe, Arizona.

Coach Buxton and assistant coach Matt Clancy — a fellow USA Triathlon Level III Certified Coach — took us inside the challenging world of launching a new women's collegiate triathlon squad — where there's so more more to it than just swimming, biking and running.
Step 1: Recruit Athletes,
Supporters
After she was hired, Buxton's very first step was finding student-athletes to flesh out the new team.

Because of restriction around the spread of COVID, she didn't even meet anyone on campus for six or seven months. Instead, she networked and talked to other coaches. She looked up junior and high school triathletes. She scoured the internet. "Sometimes I felt like a stalker on social media," she joked. Clancy reached out to clubs, both in the U.S. and globally.

But still they struggled to find their team. The challenge was that the majority of incoming freshman were already committed to schools by the beginning of 2022, and even if they weren't, DIII programs don't offer athletic scholarships.

The plan, instead, became to focus on single-sport athletes and the existing 1,000-person student body at Greensboro. The motto became: We build triathletes.

And in the late spring of 2022, they started planning for the fall season without yet knowing who they had on the team.
Step 2: Buy Equipment & Plan the
Season
To get started, Greensboro had been awarded a $20,000 grant from USA Triathlon. Buxton used it to buy four bikes "guessing at the size," since she didn't have specific athletes yet, and opted for equipment and kits that were the most likely to be usable for the next few years.

Clancy got involved in February or so when he called up Buxton and offered to lend a hand. He had a whole set-up for his coaching business — smart trainers, VO2 max and metabolic testing equipment — and, with COVID, he was looking to change locations and needed space. They set up a training room on campus.

Greensboro, they both said, is an ideal triathlon location and has great facilities. Along with the equipment Buxton brought in, they're buying a treadmill and there's a pool in the building. Both of them are long-time locals to the area and there are already five other women's varsity collegiate tri teams in North Carolina, which makes racing easy (and inexpensive).
Ultimately, the team started the fall 2022 season with two athletes: Sophia Walter, an international German exchange student, who already swam and ran and biked a bit; and Alex Prillaman, a senior who had been on the softball team and wanted to try tri.

"I couldn't imagine two better ambassadors for us," said Buxton, in terms of what they're hoping to build at the small campus.

The athletes have competed in four smaller races so far — all events they could drive to on race morning. With the only official varsity women's collegiate triathlon races right now being the regional qualifiers and the National Championships race, most schools have to get together to organize their own sprint draft-legal races or to add a race to an existing larger triathlon.

Next up for the lions is the East Regional Qualifier at Smith Mountain Lake in Virginia on Oct. 15. The goal is to try to get one or both of the girls qualified individually to Nationals in Arizona. To score as a team you need a minimum of three athletes and you can have up to five athletes race. (A full roster at large schools is planned to be about 10-12 athletes.) Greensboro still doesn't have enough athletes to score a team this first year, but give them time.

Right now, the job is part-time (in addition to competing herself and running her own coaching business), but Buxton said the plan is for coaching the women's team to be full-time by the third year, and to add three to five athletes each year for the next few years.
"There's a lot of other stuff you have to do, too," she said. Fundraising isn't as big a component for a DIII school as it is for a large DI program, since she's focused solely on her women's team, but there's still budgeting and compliance paperwork and setting up travel and logistics. "The coaching is the easy part."
With both Clancy and Buxton being long-time locals and involved in the community, their hope is to grow something sustainable and "be here for awhile," she said.
"It's just going to take a couple years to get up and running," said Clancy.
Kelly O'Mara is the former editor-in-chief of Triathlete Magazine and writes the
Triathlonish
newsletter.