NCAA Triathlon: A Bright Future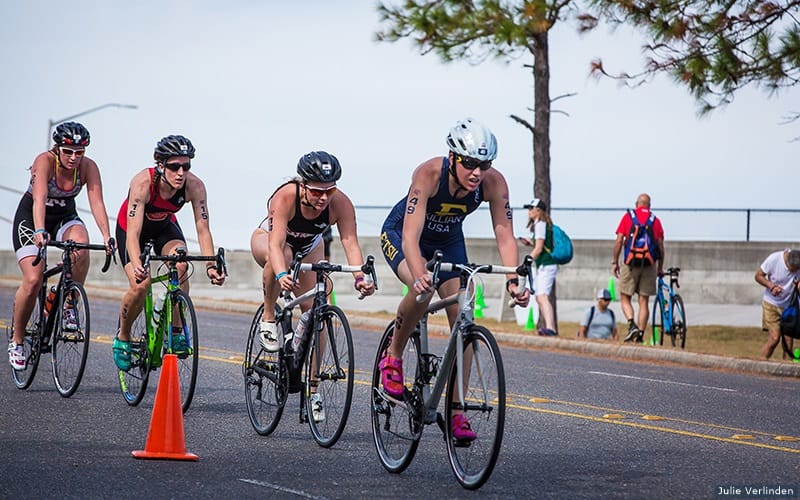 The sport of triathlon received overwhelming support from the NCAA when it was first approved as an NCAA Emerging Sport for Women in January of 2014 – but then the hard work began.

Under its emerging sport status, triathlon has a 10-year window to prove continued momentum in order to become a full-fledged NCAA sport. That means that by 2024, at least 40 NCAA Division I, II and III institutions must adopt the sport at the varsity level for women.

Currently, varsity women's triathlon is offered at 14 universities – a much larger step toward the 40-school goal than the numbers suggest. In just three years, the foundation for NCAA success has been laid, and USA Triathlon is hard at work to grow the movement across the country.


2017 Season Outlook

The 2017 women's varsity collegiate triathlon season is set to include three regional qualifiers in Naperville, Illinois (Sept. 4), Berkeley, California (Sept. 30), and Sarasota, Florida (Oct. 7).

The season will culminate in the Women's Collegiate Triathlon National Championship, set for Nov. 5 in Tempe, Arizona. The championship race will be held on and around the campus of Arizona State University, home of the defending national champion ASU Sun Devils.

"We're looking forward to seeing our largest and most competitive field to date at this year's Varsity Collegiate Triathlon National Championship," said Jessica Welk, USA Triathlon's High School, Collegiate Club and Women's NCAA Coordinator. "Tempe was the site of our Collegiate Club Nationals in 2013 and 2014, so we're excited to return to such an excellent venue."

All races throughout the season are contested over a draft-legal, sprint distance course covering a 750-meter swim, 20-kilometer bike and 5-kilometer run.

Strategy for Success

With the infrastructure now built, USA Triathlon staff are in conversation with more than 50 schools that have expressed potential interest in varsity women's triathlon.
As part of its growth strategy, USA Triathlon is working to recruit institutions that are in close proximity to others already offering the sport, in hopes of building substantive collegiate conferences in the long run.
"It's important to build within the markets where we already have momentum," Welk said. "With this growth pattern, schools can race each other more often throughout the season, and coaches and athletic departments can collaborate more effectively as they build their programs."

The USA Triathlon Women's Triathlon Emerging Sport Grant is awarded to select NCAA member institutions to develop, implement, grow and sustain varsity women's triathlon programs. The grant helps to offset the expenses associated with offering triathlon at the varsity level, including the costs of travel, equipment and race entries.

In addition, USA Triathlon offers a scholarship to students who play key roles in adding varsity women's triathlon at their universities. The Truxes Model Scholarship awards $1,000 to current college students who write proposals to NCAA institutions, provided those institutions officially commit to adding the sport at the varsity level.

It Takes a Village

As the NCAA movement builds momentum, Welk said, support needs to come from all directions. USA Triathlon members who work at, volunteer for or have ties to universities across the country can help support the efforts.

"In order to reach our goal of becoming a full-fledged NCAA sport, we need to take advantage of opportunities to network with interested universities," Welk said. "USA Triathlon members who are willing to volunteer their time and help us make those connections should feel welcome to reach out."

USA Triathlon members are also encouraged to donate airline miles, hotel points and rental car points to support travel for varsity collegiate teams.


What About the Men?
While men's varsity triathlon may be considered in the future, the focus must remain on the women's effort until the sport is fully successful and firmly positioned at the NCAA level for women. The effort is part of a larger strategic initiative by the NCAA to grow female participation through its Emerging Sports for Women program.

"The Emerging Sports for Women program was created in 1994 with the purpose of growing meaningful intercollegiate participation opportunities for female student-athletes in sports that have the most potential to reach NCAA championship status," said Richard Zhu, Coordinator of Inclusion at the NCAA.

USA Triathlon currently supports nearly 145 men's and women's collegiate programs at the club level nationwide.


For more information about triathlon as an NCAA Emerging Sport for Women, or to get involved in USA Triathlon's efforts, visit usatriathlon.org/ncaa or email ncaa@usatriathlon.org.