News
Features
NCAA
USA Triathlon
NCAA Triathlon: What's Next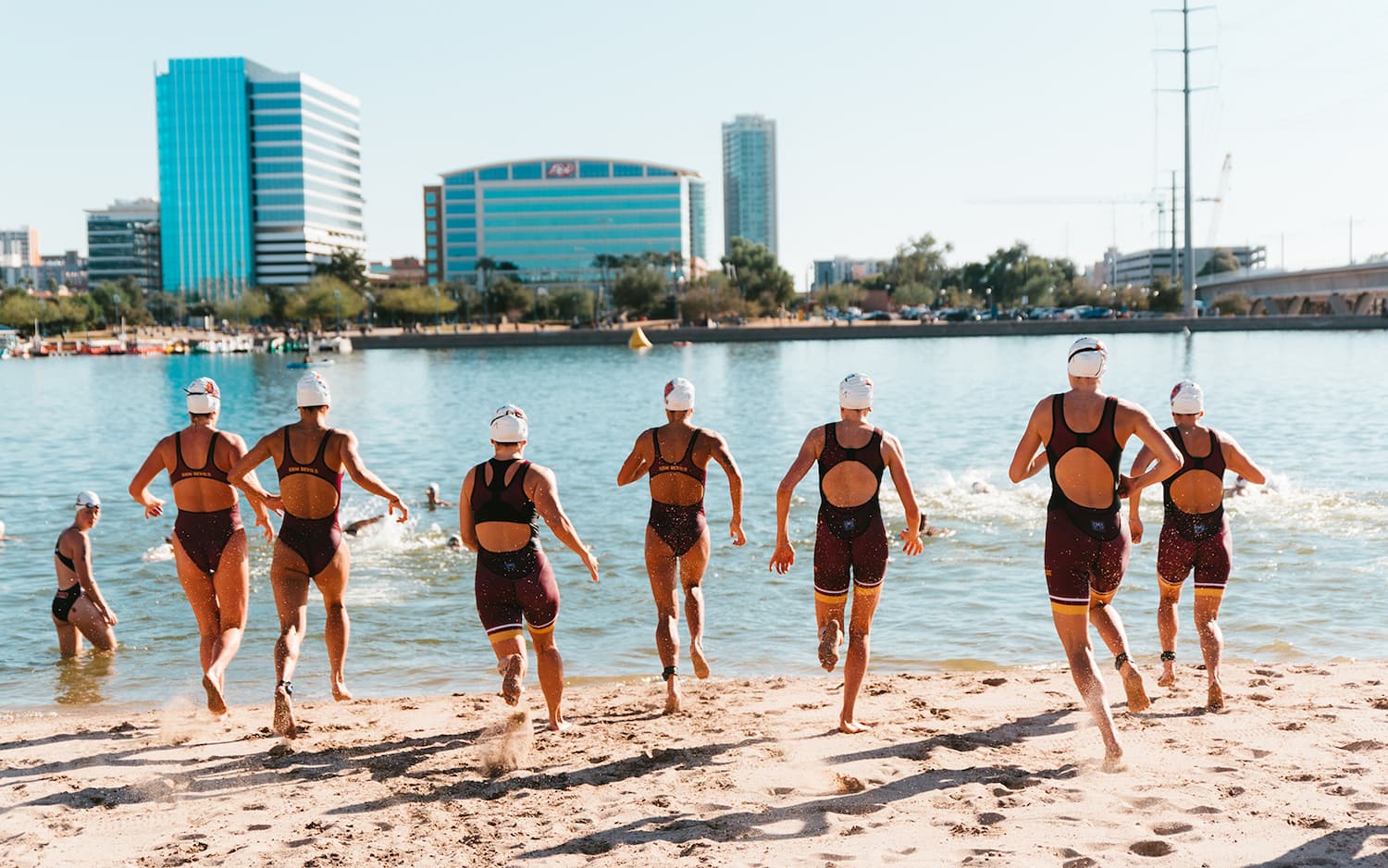 This article originally appeared in the Summer 2022 issue of USA Triathlon Magazine
In January 2014, on the floor of a San Diego convention hall, the NCAA Legislative Council voted overwhelmingly to add varsity college triathlon as an emerging sport for women.
The vote was nearly unanimous: 95 percent, 96 percent and 93 percent in favor, by the Division I, II, and III councils, respectively.
But triathlon can't be "emerging" forever. The NCAA gave it 10 years to achieve national championship status by proving that it's sustainable and has at least 40 schools competing in at least five intercollegiate varsity events per season.
So USA Triathlon got to work: designing rules, policies and event structure. From there, Chief of Sport Development Tim Yount started hustling and recruiting universities to agree to build teams and compete under NCAA rules.
In three years, Yount quadrupled the number of committed schools, and by early 2020, he confidently reported to CEO Rocky Harris, "Rocky, we're gonna hit 40 this year!"
Instead, the COVID-19 pandemic hit, and seven sure bets plus 25 other prospects began to back off.
"I've never been so dejected," Yount said. "To build a legitimate program from scratch, it takes one to two years for a school to weave through its administrative bureaucracy."
But Yount stayed on the offensive, urging schools to do the same. Communication was key. Every month, he contacted schools on the 'hot list,' meaning colleges with top-flight swimming or running programs, and universities in key geographical markets and surrounding states. "If you have great cross country, or if you have great swimming, I'm going to be targeting you," Yount said. He also sent 2,600 administrators quarterly updates and newsletters.
In addition, USA Triathlon and the USA Triathlon Foundation offered generous grants to ease the sting of operational costs.
Finally, in February 2022, the 40th school signed on: California State Polytechnic University, Humboldt, in Division II.
But 40 is the NCAA minimum, and the clock is ticking. To reach championship status, all 40 schools' athletes must be regularly competing and finishing races. Data must confirm this. USA
Triathlon then has to make an additional proposal and help it survive multiple NCAA committee votes, new committees, and discussions about growth potential, level of interest and financial sustainability. Even if the proposal smoothly filters through all the NCAA strata, the soonest a new NCAA triathlon-specific committee could start planning would be spring of 2023, according to Shay Wallach, Assistant Director at NCAA's Office of Inclusion. It's therefore unlikely that a championship would take place before fall of 2024, Wallach said, and if any committee has concerns, questions or reservations, it could delay or "hypothetically" derail the process.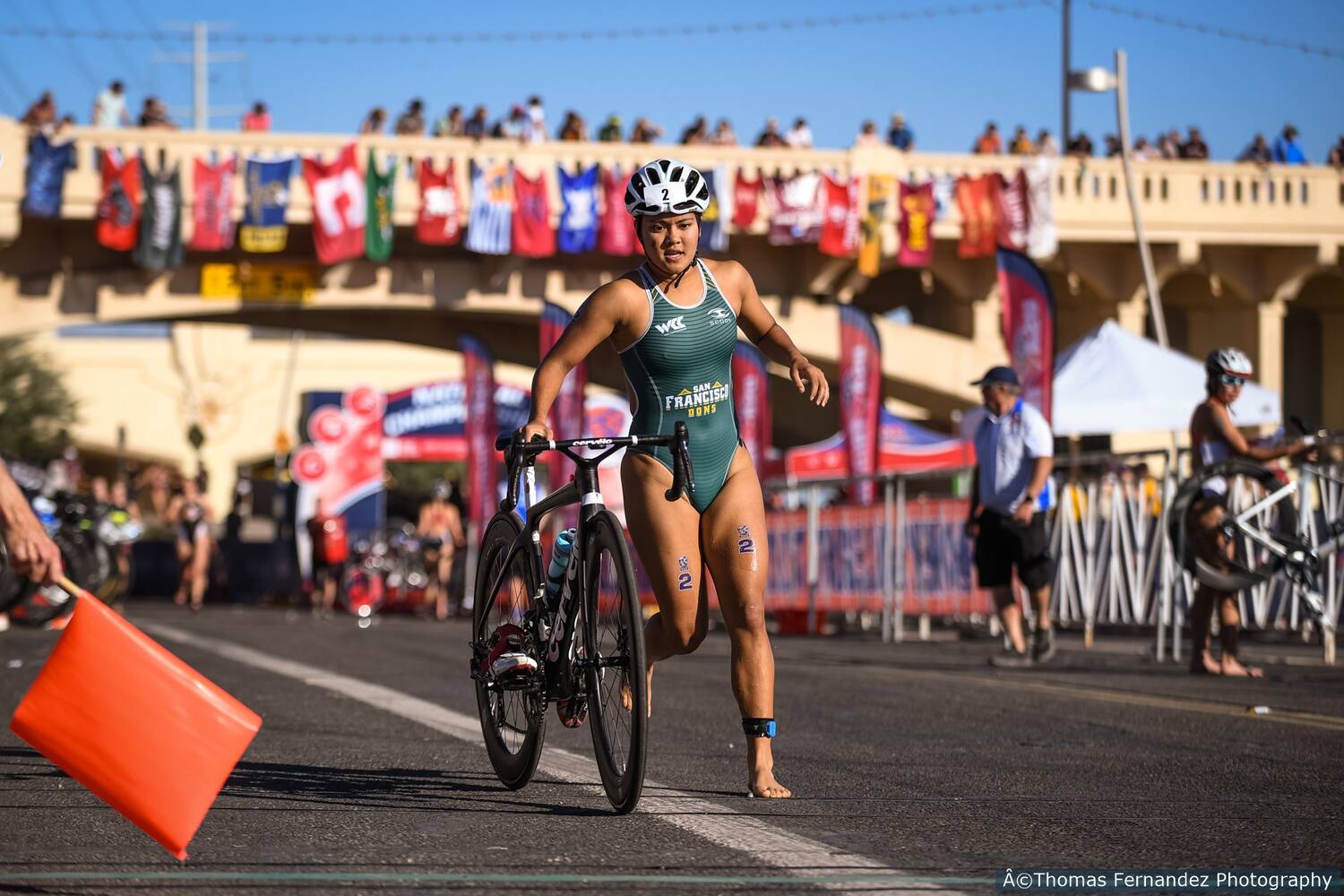 At present, everything is moving forward.
Women's varsity triathlon is a fall sport. Long-term, it should keep talented young athletes in a triathlon-specific pipeline.
"We lose quite a few accomplished junior triathletes when they go to college; we lose a critical window of time for development," said two-time Olympian Sarah (Groff) True, who was a varsity swimmer at Middlebury. "Competing at the NCAA level would have certainly made me a serious triathlete sooner [but] the NCAA single-sport pull is compelling, especially when scholarships are factored into the equation."
The NCAA now allows triathlon to have 6.5 athletic scholarships at Division I schools and 5.0 at the Division II level. One full free ride is equivalent to one scholarship, but partial scholarships are where the fractions come into play.
Another upside: varsity triathlon races are draft legal, just like the Olympic Games and World Triathlon races.
"Draft legal totally changes the dynamic of racing," said John Farra, USA Triathlon's High Performance General Manager. "It's entirely tactical." Not only does it force women to strategize where to accelerate during the race, but it requires "the guts to go around a downhill turn with 20 other humans in such close proximity, that if you clip wheels the whole pack's going down. It takes so much time to gain that confidence in draft legal." For a prospective Olympian to finish college with that experience, he said, "It's massive."
Varsity races are half the Olympic distance, however. They entail a 750-meter swim, 20k bike ride, and 5k run. Renowned Canadian coach Cliff English, who left 18 professional triathletes behind to take the head coaching job at Arizona State University in 2015, said the sprint distance is "quite age-appropriate," especially given student-athletes' full course load.
"At 18 or 19, they're still developing speed," English said. "And they're so academically strong. Triathletes are pretty disciplined, very Type A. We've had the highest GPA of all 26 varsity programs at ASU."
Since NCAA rules prohibit more than 20 hours of coaching per week, ASU's 13 triathletes typically swim five times a week, take three or four coached runs, have three or four coached bikes, and two coached strength-and-conditioning sessions. Two-a-day workouts are common. ASU now boasts five USA Triathlon collegiate national championship titles.
For schools that have highly competitive athletic programs like ASU (the first Power 5 school to sponsor women's triathlon), NCAA championship status would also mean a chance to contribute points to the prestigious Directors' Cup awarded annually to the school with the best collective performance across more than a dozen sports.
"For winning our national championship," English said, "we would get 100 points and that would place ASU in the top-10 in the country. That's a big deal. For Power 5, it's a REALLY big deal. I appreciate ASU taking this chance on our sport, so that's something that I can't wait to get to: where we can contribute those points."
Even where triathlon is in its infancy, varsity opportunities are making an impact.
Take Hampton University in Virginia, the first Historically Black College or University (HBCU) to announce its varsity triathlon team in 2018.
At freshman orientation, Head Coach Jodi Jensen took the stage and said, "Here's your opportunity to start your legacy. Start your legacy with me, with H.U. triathlon. We're the first HBCU with a triathlon team. Here's your opportunity to make history."
Hearing this, Jessica Johnson, was like, 'Why not?' Might as well try something new," she said. The high school swimmer from Maryland was prepared to forego sports. Hampton has no swim team. But after one season, she said, "I learned a LOT. It's really taught me mental toughness — which I had for swimming — but triathlon is in a different realm. It's super-tiring and sometimes you just have to push through and be like, 'I got this, keep going.'
Being on Hampton's first team "feels super special," Johnson said. "There is definitely a lot of untapped potential. I really want to get the word out, especially to young African-American students who may be in my position [thinking] 'I'm not continuing my sport at the collegiate level, I'm not sure what to do next.' Who knows? You could be super successful."
In five years, in addition to NCAA Championship status, Yount wants 70 varsity women's programs; a stronger balance between Division I, II and III schools; a full recruitment system; double the international reach into 30-plus countries; at least three more HBCUs; and more conference events.
In 10 years, Yount is aiming to see 85 programs with a balance across Power 5 and other Division I programs, full regional representation of all Division II and III programs, national broadcast appeal at the national championships, diversity percentages and rosters in double digits and more.
"We're gonna keep blowing it up. We're gonna keep moving," Yount said.
"I think everyone feels like we're building something here," added ASU coach English.
Barb Lindquist is excited, too, especially about the influx of prospects for the Olympic development pipeline. Lindquist helped start the Collegiate Recruitment Program (CRP) in 2008 to find exceptional college runners and swimmers like Gwen Jorgensen and Katie Zaferes as they were leaving college and develop them into Olympic triathletes.
"If there are 40 schools and five athletes at each school, that's 200 women [in the pipeline] already," she said. "The more quality athletes we can get, the more competition. That's going to raise the bar for everybody. If you have international athletes there, that's just going to raise the bar for Americans, too."